the authentic basil pesto recipe

Was is it time I published the basil pesto recipe?
Yes, it was time. The last (and only) basil pesto recipe on the blog is from a few years ago and is a parmesan-free version. Which is delicious, try it, but is not the pesto Genovese.
Let me confess this: the first basil pesto sauce I ever made, was that egg yolk pesto. I was very young and I thought that was the only and one pesto recipe, cause that's the one they gave me when I asked how to make pesto.
Only years later I found out, not only that the most famous basil pesto in Italy comes from Genova, but also that there are a lot of other pesto recipes in the country. Including, of course, mine. Which might be a Calabrian homemade pesto recipe (I was there when they gave it to me), but could have come from any kitchen of Italy, simply shared over and over, until it reached my hungry hands.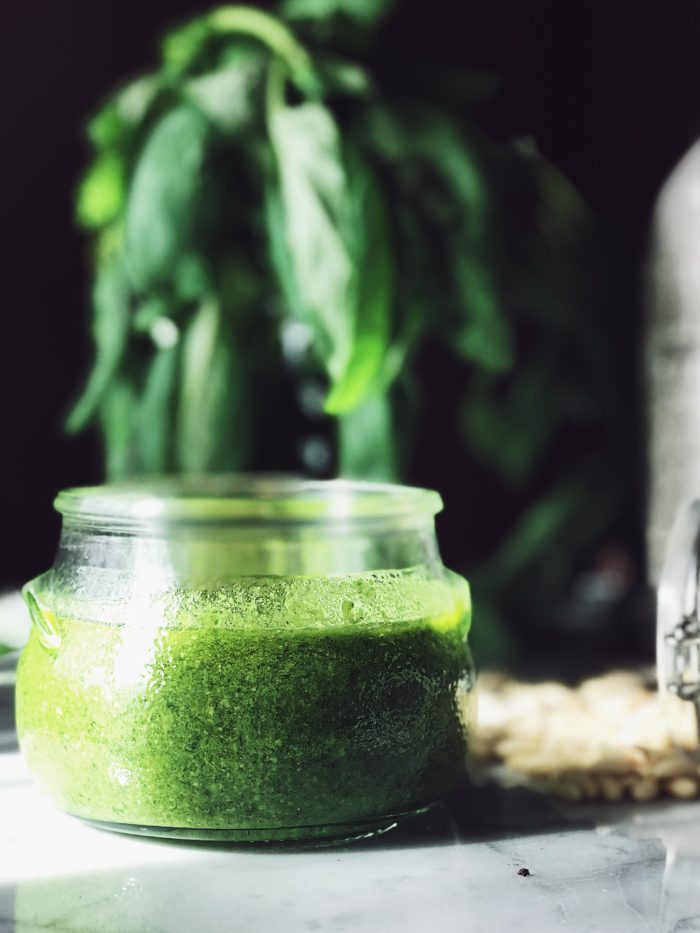 As for the other pesto sauce versions, well, I think at this point you've got many of them on the blog.
Yes, I'm a pesto lover. I love the consistency. I love its easiness. I love the nutty flavors and I love it not only as pesto pasta, but also over toasted bread and on top of mozzarella… yes, that's a great combo, believe me. All the above means I've explored a lot of the Italian pesto world. Lucky me (and you ;-)).
But we are going back to basics today, cause this is the first dish of the long pasta project: traditional Italian cuisine long pasta recipes.
And I'm keeping it green, in honor of the Green Issue :-).
Yes… you should use a pestle and mortar when making pesto. Pest the garlic and salt first, then pine nuts, then basil and then the cheese. Finally olive oil, a filo (continuously but a little at the time).
…And you are welcome to.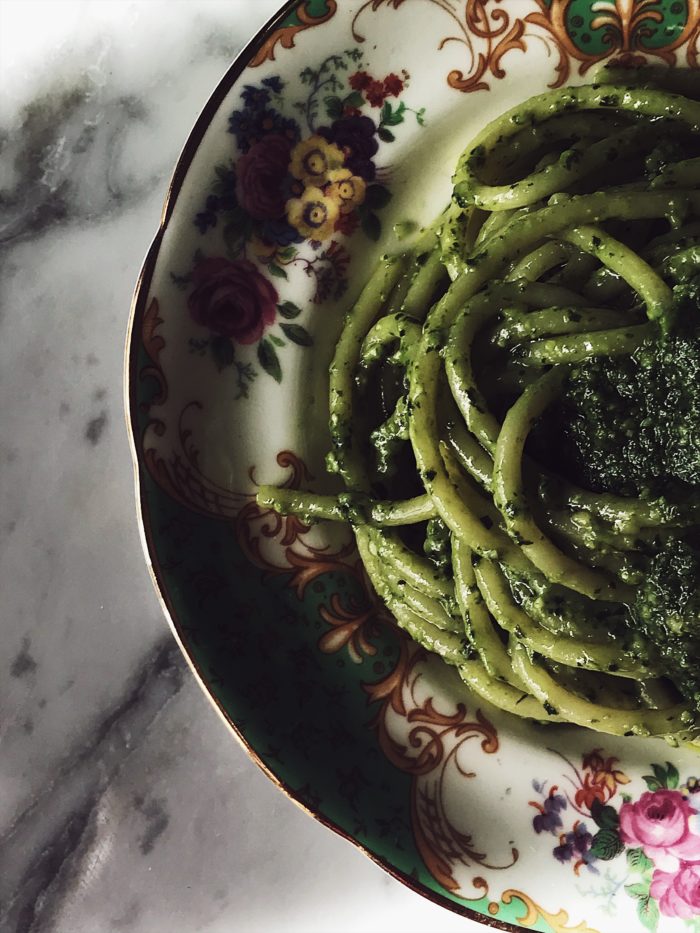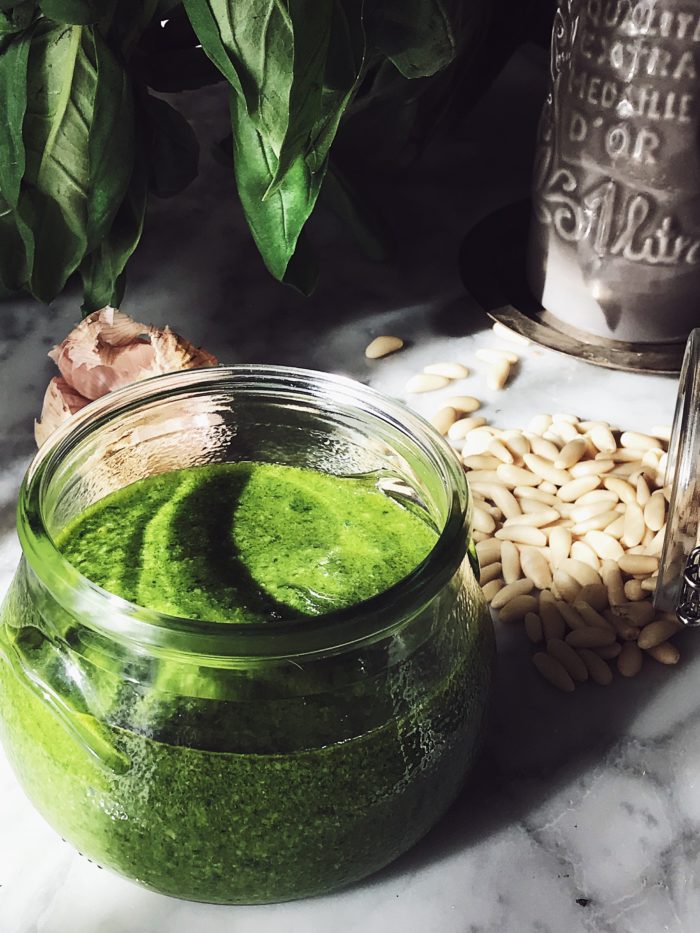 But I use a blender almost every time I make basil pesto or any other kind of pesto. And I guess 95% of Italians do the same.
Maybe 99.
The flavor is the same, the effort is 1/1000. This doesn't mean, once every two years or so, I don't get an ancestral need to pestle, pestle, pestle, until I see the green juice explode from the leaves.
But as said, it happens once in a very long while.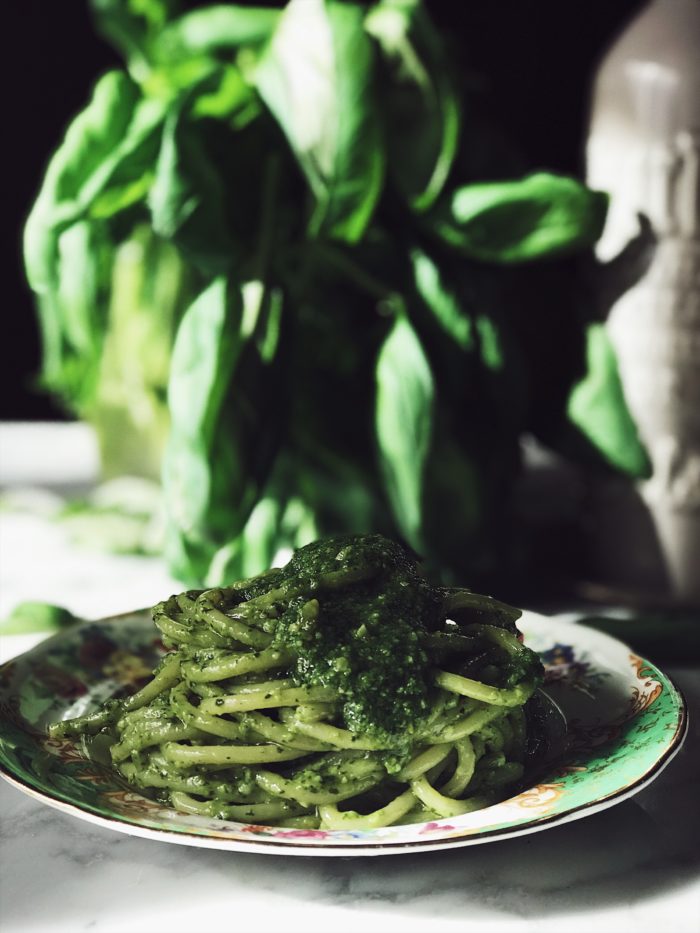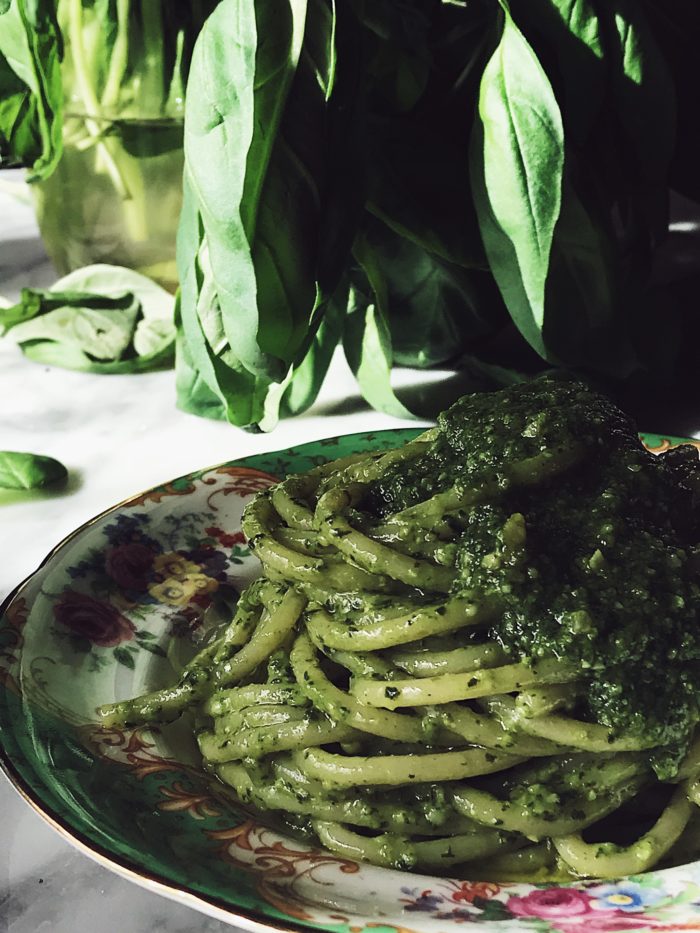 For now, let's blend! Here's my best pesto recipe: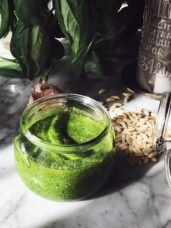 Genovese basil pesto
Ingredients
1

big bunch of basil

2.8

oz

parmesan or pecorino cheese, or both, mixed in equal parts

80 gr

1

garlic clove

1

teaspoon

coarse salt

2

tablespoons

pine nuts

35 gr - 1.2 oz

4.4

oz

extra-virgin olive oil

130 ml (Ligurian, if you find it)
Instructions
You can use a food processor or a hand blender. I prefer the second, cause I can see what's happening and I can stop as soon as I get the consistency I want. Which is not totally-creamy: I like to leave a few, very small, lumps. It gives the plate some kind of drama.

Place all the ingredients in a bowl/food processor and blend until you get the desired consistency.

Cook and season pasta (I used bucatini).
pesto uses
IF you get leftovers… good for you: you can make lunch in a few minutes.
Make a basil pesto pasta frittata.
Pasta frittata is a glorious way to use your basil pesto recipe and pasta leftovers.
Whatever seasoned pasta should work. I once did a carbonara pasta frittata, which was a triumph of egg-iness and parmesan. But pesto pasta, to me, is the best of them all. Pesto and eggs are perfect together: umami and more umami.
pasta frittata
author:
Claudia Rinaldi | Gourmet Project
ingredients
For each serving
1 cup of basil pesto pasta
2 eggs
Salt and pepper
Extra-virgin Olive oil
how to
Mix eggs and leftover pasta, and add a pinch of salt and pepper.
Heat a teaspoon of olive oil in a small pan (or bigger if you are making multiple servings).
Pour in the pasta and cook, medium/low heat and lid on, 2-3 minutes, until the sides are dry.
Flip around and cook 2 more minutes.
Plate and serve!
enjoy!!!
Claudia