a cheese board idea for the last day of the year: an Italian cheese plate
(and 7 rules to make your own personal cheese board)
the cheese board idea and how to put together the perfect cheese board
This is a cheese board idea/inspiration from the Yellow Issue of the Gourmet Mag (Winter 2018), the first recipe of the Yellow Project.
But before that let me also deliver you all the information I've collected in the past few years, on how to make the perfect cheese board, the Italian way, of course.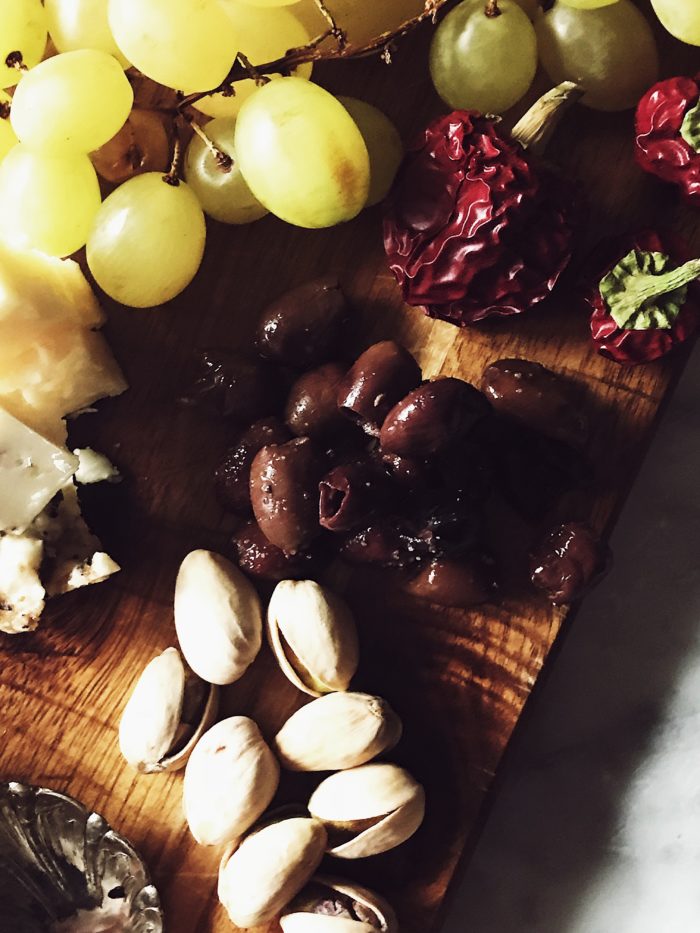 We can sum it all in 7 rules/indications:
You need at least, and in order of how you should taste them, a fresh (ricotta, burrata, goat cheese, etc), a soft (mozzarella, brie, etc) and a hard cheese (asiago, pecorino, parmigiano, etc), and you can add a flavored (smoked, spicy, etc) and a blue cheese (roquefort, gorgonzola, etc).
Add a sweet accompaniment: fruit or other jams, chutneys, mostarda or honey.
And a savory one: olives, preserved vegetables, or cold meats (salami, prosciutto crudo, prosciutto cotto, etc).
Add seasonal fruits, fresh or dried (figs, apples, pears, walnuts, dates, etc). Avoid tropical (but a big yes to dried mangoes) or citrus fruits.
Include something crunchy: nuts, fundamentally (almonds, peanuts, walnuts, pistachios…)
Don't forget the vehicle: crusted Italian bread, toasted for best results.
Finally, once you've selected cheeses, ask your local winery for the best white or rosé wine to match your cheese board.
the cheese board idea
One of Italy's New Year's Eve tradition is to have grapes at the stroke of midnight.
In the Italian New Year's table, grapes symbolize prosperity, because, if you have grapes at this time of the year, it means your harvest has been rich and abundant.
A saying accompanies them: "Chi mangia l'uva a Capodanno conta quattrini tutto l'anno" = the one that eats grapes on New Years Day will count money all year long.
It is not clear if one is enough or if you should eat at least 12 grapes (one for each month of the new year), at each clock gong, as our Spanish cousins do. I guess depending on vicinity and ancient Spanish dominations, each place has its own interpretation.
For all of the above said, the starting point of my cheese board idea was grapes.
Then I added cheeses: it's winter, so I skipped the fresh cheese and went for a soft one (tomino, a brie-like Piedmont cheese), a hard one (36 months aged parmesan) and a flavored one (truffle hard cheese).
On the sweet, side I added my homemade, Sicilian style lemon jam (another recipe from the Yellow Issue J) and a persimmon jam.
On the savory side, I added taggiasche olives (my favorites).
For the crunch, I opted for delicious pistachios.
Finally, a traditional crusty Italian bread was the perfect vehicle to create explosive bites of Italian goodness.
I guess you are already mouthwatering and ready to go for some groceries… don't forget a good bottle of Prosecco!
enjoy your Italian cheese board