an earl grey mousse recipe & 14 incredible birthday recipes
a white, soft, elegant, tasty and dairy free earl grey mousse recipe, made with coconut milk and coconut cream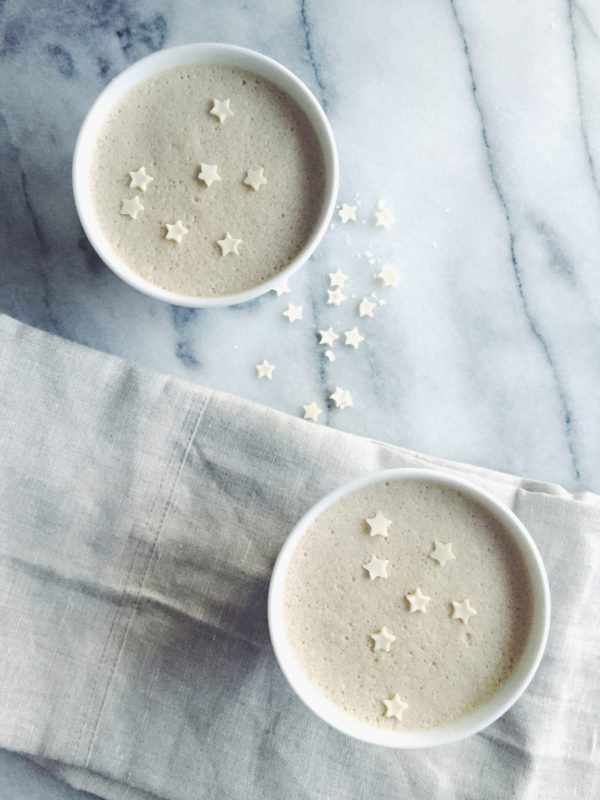 Time to celebrate! It's Lab Noon's birthday party. Saghar, a super talented blogger, photographer and cooker has been delighting us for 1 year now. And we are celebrating the food blogger's way: cooking and sharing.
So, welcome to Lab Noon's Virtual Birthday Party (#labnoonbirthdayparty). There are favors too, for virtual (only European, sorry) guests: click here for the giveaway.
My contribution to the birthday party is a delicate, sweet and fresh (it is so hot in Rome these days) Earl Grey Mousse recipe. It is also dairy free, for allergic/intolerant guests.
Happy Birthday Lab Noon!

earl grey tea mousse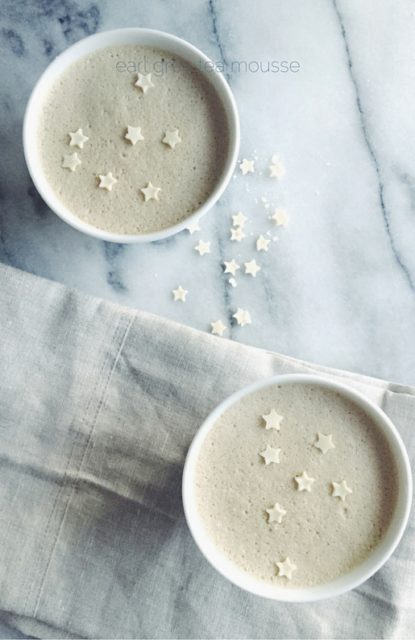 author:
Claudia Rinaldi | Gourmet Project
ingredients
¼ cup of coconut & rice or just rice milk
¼ cup of coconut cream
2 tablespoons of confectionary sugar
2 tea bags of earl grey
2 egg whites
1 pinch of salt
how to
Bring the coconut & rice milk to a boil, turn off the heat and infuse it with the tea bags for 5 minutes. Add the coconut cream to the milk, mix and let chill, completely.
Place the egg whites, the sugar and the pinch of salt in the mixer bowl and whisk until getting a firm, stiff meringue. Add the meringue to the tea cream, a tablespoon at the time, stirring delicately with a rotatory/vertical movement (use a soft whisk or a wood spoon). Make sure the meringue is completely amalgamated to the tea cream.
Place the final result in 2-4 individual cups and refrigerate overnight.
I decorated the earl grey tea mousse single cups with white chocolate star sprinkles and felt in love with them.
---
There are many other recipes from fellow food bloggers wishing Lab Noon a very very Happy Birthday, take a peek:
Lab Noon –Lab Noon's Fruity Birthday Cake

Twigg Studios – Chamomile Apricot Verticle Roll Cake
Hortus Cuisine –Apricot Crostata with Rice Lemon Curd

Foodistan – Cherry Clafoutis (French & English)
Cocinayletras – Torta della nonna. Lab Noon's Birthday (Eng-Ita)
Celeste Cucina – Ciambelline alla lavanda con glassa alle more
Foolproof Living – Summer Berry Tart
Mykitchenkiosk – Mini Chocolate Pavlovas with Blueberries
My daily sourdough bread – Sourdough Lemon Poppy Seed Bread Cake with Lemon Icing
La Panificatrice Folle – Syllabub ai Frutti di Bosco
Rustica Retro – Passionfruit Sponge
Vermilion Roots – Pandan Coconut Cake with Kaya
Gretchen Gretchen – Cooling Watermelon Cakes
Persian Foodie – Orange blossom Cupcakes

Smile! You're about to be a Delighted, Terrific Italian Gourmet.
a Cool Little Italian Food Mag is waiting for you!