golden whole roasted cauliflower recipe
My whole roasted cauliflower recipe with oregano, capers and olives.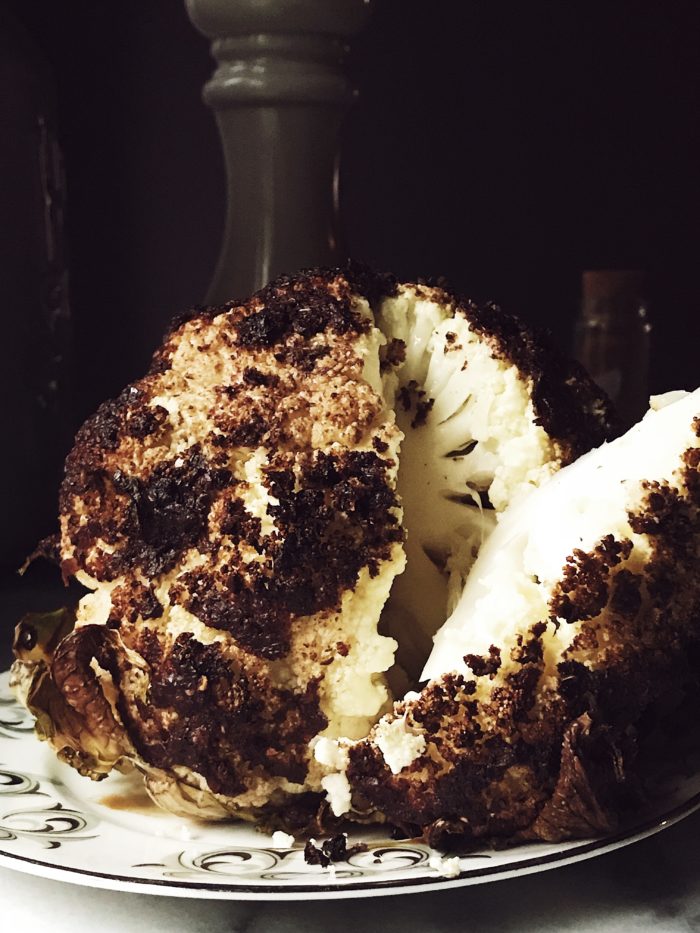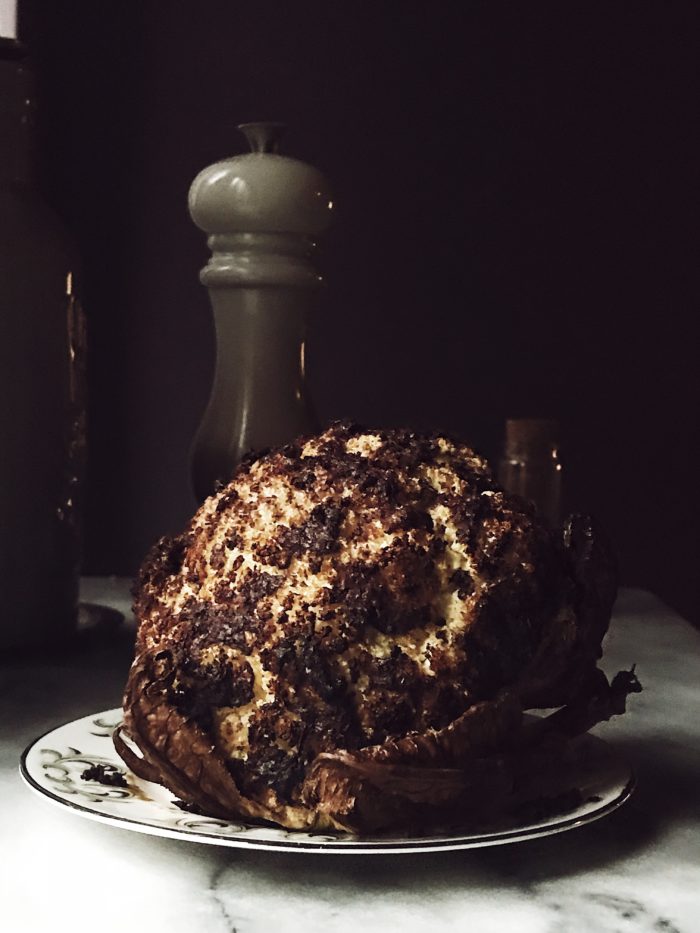 Why make this whole roasted cauliflower recipe
You leave the cauliflower whole: less work, no cutting, cleaning, etc.
You give it a nice golden color and a wonderful smell, which makes it mouthwatering even to those affected by vegetablephobia :-).
You roast it: set a timer and forget about it until dinner time, which is great for workday dinners.
You can pair it with rice, freshly baked bread and cheese, or even a simple plate of pasta al pomodoro.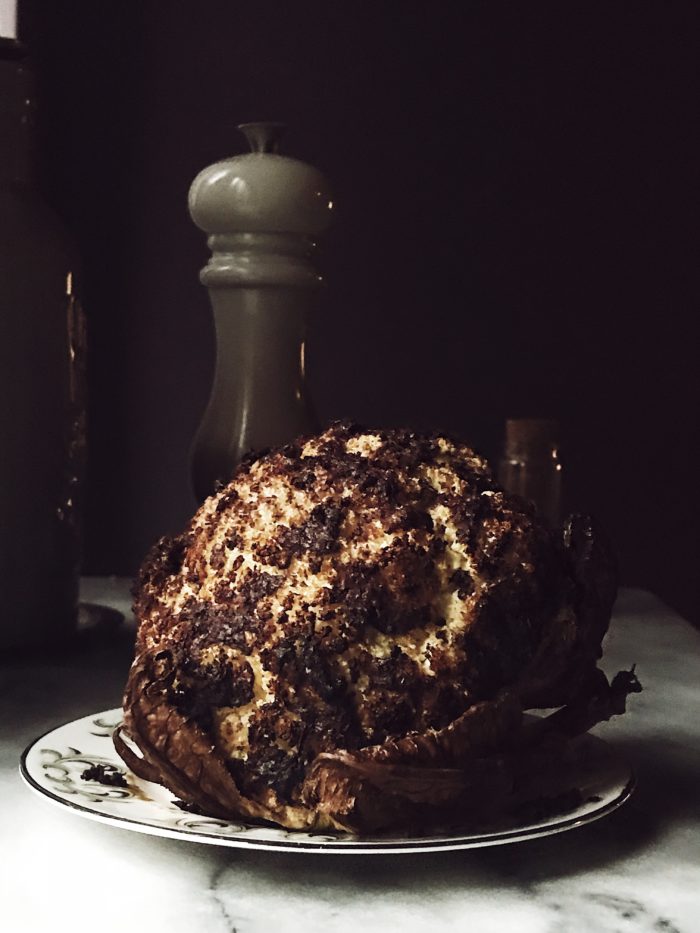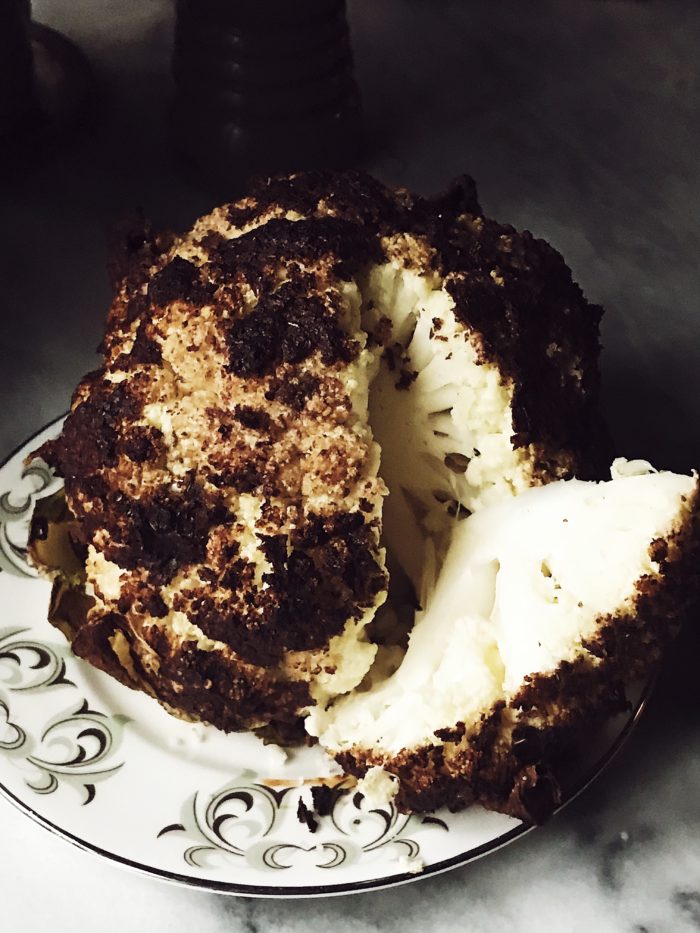 It also looks amazing, so you can set it in the middle of your table as your #meatfreeweek centerpiece. Yes, let's set the table like it was a dinner party, it will certainly lift up our spirits!
The whole idea of a nice centerpiece, in my opinion, is to place natural elements, possibly linked to what you are going to eat. So if you have a nice fine china plate and you leave leaves on the cauliflowers, you have everything you need. Well, you should also use the nice plates and cutlery you usually save for special occasions. And I firmly believe we should always use those, and not the ugly Ikea ones (I know you have them, I have them too :-)).
the whole roasted cauliflower recipe
whole roasted cauliflower recipe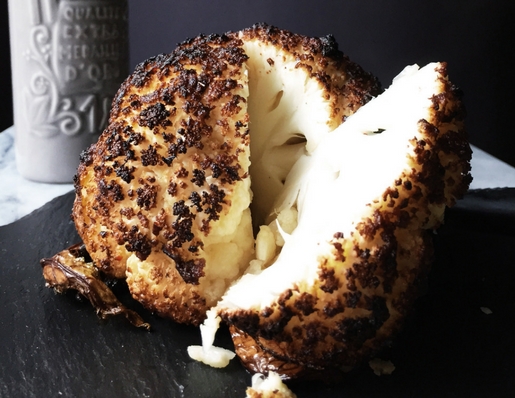 author:
Claudia Rinaldi | Gourmet Project
ingredients
Juice of 1 lemon
¼ fresh red chili (or 1 teaspoon of dried chili)
1 teaspoon of dried or fresh oregano
1 teaspoon of capers
10-12 black olives (taggiasche for me!)
1 tablespoon of extra-virgin olive oil
1 small/medium cauliflower
how to
Preheat oven to 180°C.
Blend all the ingredients except the cauliflower.
Place the cauliflower on a baking sheet and brush the mixture all over it.
Pour all the remaining mix over the cauliflower. Bake in the oven for 50-60 minutes (use a skewer to check if the inside is tender).
Done.
enjoy your whole roasted cauliflower recipe