an Italian Easter bread recipe: pan di ramerino from Tuscany
A sweet Italian Easter bread recipe from the traditional Tuscan cuisine: Pan di ramerino
sweet rosemary and raisins bread rolls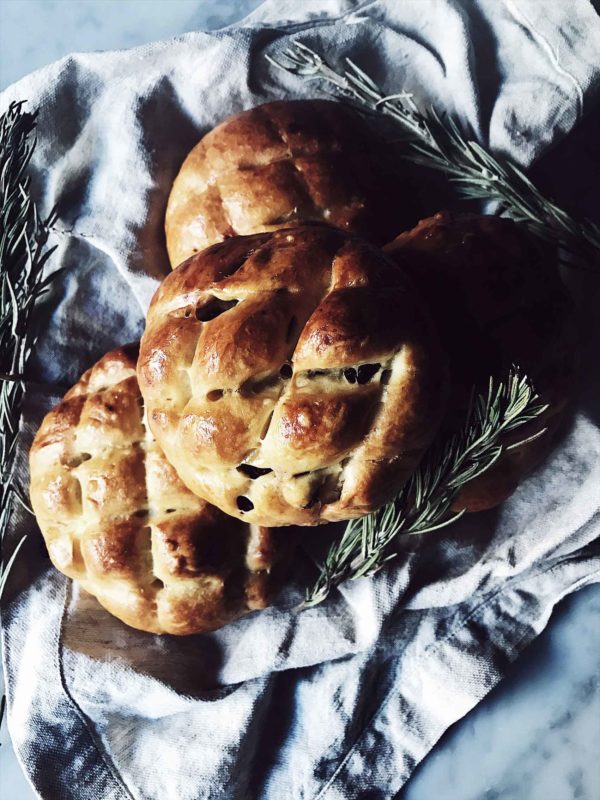 Ramerino is the archaic Tuscan word for Rosemary. So this is a Rosemary scented sweet Italian bread. A delicious sweet bread perfect for an Italian breakfast.
But I'll tell you this: if you add cheese, you have a perfect sweet & savory combination. A great add to your cheese plate.
Pan di Ramerino is also the traditional Tuscan Easter bread, typically eaten on the days of Lent.
the Italian Easter breakfast
I'll make it for the Easter breakfast. The sumptuous traditional Easter breakfast. When you are allowed to indulge in… well, the list is quite long:
Salami and other cold meats, but mostly salami! Each Italian region has its own typical salami. For example salame toscano in Tuscany, of course, and Corallina here in Rome. So there's a long list to choose from.
Cheeses
Boiled eggs
Colomba (let's call it the Easter Panettone)
Chocolate Eggs and anything chocolate
Savory cakes (in Rome we have the Easter pizza, that has nothing to do with pizza and still, it's delicious!)
Sweet cakes (like the Neapolitan pastiera)
For me, the Easter breakfast is the original Italian brunch. And I smile when I hear purists claiming brunch is a foreign invention, that has nothing to do with us.
I'll catch them on Easter morning…
baking for the spirit
Back to baking bread.
I know it takes time (like most authentic Italian recipes), I know there are recipes that will let you rise bread for two hours and that's it.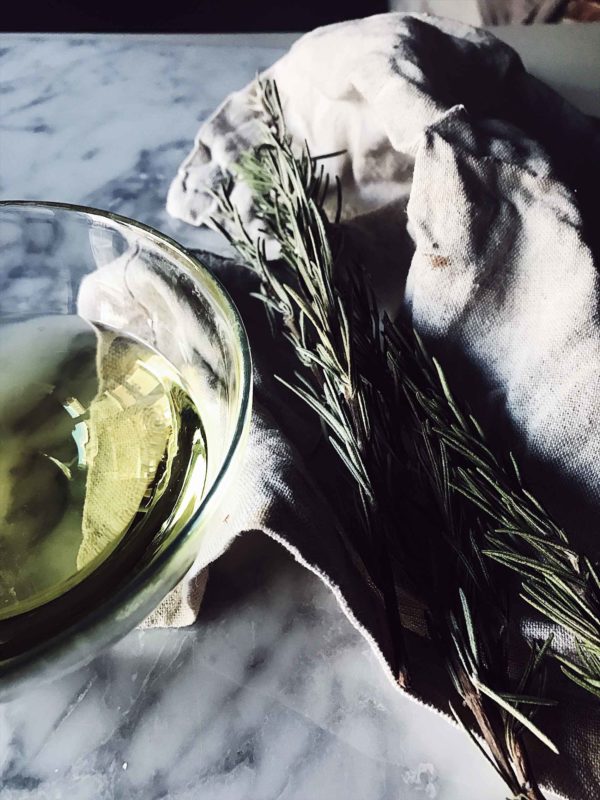 Don't listen (or maybe just a few times).
First: baking, as cooking, is an art. So the time spent over it is never wasted.
Have you ever regretted spending hours on a recipe? Well, maybe the time the result wasn't exactly what you expected.
But really…
Was it a lost of time? I suppose your answer is no. Cause you know, as well as I do, that even the time a big mess came out of the oven… although the tears and the frustration, you learned something. And you spent your time enriching yourself, your tummy and your spirit. Which is not something very common these days.
Am I wrong?
the recipe
So take your time (maybe on a weekend), to weigh and mix and pour and wait for fermentation and leavening… and back to mixing and kneading.
It's so much healing.
pan di ramerino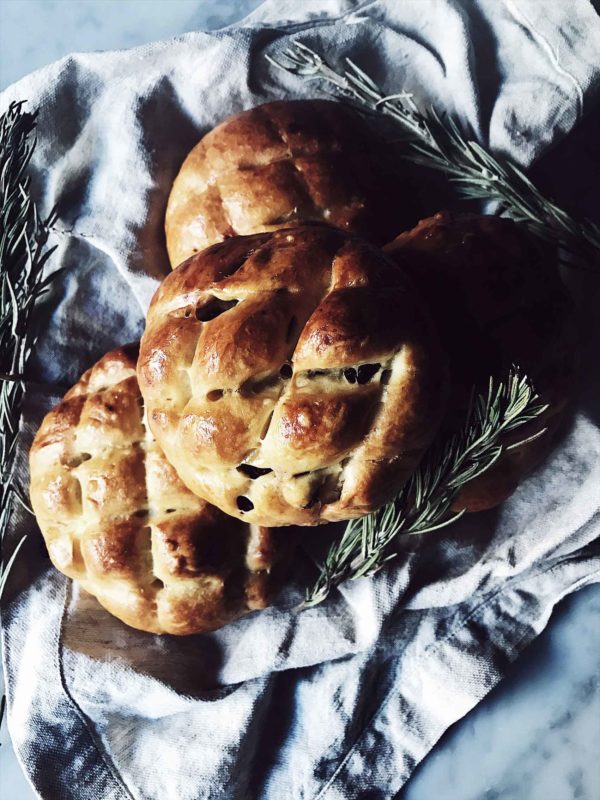 author:
Claudia Rinaldi | Gourmet Project
ingredients
Ingredients for 4 rolls:
200 gr (7 oz) of Manitoba flour
25 gr (0.8-1 oz) of raisins
1 rosemary sprig
7.5 gr (2.6 oz) of fresh brewer's yeast
90 ml (3 oz) of water
½ teaspoon of brown sugar
30 ml (1 oz) of extra-virgin olive oil
1 pinch of salt
¼ glass of vin santo (optional, you can use water instead)
1 egg
1 teaspoon of sugar
how to
Dissolve yeast in ⅓ of the water.
Place 25 gr (0.8 oz) of the flour, the brown sugar and the yeasted water in a bowl, and mix with a wood spoon. Cover with a cloth and let rise, in the warmest spot in your home, overnight.
The next day, place the raisins in a small bowl or cup and sink them in the vin santo (or water).
Finely chop the rosemary and place it in a small saucepan together with the olive oil. Bring to a boil and immediately remove from heat. Set aside and let the temperature low down.
Add to the raised flour base (the biga in Italian) the remaining flour, water, and salt, and use a food processor (dough hook on) to work the dough for at least 5 minutes.
Pass the olive oil through a fine sieve and add it to the dough. Work the dough (medium speed) 5 minutes more, or until the olive oil has been absorbed completely.
Finally, squeeze the liquids out of the raisins and add them to the dough. Work it just for the time necessary to incorporate the raisins.
Let the dough rest at least 15 minutes.
Divide the dough into 4 pieces and shape each into a roll.
Whisk the egg with a teaspoon of water and brush it over the rolls.
Let them rise 25-30 minutes.
Use a knife or a spatula to engrave the surface of the rolls, vertically, then horizontally, (go deep, almost cutting them). Brush them again with the egg mixture and let them rise for an hour (they should almost double in size).
Preheat oven to 180°C and bake the rolls for about 15 minutes.
Once out of the oven, mix the sugar with a teaspoon of water and brush the rolls' surface.
Ready! Enjoy them hot or room temperature.
Store them in a glass jar or tin box for no longer than a couple of days.
Thanks:
Giulia  & Emiko for a few additional tips to the making of this recipe.
Fiorentini nel Mondo for additional information about traditions and origins of this delicious must-make-it-again-and-again recipe!
Since yesterday was Women's Day, I got inspired and made a list, a tribute, to the women close to me that I profoundly admire:
my sister, Giulia, who's starting up a beautiful event organization, check out for the Easter Egg Hunting, a lovely and bunny day for kids.
my mom, who never stops learning new things and who just reached her Reiki III level.
Paolina, my childhood friend, who recently opened the Whale Cafè in Berlin: a literary cafe is not enough to describe it, check it out!
My cousin Leonor who's playing her viola in New York, and is jazzing the city out, check one of her musical projects here.
Her mom, my aunt Paola, who was recently named president of the

International Society of Teledermatology.

My friend Lili, in Ecuador, who's launching her own street food business, check out La Pizza del Conde on Instagram.
Thanks for inspiring me girls, it's so good to know you're out there!