savory oatmeal recipes: Italian oatmeal soup with pear crisps & prosciutto flakes
savory oatmeal recipes: a flaming Italian oatmeal soup with sweet pear crisps and prosciutto flakes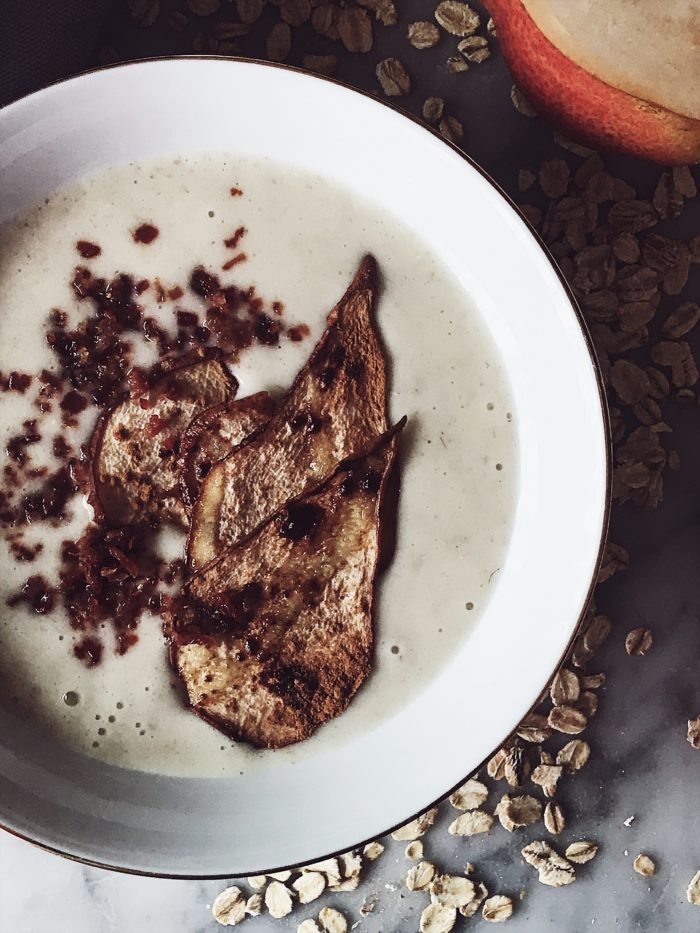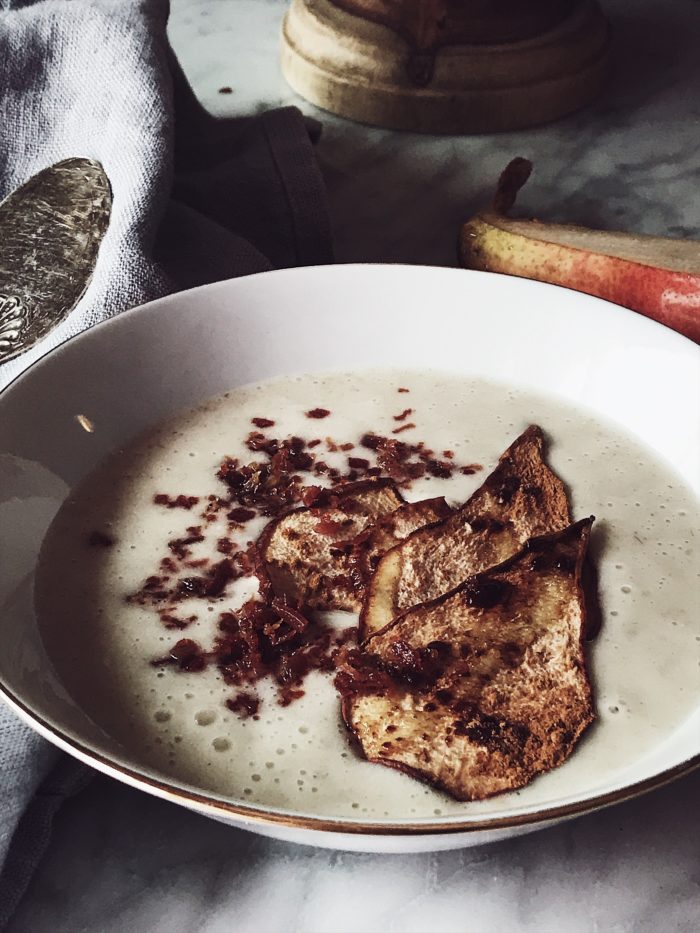 savory oatmeal recipes

Last time we had snow here in Rome it was 4 years ago. I mean real snow, the one that stays longer than a few hours.
For a reason or another, we are all paying lots of attention to forecasts these days. Many wishing for some candid magic. It is cold. Cold enough to expect at least a little white veil to cover up monuments and buildings (and believe me, Rome becomes spectacular even just with that veil).
And cold enough to want flaming soups for dinner. With the ingredients for a good sleep (oatmeal and milk)…
What about having oatmeal for dinner? You can, with savory oatmeal recipes 🙂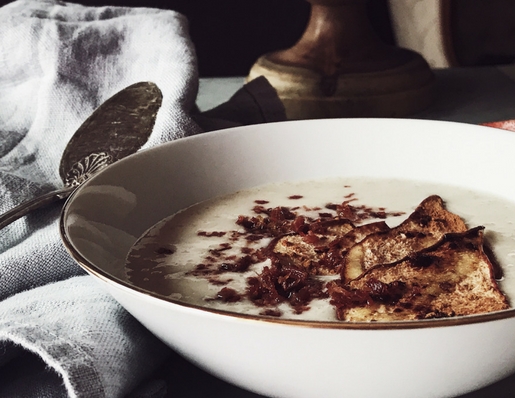 Italian cuisine does include savory oatmeal recipes, a soup, for example. Therefore, I made a version of it, a little pumped, with the sweet and crispy touch of pear chips, and the tasty peeks of prosciutto flakes. It's divine!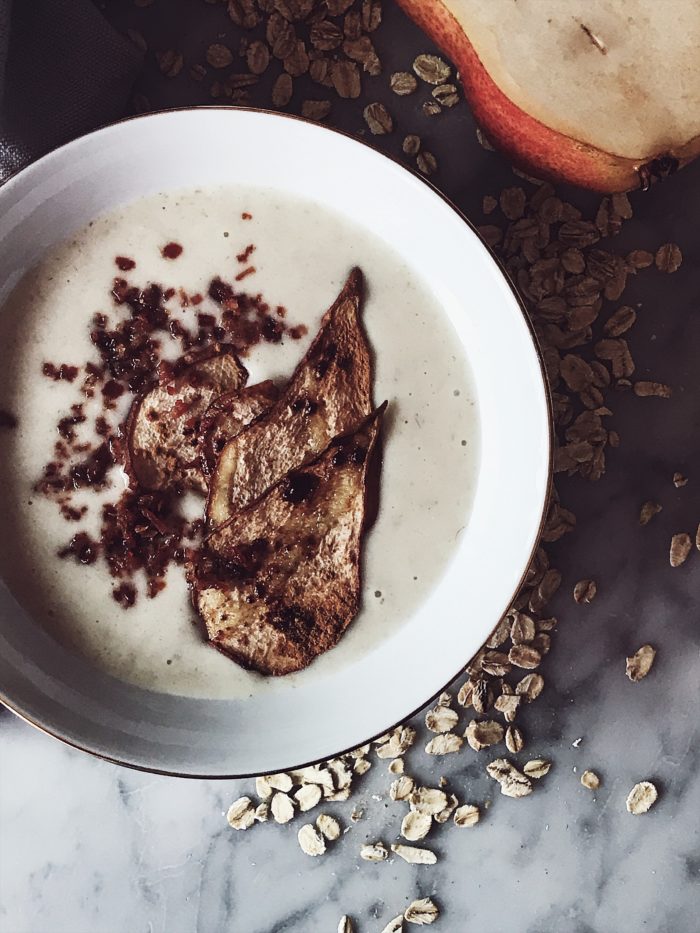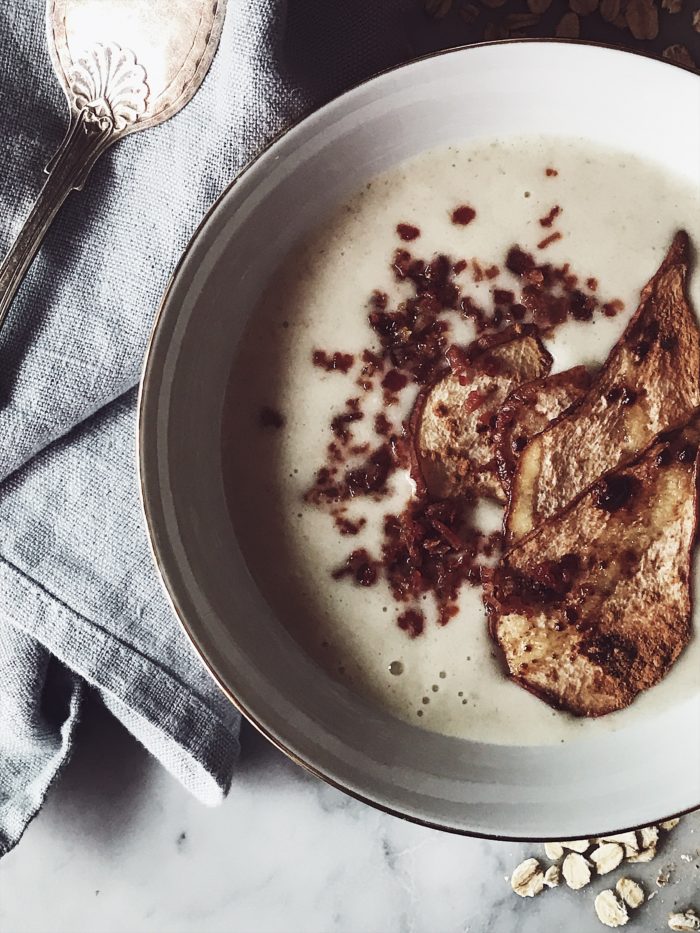 Savory oatmeal recipes apart, I think I found my magic formula for the best sleep: chamomile tea and bed yoga. Last night I fell asleep in a few minutes and woke up after 8 hours with not a single interruption.
You can find the easy exercises I made here.
Oh, I also followed Helen's advice and went screen free. Plus, I had a few almonds before going to bed.
Of course, I also think my dinner menus are contributing considerably. Having oatmeal for dinner was a good idea: a tasty and healthy savory oatmeal recipe.
What more do you want from life? UN LUCANO!
Sorry, that was a terrible gag from a historic advertisement of an Italian amaro (bitter liqueur). It always ended with the voice-over asking "what else do you want from life?" and someone answering "un lucano (the bitter name)!".
Somewhere in Italy, in this precise moment, someone is probably answering with that same line :-), so much we've heard it.
oatmeal soup recipe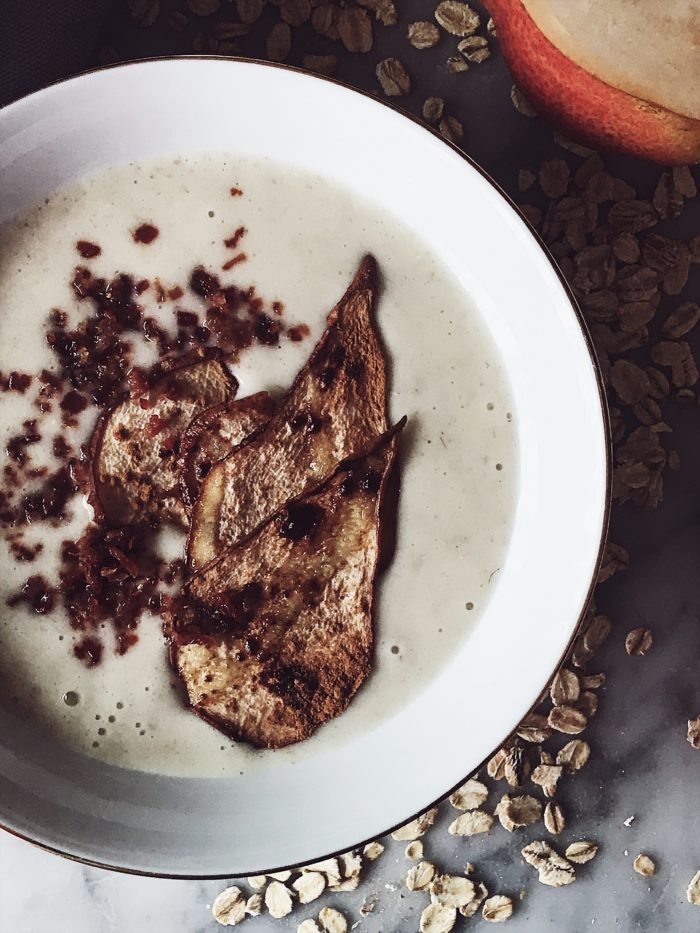 author:
Claudia Rinaldi | Gourmet Project
ingredients
1 small pear
2,5 tablespoons of extra-virgin olive oil
1 teaspoon of ground cinnamon
1 shallot
½ carrot
1 garlic clove
¾ cup of oatmeal flakes
1 cup of milk
3-4 cups of water
2-3 sprigs of thyme
4-5 thin slices of prosciutto crudo
salt
how to
Preheat oven to 200°F. Clean and thinly slice the pear. Place the slices in a bowl, add half a tablespoon of extra virgin olive oil and cinnamon. Mix to well cover the slices. Lay them on a tray with parchment paper and oven dry them for an hour and a half.
Peel and thinly chop the shallot, the garlic clove and the carrot. Heat the remaining olive oil in a medium/large pot. Brown the chopped aromatics for a few minutes. Add the oatmeal and brown it for a minute. Add milk, one cup of water, thyme sprigs and ½ teaspoon of salt. Bring to a boil, then simmer, on low/medium heat for 10 minutes. Remove from heat and remove thyme sprigs. Add 2-3 cups of water (depending on the desired density) and blend until creamy. Salt to taste.
Brown the prociutto slices in a pan (no oil), until you see the first crusts. Even if they don't look crunchy remove them from the pan, they will be a few minutes later. Julienne them.
Return the oatmeal soup to the stovetop and bring to a boil. Serve the soup hot, sprinkled with prosciutto flakes and pear crisps and seasoned with olive oil.
the foodie find
My foodie find of the week (besides Italian savory oatmeal recipes) is dried white mulberries.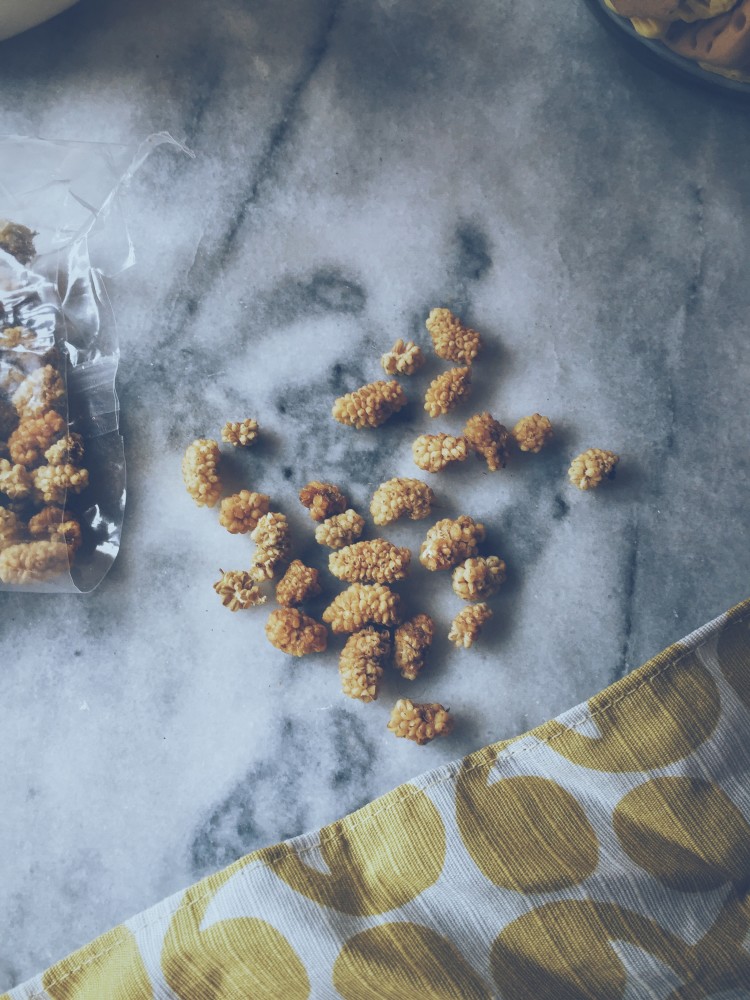 Every year we spend the first weekend of June at my friend Luigi's house in Vietri.
The first thing I do, when I get there, is reach the huge mulberries trees in the garden and eat as much of them as I can reach.
No trees near here, so I opted for the dehydrated version. Totally different, still delicious: they taste a little like raisins and a little like honey. I crumbled some over my yogurt: great try.