burrata recipes: a burrata bruschetta with oven roasted tomatoes (and pansies)
delicious and easy burrata recipes: burrata bruschetta

foraging intentions
At floracult I met Viviana, from vividisanapianta.
Apart from cooking with fresh plants and teaching how, she also goes foraging! That's something I'd love to learn.
I'm so wanting to participate to one of this walks.
Maybe in June.
I only need a partner, and it won't be easy…
Anyone in Rome interested?
pansies love
With the pansies from Piemonte Viviana gave me, I've been cooking and garnishing.
Those colors, those patterns. What a wonderful flower.
About the taste: it reminds me a little of roses, that soap-y aftertaste.
That's probably why they're usually part of the dessert world.
Still, I haven't used them in sweet recipes. I've gone savory and I've done many Italian vegetarian recipes. Let's say mediterranean recipes,
like the easy gazpacho.
And once again I'm making an Italian cheese recipe. With my sister's favorite cheese:
I made a burrata recipe.
It may be classified as an easy italian appetizer, but I would pair it with a salad, and have a fresh, delicious lunch as well.
burrata cheese recipes

This is the perfect Italian antipasto, an authentic Italian recipe for dinner parties where your guests are cheese lovers and Italian food lovers.
oven roasted tomatoes & burrata bruschetta recipe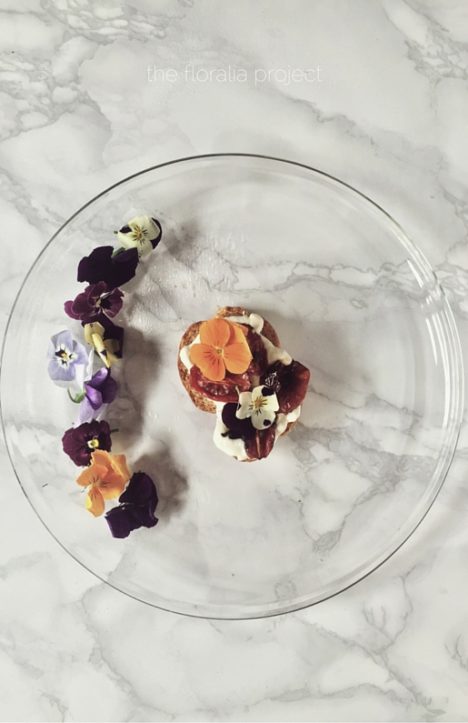 author:
Claudia Rinaldi | Gourmet Project
recipe type:
authentic Italian recipes
ingredients
1 french baguette
14 oz (400 gr) of cherry tomatoes
5 tablespoons of extra virgin olive oil
2 teaspoons of sea salt
1 tablespoon of brown sugar
10 oz (300 gr) of burrata cheese
30-40 pansies (plant your own!)
how to
Preheat oven to 180°C-350°F.
Clean and cut in half the tomatoes. Display them on an oven sheet (with parchment paper) and sprinkle them with 2 tablespoons of olive oil, 1 teaspoon of salt and 1 tablespoon of sugar. Bake 30-40 minutes, until you see the first crusts forming.
Meanwhile, blend the burrata with 3 tablespoons of olive oil and a teaspoon of salt, until you get a smooth cream.
Slice the baguette 1.5 inches (4 cm) high.
When the oven roasted tomatoes are done, toast the bread slices until crispy and lightly brown (about 4 minutes).
Finally, spread the burrata cream over the bread slices, add a spoonful of oven roasted tomatoes and garnish with pansies.
more Italian appetizers recipes:
enjoy your oven roasted tomatoes bruschetta