the traditional pasta puttanesca recipe: a tomato sauce with olives, capers and anchovies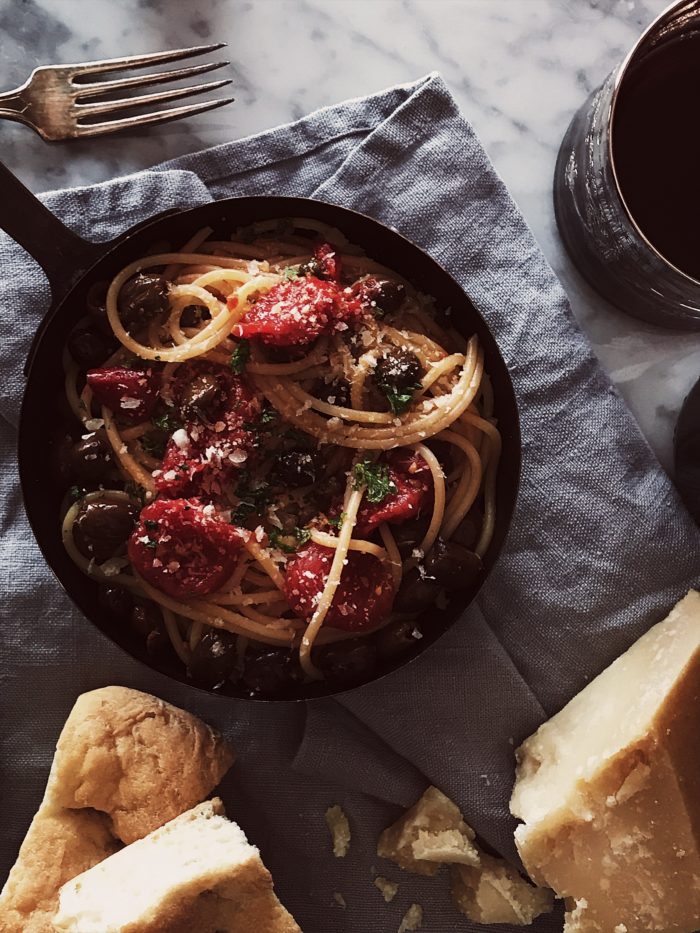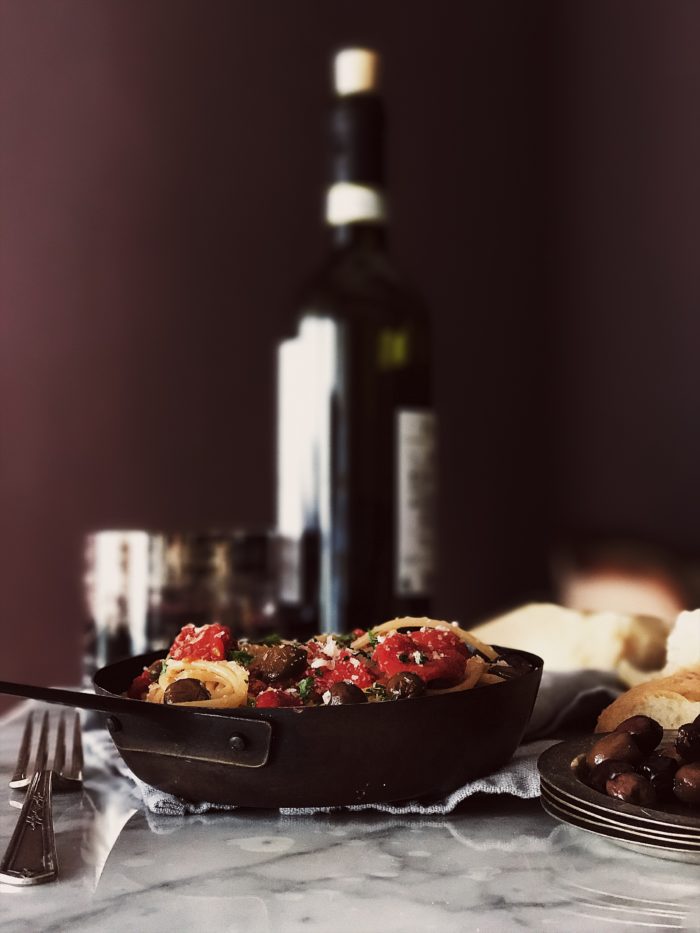 why puttanesca?
P#tt#na is a really bad word in Italy (it translates into b#tch).  So, a pasta called puttanesca sounds really rude, doesn't it?
But let's go deeper into Italian idiomatic expressions: a puttanata is a way to define something stupidly easy to do, a mistake you did, or something it took you no effort to achieve. This will help us rescue the delicious pasta puttanesca recipe from the infamous reputation of being the pasta dish prostitutes made for their lovers.
Apparently, the true origin of the puttanesca sauce is to be awarded to a group of friends. After a long dolce vita night, they came back home hungry as hell and in need of a big plate of pasta. Having just a couple of ingredients in their pantry/fridge, they came up with what we now know as the puttanesca sauce. Easy as it had been to get this gorgeous pasta dish made, a puttanata, they named it pasta puttanesca.
So I guess it's our duty to thank those viveurs and they're crazy habits. If it wasn't for those numerous glasses of wine, innumerable shots of limoncello, Amaro or grappa, and a lot of walking, chatting and going around the city in the middle of the night, we wouldn't have had the glorious puttanesca recipe to enjoy on an Italian dinner night.
the authentic pasta puttanesca recipe
This is the authentic pasta puttanesca recipe, which origins are controversial: Naples or Rome? No one really knows but everyone says they do… so Italian :-).
The story about the puttanesca sauce I told you above is from Ischia, a beautiful island in front of Naples… and this clarifies what I chose to believe to.
A new recipe addition to the Long Pasta Project:
the pasta puttanesca recipe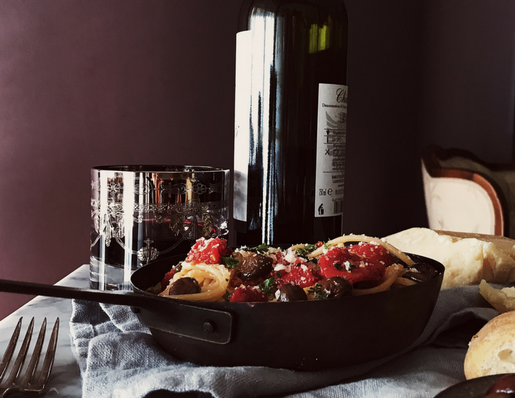 author:
Claudia Rinaldi | Gourmet Project
ingredients
Ingredients for 4
360-400 gr (13-14 oz) of spaghetti
500 gr (17.5 oz) of canned or fresh tomatoes (only if in season and cherry tomatoes for a sweeter result)
2 anchovies
5 tablespoons of deseeded black olives (I used taggiasche)
1 garlic clove
1 tablespoon of salted capers
1 red chili
2 tablespoons of fresh parsley, finely chopped
2 tablespoons of extra-virgin olive oil
how to
If you are using fresh tomatoes, bring a medium pot of water to boil, add tomatoes, boil them for less than a minute and drain. Rinse them under cold water and peel them immediately. Finally, place them in a bowl and smash them with a fork, or a potato masher.
Peel and crush the garlic clove. Cut the chili in two and remove the seeds only if you don't want the dish to be too spicy.
Bring salted pasta water to a boil.
Heat the olive oil in a large skillet, brown the garlic and the chili and remove them.
Add the anchovies and smash them with the back of a wooden spoon.
Now add olives and sauté a few seconds.
Finally, add tomatoes and capers, mix and cook medium/low heat, 5-10 minutes, until liquids almost halve.
Meanwhile, cook pasta, drain it and add it to the skillet.
Mix, and sprinkle with parsley.
Serve hot.
la morte sua…
Grated parmesan or pecorino is not a traditional add to the pasta puttanesca recipe, but I think a little sprinkling is "la morte sua" (its death).
This colorful Italian idiomatic expression is used to describe a perfect combination of flavors. You are saying they come to die (in your mouth) in the best possible way.
So, next time you sprinkle some parmigiano on your puttanesca sauce, you can tell your friends it's not a consuetude but it's "la morte sua", and you'll add a little conversation topic for the night :-).