an Italian salmon recipe: orange fish packets
baked salmon steak: honey, orange and thyme fish packets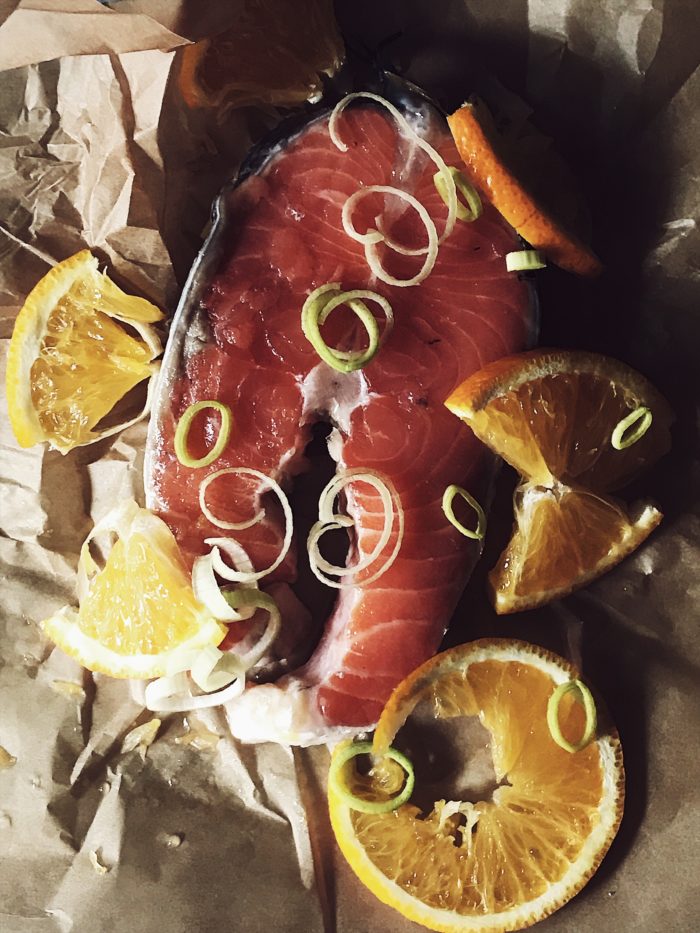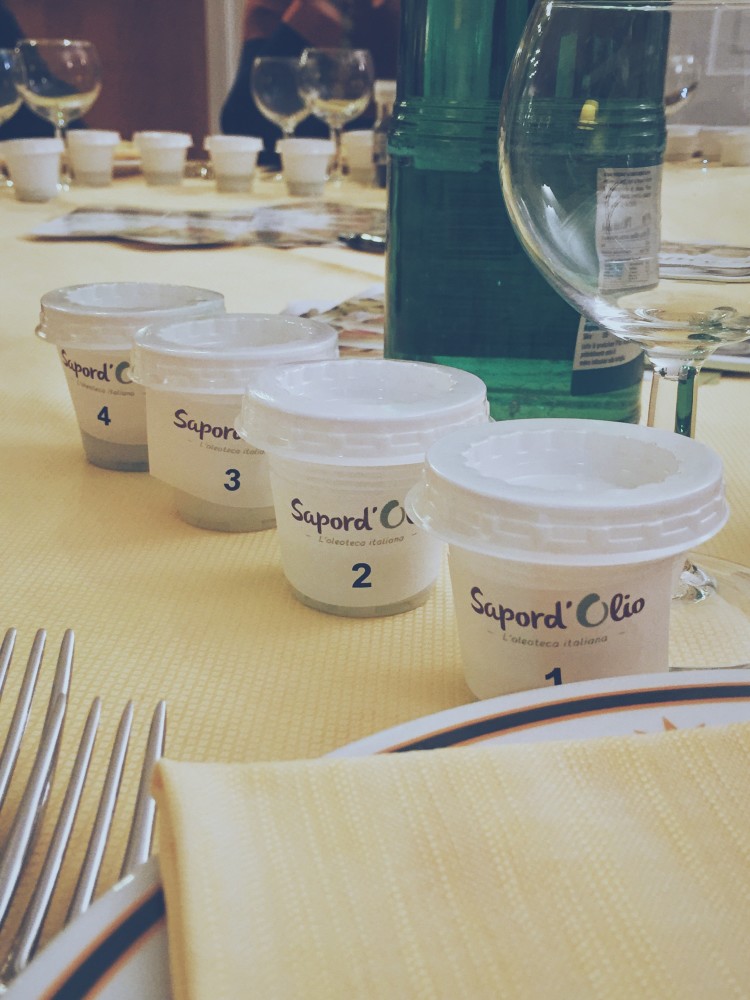 the olive oil tasting night
Want to know how much Italians are into olive oil? Well, enough to have oil boutiques. Enough to have these boutiques offering more than 200 varieties. And enough to have olive oil tasting parties, with professionals, teaching you how to.
Thanks to my always-into-something dad (grazie papy), yesterday I attended one of these semi-formal tasting dinners. So, I can now tell you, step by step, how to attempt professional olive oil tasting.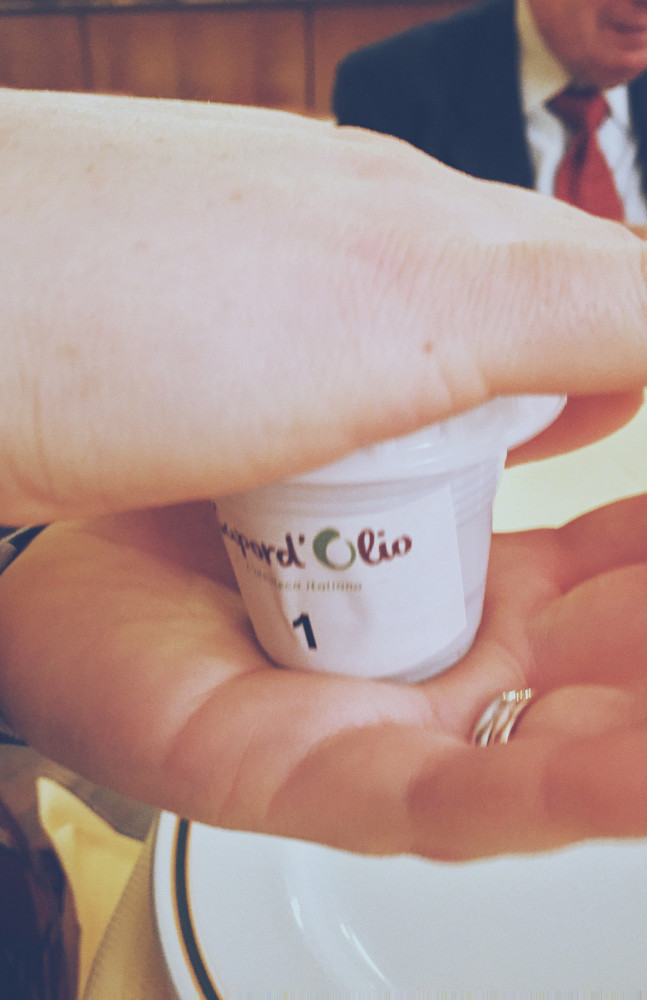 serve a few tablespoons of each oil in small plastic cups (although I think I'll use mini jars (cuter))
display them from the lighter flavor to the strongest one
hold the cup between your two hands, to lightly heat the oil and make it release flavors
delicately dip the tip of your tongue in the oil and let some air into your mouth (this helps, not sure why :-)).
try to feel different flavors: sweetness, bitterness and aftertastes
try to guess and verify which oil tastes better with any or all of the following: beans, chickpeas, raw vegetables, different kinds of bread.
We also tasted three choco spreads, with olive oil instead of milk. Well, heaven. And icecream, same thing: olive oil instead of milk. Ginger. Yum.
the Italian salmon recipe
Back to the moonlight project… the final recipe: an Italian salmon recipe with the mess-free fish packet technique.
I added honey, orange and thyme.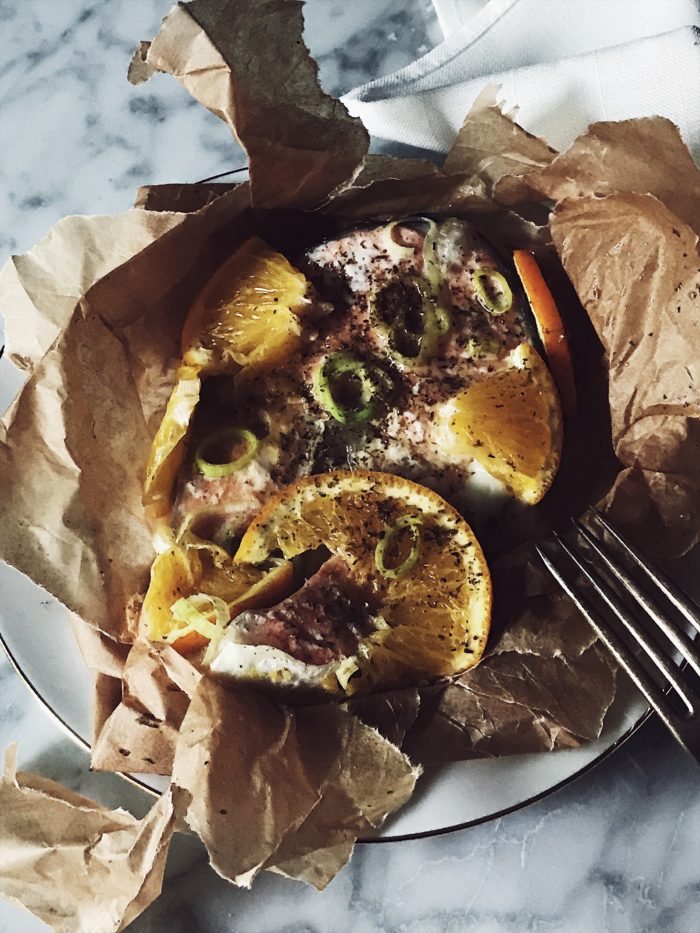 But first let me give another contribute to the Moonlight Project (recipes that help you sleep): here's the list of all the food that helps your sleep, collected from all around the web.

salmon packets recipe
author:
Claudia Rinaldi | Gourmet Project
ingredients
2 salmon steaks
½ an orange (organic, because you'll use the zest too)
1 tablespoon of extra virgin olive oil
1 tablespoon of honey
½ teaspoon of salt
4-5 sprigs of thyme (or ½ teaspoon of dry thyme)
2 inches of leek
parchment paper
how to
Preheat oven to 320°F (160°C).
Slice the orange and the leek.
Cut a rectangular piece of parchment paper (3-4 times the salmon steak).
Mix well honey, olive oil and salt.
Place the salmon fillet on the center of the paper, add 3-4 orange slices, 2 sprigs of thyme, half the leeks and half the honey sauce.
Fold the upper and bottom part of the paper, then fold horizontally around the steak.
Repeat for the second fillet.
Place them on an oven tray and bake 15-17 minutes.
Remove from the oven, carefully tear off the paper and serve the salmon packets hot.

enjoy your healthy and sleepy salmon packets