A travel guide to Alba and Langhe in Piedmont.
Learn about the food, the traditions, the things to do and see, and the basics for a truffle experience.
In this issue, you'll find truffles, wines, hard-working & life-loving people. Fall traditions, Christmas inspiration, and more.
This issue of Simposio is dedicated to a beautiful land in Piedmont, Italy: the reign of foliage, wine, and truffles.
You'll find regional recipes, interviews with the locals, dreamy landscapes, and traditions.
Plus, topics related to Fall celebrations, superstitions, Christmas, and New Year's Eve in Italy.
– 115 pages
– 113 pictures
– 23 recipes
– no ads
– made in Italy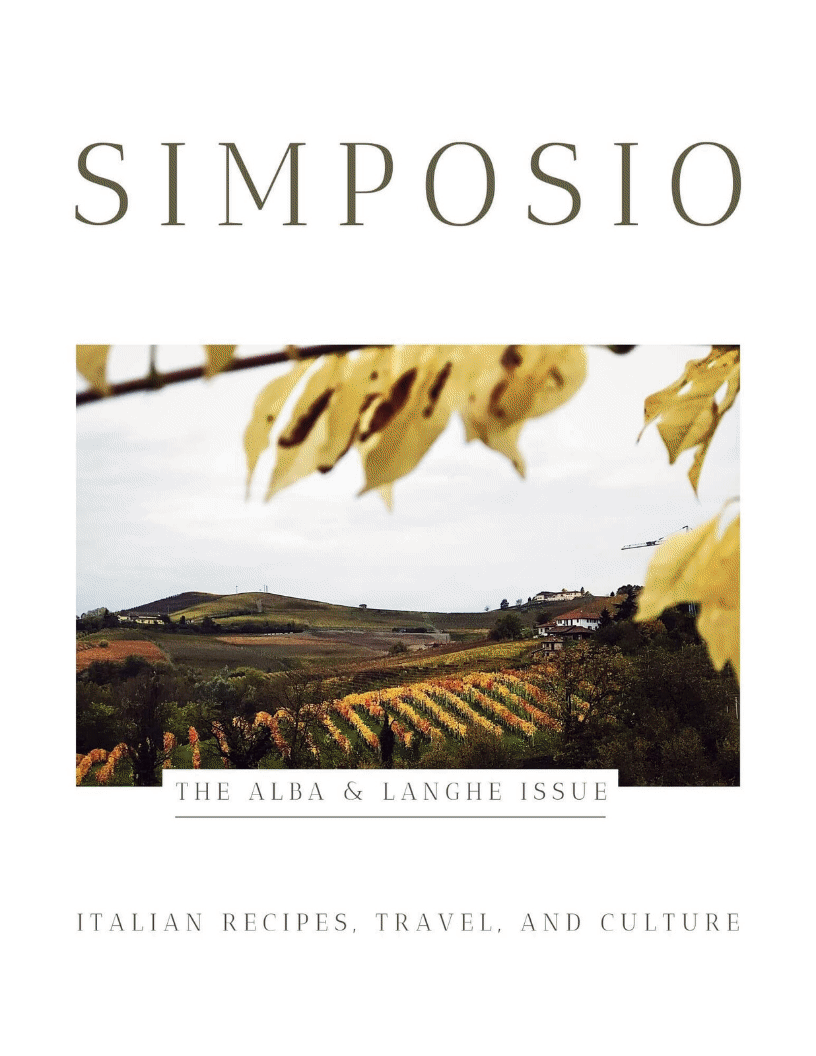 about the Alba & Langhe Issue
In the Alba & Langhe issue:
115 pages
113 pictures
23 recipes
6 wines + all you need to know about Langhe wines
9 DIY projects
More specifically:
a Piedmontese Bucket List
Alba & Langhe: 28 pages of traveling stories, interviews with locals, and descriptions of the city of Alba and Langhe's little perched towns; an introduction to Piedmontese wines and the basics for tasting and pairing them; an overview of the truffle mushrooms world: how to choose them, savor them, and use them in the kitchen; 12 authentic recipes from Alba & Langhe.
The Halloween Project: stories, inspiration, DIY projects, Italian culture, and recipes.
The Seasonal Project: 4 recipes to make the best out of seasonal produce.
The Grape Project: recipes using grapes, from the starter to the dessert.
The St Martin Project: ancient customs, a charcuterie board, a recipe for a dinner party, and a poem.
The Christmas Project: 4 ideas for Christmas celebrations, 5 Christmas recipes, including DIY edible gifts, and a little story about New Year's celebrations in Italy.
about Alba & Langhe
Before you read the Alba & Langhe Issue, here are a few tips and information about this land of extraordinary wines, delicious food, and hard-working people.
WHERE IS ALBA AND getting there
Alba is a town in the province of Cuneo, Piedmont, Northern Italy.
You need a car to get there. I don't think you are going to stay in Alba all the time, you'll probably want to explore the Langhe region. Langhe hills have recently become a UNESCO World Heritage Site, and the reason is they are a spectacular landscape of nature, vineyards, hazel trees, perched towns, and castles.
You can reach Turin's airport and rent a car, it's about an hour drive, but a beautiful drive. From Rome and Milan, you can also reach Turin by train, and, as said, rent a car there.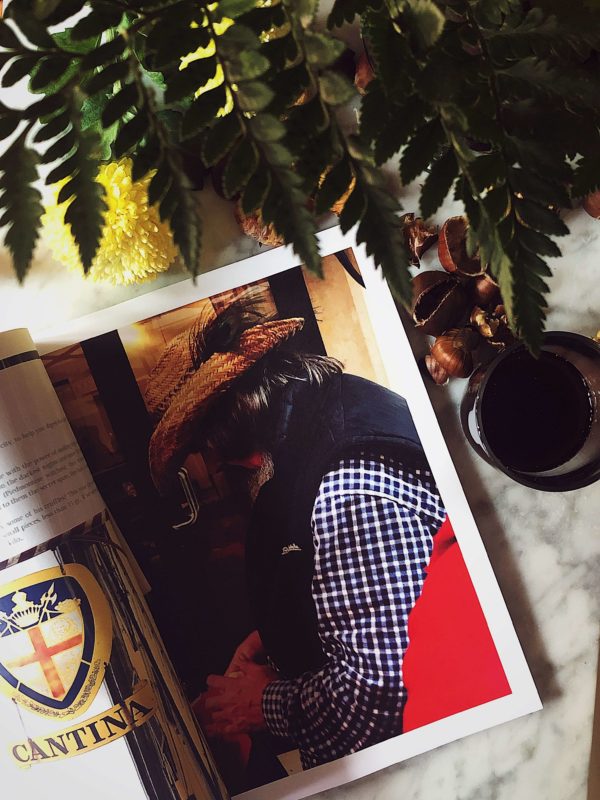 when to go to ALBA AND LANGHE
Alba is a perfect Fall destination. The Alba White Truffle Festival is usually held between the end of October and November, and it is joyful, engaging, and delicious.
Plus, Fall is the perfect season to taste Langhe wines, eat local products, and enjoy all those tones of red, brown, orange and green: the best foliage panorama I've seen to date in Italy.
Alba accomodations
Hotels in Alba are costly, so if you are looking for something more affordable, and guess what, more picturesque, look for "locande" (guesthouses) or bed & breakfasts.
You'll have to drive a bit, but waking up facing a vineyard is worth every mile. Plus, it's always a good occasion to talk to locals and let them guide you by suggesting local businesses, restaurants, wineries, etc.
When we planned our trip, we consulted the list from the truffle fair website. Of course, the earlier you book, the better.
Alba restaurants
I'm sharing here with you the list of the best restaurants in Alba (and surroundings) I prepared for our trip. All of them were collected through friends and friends of friends recommendations.
things to do in Alba
Alba is a small, pedestrian town, in a day you'll visit it all.
But here's a list of things you should absolutely do:
Have an aperitivo with local wines, polpette (meatballs), roasted potatoes, and fried polenta.
Walk through the narrow streets, and visit the churches (the gothic San Lorenzo, the baroque Maddalena, and San Domenico, my favorite).
Visit Beppe Fenoglio's house, a brilliant Italian writer, dramaturg, and partisan (this is important, keep it in mind for when you'll read the issue).
Visit the Slow Food Market on a Saturday or Sunday morning and explore local specialties.
If you go there during the Alba White Truffle Festival:
attend a Truffle Course: remember to book in advance – lessons are in Italian and English;
have lunch at the fair: also it is crowdy, and you might be in line for quite a bit, the food is local, authentic, and really really good;
shop for wines: the fair is full of stands that will let you taste their scarlet treasures, and that can send you cases of wine everywhere in the world.
Places to see in the Langhe region:
Barolo, yes where the Barolo wine is produced;
Pollenzo, where the Slow Food University was founded in 2004, it is the only university dedicated to Gastronomic sciences in the World;
Neive, the cutest perched town in the region;
Castello di Grinzane, to shop wine and grappe, visit the Langhe museum, and see where the Order of the Knights of the Truffle and Wines of Alba gathers for its meetings and rituals (you'll learn more about them on the issue);
Cherasco, to try the "baci di Cherasco" (kisses), hazelnuts covered in dark chocolate;
La Morra, not only it is a beautiful town it also home of the Cantina Comunale (Municipal winery), a place where locals discover, taste, and buy local wines.
Alba wines, wineries and vineyards
Don't leave the Langhe valley without tasting at least a Barolo, a Barbaresco, and a Dolcetto.
But if you have time, complete your tasting experience with a Barbera, an Asti Spumante, a Nebbiolo, a Moscato d'Asti, a Grignolino, an Erbaluce, and a Gattinara.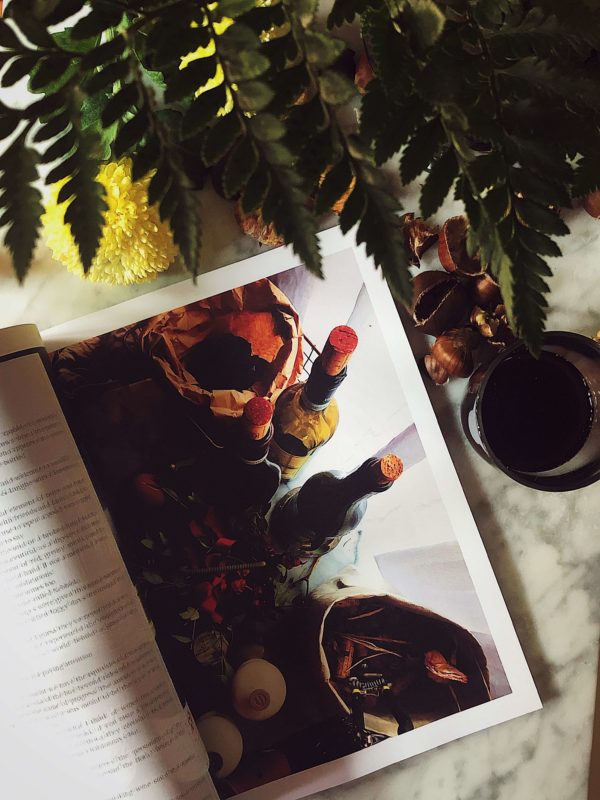 Don't miss a wine tasting (book at least a few days in advance). Here are all the vineyard suggestions we got from friends and friends of friends:
We will learn more about how to taste and enjoy these wines on the mag!
chocolate paradise
Piedmont is the first Italian producer of chocolate: Novi, Ferrero, and Venchi are located here. But you can easily buy all of them online or at Italian shops. While in Alba and Langhe, you should take the opportunity to taste (and buy) artisanal chocolates, spreads, and creams. You'll need to check-in an extra suitcase, trust me!
For Nutella aficionados: sorry, the visit to the factory is not available anymore.
When and if you visit Gherasco, there's a delicious chocolatier that uses the world-famous Venezuelan cocoa to make his masterpieces: Riccardi.
specialties you must try
Piedmont has 341 traditional specialties. It is the fifth Italian region with more traditional products. (The first one is Tuscany)
Too many for a trip of a few days, right?
Don't worry, I selected the unmissable ones for you:
Piedmontese beef, not only it is autochthonous and delicious it is also an ancient variety with a long, long story.
Alba's white truffle: way more delicate than the black truffle, so don't expect a dizzying flavor, you need to concentrate and have a clean palate to really appreciate its taste. It's quite impossible to take it back home with you, so feast on it as much as you can!
Hazelnuts: buy a sack at the market (I told you you'll need an extra suitcase!), try the spreads, the cakes, and the cookies made with hazelnut flour!
Robiola cheese, a soft-ripened stracchino-like delight. Try it with truffle flakes!
Agnolotti del Plin: pinched agnolotti stuffed with pork and beef (We'll make them on the mag and savor them in three old-world ways).
Tajarin: tiny stretches of egg pasta, imagine spaghetti, but way thinner, fresh and eggy (we'll learn to make them on the mag). Try them with white truffles and butter or with beef ragù.
Paste di meliga: corn flour cookies so fragrant they'll melt in your mouth. So you'll need to taste another one, and another one… and another one! (We'll make those too!).
Alba's torrone.
about Simposio
Simposio is an Italian recipes, stories, and culture magazine.
In Ancient Greece and Rome, philosophers, artists, and a few lucky ones attended rich banquets followed by wine, singing, dancing, playing, and cultural conversations.
This last part was called Symposium, Simposio in Italian.
And that's what you will experience when you browse the pages of the magazine: a world of meaningful conversation, inspiring learning, and dionysian pleasures.
In each issue, you'll walk through a different city or region. You'll go deep inside food culture, stories, lifestyle, and traditions.
Expect the following:
exploring the best monuments and secret places
things to add to your Italian bucket list
local & authentic recipes
jokes, beautiful words and expressions
culture, habits, and lifestyle
seasonal fun and inspiration
lovely pictures
A little technical stuff:
You can choose between print and digital.
Servings are for two people, to be duplicated as desired.
Measures are in gr, cups, and oz.