The Chianti Classico Issue of Simposio
A Chianti slow travel guide for wine and meat lovers.
Discover Chianti: where to go, things to do, what to eat and drink, and the traditions of a life-loving culture.
slow traveling Chianti 
The Chianti Classico issue of Simposio is a slow travel guide to traditional recipes, beautiful places, and the local culture.
The Chianti region is not just a place to go on vacation or for a road trip, but a land of rich culture, folklore, and traditions.
Before going, get your copy of Simposio. Snuggle on the couch, sip from a glass of good wine, and listen to soft music. There's so much to learn, so much to devour (with your eyes too), and a lot to put in your travel bucket list!
In the Chianti Classico issue:
115 pages
113 pictures
25 recipes
5 Projects
a lot of wine
the index:
| Travel
08 Chianti Classico
26 A Day In The Life
32 An Interview
34 Chianti Wine
36 Besides Chianti
38 Eating In Chianti
| Culture
87 Carnival Tricks
93 Eurotrash
94 Uovo Battuto
96 The Way We Eat Out
98 Figurine Panini
| Projects
06 Bucket List
100 The Winter Project
102 Eucalyptus
106 Birthday
108 The Rosemary Project
| Recipes
40 Spleen Crostini
42 Red Crostini
44 Chianti Tuna
46 Pici
48 Crumbles Pici
50 Chianti Ragu
52 Chianti Stracotto
54 Drunken Pork
56 Chianti Marrowbones
58 Sweet-Strong Boar
60 Chianti Rooster
62 Chianti Broth
64 Redone Boil
66 Glutton Potatoes
68 Grape Tomatoes
70 Cantucci Cookies
72 Africans
74 Pine Nut Crunch
76 Chianti Pears
79 Kale Soup
80 Chickpeas Soup
82 Chianti Acquacotta
84 Ribollita Soup
88 Rice Fritters
90 Berlingozzo Bundt Cake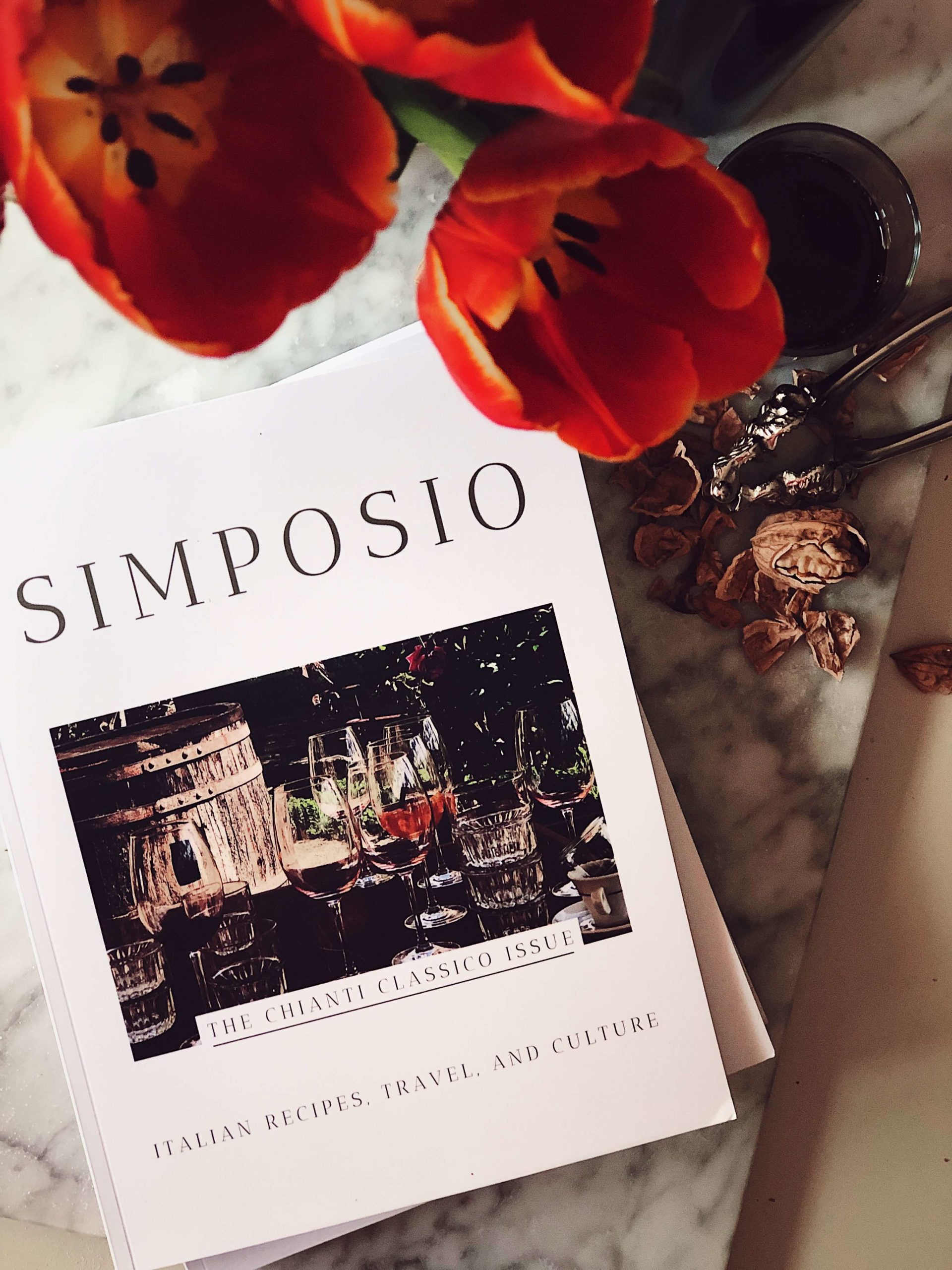 about the Simposio mag
Simposio is an Italian recipes, stories, and culture magazine.
In Ancient Greece and Rome, philosophers, artists, and a few lucky ones attended rich banquets followed by wine, singing, dancing, playing, and cultural conversations.
This last part was called Symposium, Simposio in Italian.
And that's what you will experience when you browse the pages of the magazine: a world of meaningful conversation, inspiring learning, and dionysian pleasures.
Expect the following:
exploring the best monuments and secret places
things to add to your Italian bucket list
local & authentic recipes
jokes, beautiful words and expressions
culture, habits, and lifestyle
seasonal fun and inspiration
lovely pictures
A little technical stuff:
You can choose between print and digital (Kindle).
Servings are for two people, to be duplicated as desired.
Measures are in gr, cups, and oz.
Enjoy your Chianti slow travel guide!
Claudia