This issue of Simposio is a Cinque Terre travel guide book, cookbook, and culture magazine available both in print and pdf. 
Cinque Terre is the Ligurian region of sea, poetry, and anchovies. Discover it in the company of an Italian friend: explore the Cinque Terre – the five lands -, taste the food, learn the culture, meet the people, and take home beautiful photographs.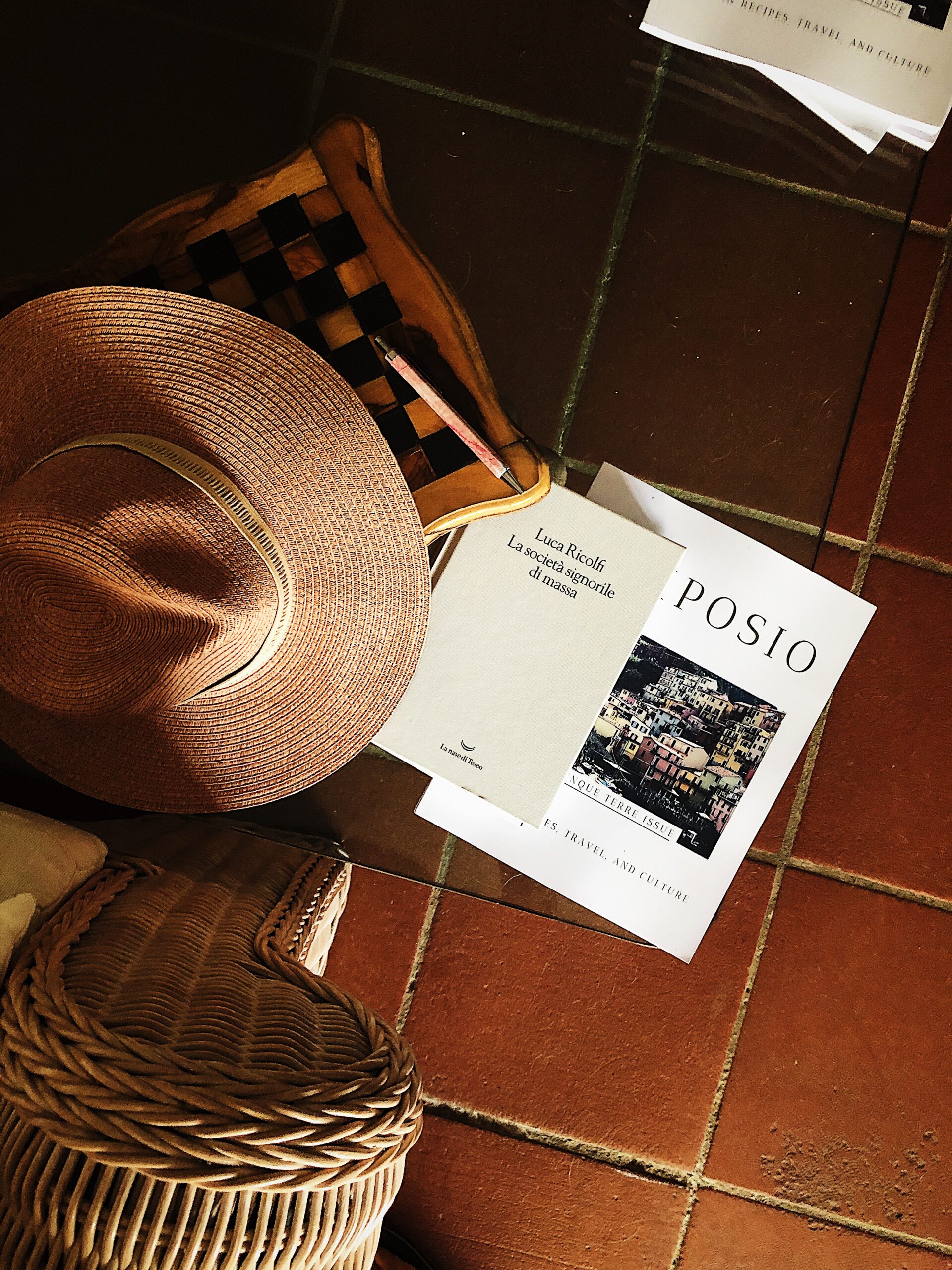 a Cinque Terre travel guide book, cookbook, and culture magazine
This issue of Simposio is a slow – very slow – Cinque Terre travel guide book to the places, the food, the traditional recipes, and the local culture of a tiny coastal strip of Liguria's Riviera.
This issue aims to lead you through the five villages with pictures, stories, anecdotes, and the true point of view of an Italian. I aim to make you experience Italy as I see it: as if you were traveling next to me – and I was tormenting you with my gab and my mental frills. Because traveling, slow and mindful traveling, means seeing the good and the bad and letting things touch you deeply.
Any guide can tell you what to see, what to do, and what to eat, this one goes a bit further. It is a journal, a travelogue, a trip with a nerdy friend that has read and researched all she could find about the places, the people, the traditions: a mindful journey through Italy's unique heritage. 
Cinque Terre will caress you with its pastel colors, nourish you with its food, make you mad with the overexposure to tourism, and then lull you on the waves of its deep blue sea.
Ready?
Andiamo!
Claudia
In the Cinque Terre issue:
115 pages
113 pictures
28 recipes
5 Projects
a lot of olive oil
THE INDEX:
| Travel
Cinque Terre
Levanto
Monterosso
Vernazza
Manarola
Corniglia
Eugenio Montale
An Interview
| Culture
Cantamaggio
Nonna Remedies
| Projects
Mother's Day Basket
Cantamaggio Wreath
Spring Tablescape
The Olive Oil Project
| Recipes
Acciughe di Monterosso
Salsa Marinara
Pesto Genovese
Croxetti or Corsetti
Pesto Pasta with Potatoes and Green Beans
Prescinseua
Sarsa de Pignêu
Potato and Pancetta Ravioli
Ciuppin
Cuttlefish
Tiàn de anciue di Vernazza
Gamberi in Sguassetto
Ligurian Green Beans
Pesto Artichokes
Savory Rice Cake
Frittedda from Sicily
Scafata Umbra
Vignarola from Rome
Fava Beans Pesto from Liguria
Pasta with Fresh Garlic
Frittata with Fresh Garlic
Agliata della Valtiberina
Asparagi alla bassanese
Milanese Asparagus
Pasta with Prawns and Asparagus
Swiss Rhubarb Pie
Rhubarb Syrup
Rhubarb Liquor
about Simposio
Simposio is an Italian recipes, stories, and culture magazine.
In Ancient Greece and Rome, philosophers, artists, and a few lucky ones attended rich banquets followed by wine, singing, dancing, playing, and cultural conversations.
This last part was called Symposium, Simposio in Italian.
And that's what you will experience when you browse the pages of the magazine: a world of meaningful conversation, inspiring learning, and dionysian pleasures.
Expect the following:
exploring the best monuments and places
things to add to your Italian bucket list
local & authentic recipes
jokes, beautiful words and expressions
culture, habits, and lifestyle
lovely pictures
A little technical stuff:
You can choose between print and digital (Kindle).
Servings are for two people, to be duplicated as desired.
Measures are in gr, cups, and oz.