Siena by Simposio is an Italian travel cookbook filled with traditional and authentic recipes, beautiful places, legends, characters, and traditions. A guide to local specialties, folklore, and culture.
Siena (Tuscany, Italy) is the city of the horse Palio, of folly people and delicious sweets like Panforte and Ricciarelli cookies. This travel cookbook will let you plunge into the folly, meet people from the present and the past, and cook unforgettable dishes.
Snuggle on the sofa, pour yourself a glass of red wine, light a candle, and put on good music: your Siena adventure is about to begin!
a Siena slow travel cookbook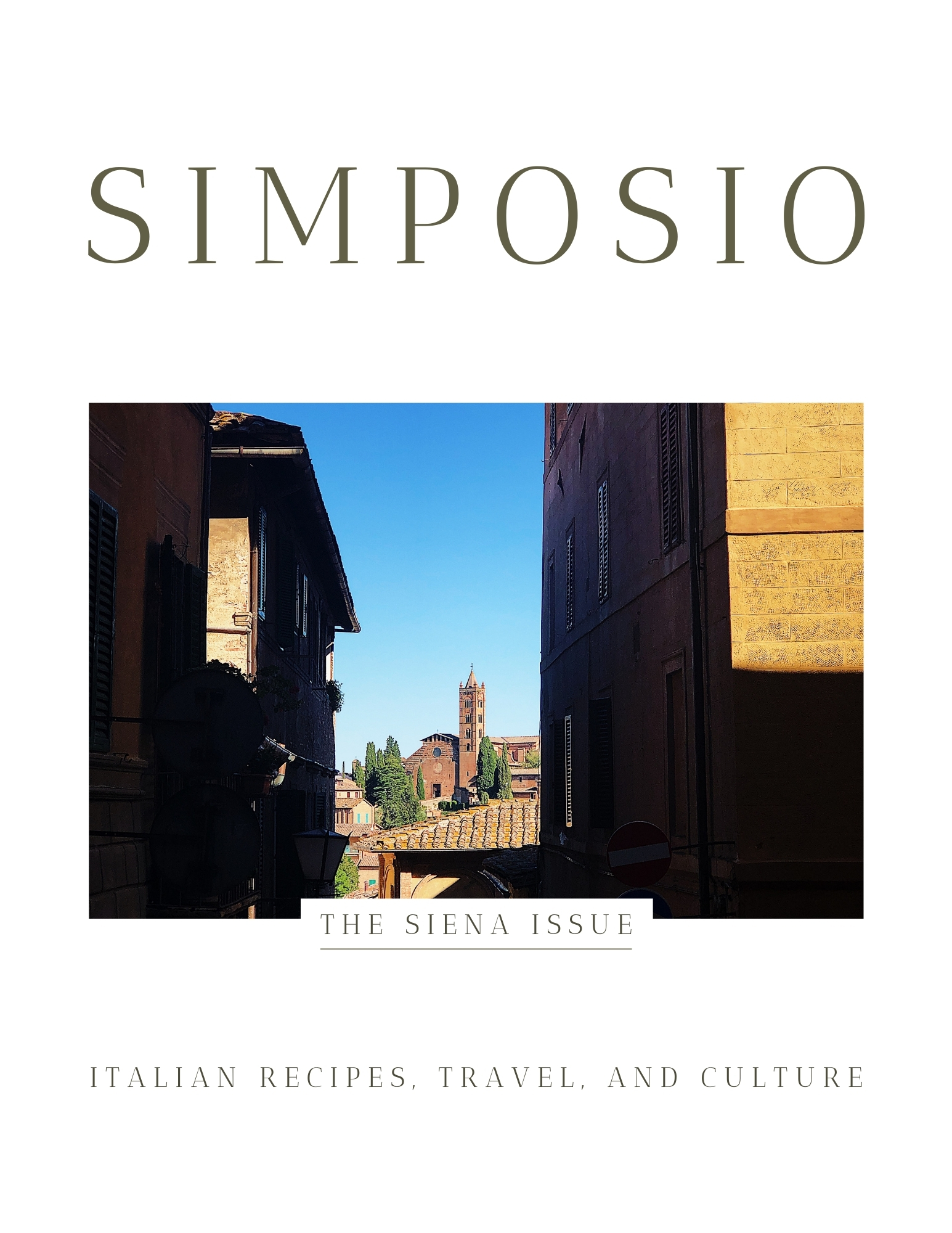 FROM SIENA'S SIMPOSIO TRAVEL COOKBOOK
"Welcome to Siena, the Tuscan city of Palio, delicious sweets, and Middle Ages.
But there's more, much more. Behind the big show, behind the brownish brick walls, behind the fancy patisseries.
There's passion – some, including me, would say folly – and there's pride.
In this issue, we will be swept away by the folly of poets, waters, husbands, economics, friars, painters, and the seventeen Contrade of Siena.
We will also experience the universe of Middle Ages apothecaries and prepare one of their potent remedies at home!
Further in time, we will meet Etrurians, an indigenous population of the Tuscan lands, and sit at their tables to savor their dishes, discovering the flavors and ingredients that put a base to Tuscan cuisine. 
We will also explore Siena's traditional food: recipes from the countryside farms, from the noble palaces, and right out of Nonnas' ovens!
Siena will be a new destination of our emotional journey through Italy. Our way to honor and preserve the country's heritage, past, and present through a different traveling style: slower, deeper, more mindful.
Pour yourself a glass of red wine, spread some toasted bread with olive patè, play some jazzy music, relax and dive into Siena's emotional world.
COOKING NOTES
Recipes are in grams, ounces, and cups whenever possible. Servings are mostly for two, but you can duplicate as desired.
Remember to read the recipes all the way. It helps a lot. First, you are conscious of the ingredients and the tools that you will need; second, you will behave intentionally, knowing, in broad terms, what's coming next.
I also recommend gathering all the ingredients on your working station before starting to cook. I try to indicate peeling, chopping and dicing at the best timing, but if you want to make things easier, you can prep them before you begin.
Most of the ingredients are easily gatherable, and I try to give you substitutes any time I consider it feasible with decent results. I've seen Prosciutto, Pecorino, tomato paste (passata, not sauce), pelati, Italian sausages, and mozzarella in many supermarkets abroad. 
You might need to search a bit for 00 flour. Guinea fowl and pigeon are not common meats, but if you find a good butcher, you can certainly order them – and you'll find out later why I recommend doing so. You can substitute fresh brewer's yeast with the dry version; the proportion is 3:1 – divide the fresh grams/ounces per three. You need dried Porcini mushrooms and Pici pasta, but I guess you can find them online. Remember that Italian cuisine uses many fresh herbs and spices and that mozzarella can be "fiordilatte" (cow milk) or "bufala" (buffalo milk).
Finally, use good quality wine for cooking, it goes in your body just like the one you drink, and it does change the flavor of your food! Plus, you can savor it afterward while savoring your creations.
Benvenuti a Siena.
Claudia"
take a look inside Siena's Simposio
THE INDEX:
06 Welcome To Siena
08 Cooking Notes
10 A Bucket List
12 Siena
14 Folly
18 A Folly Poet
22 Folly Husbands
24 Folly Waters
28 Twins
30 Folly Economics
34 Folly Hedonists
36 Folly Academies
40 Assicurate
44 Folly Games
46 Folly Women
50 Summer Folly
56 Camilla
62 Folly Traditions
64 Folly Eyes
66 Folly Forger
70 Am I Folly?
82 Religious Folly
86 Apothecaries
90 Artichoke Decoction
92 Etrurian Food
96 Quail Eggs and Thyme
98 Oleata
100 Mushroom Crostini
102 Fava Beans Soup
104 Etrurian Guinea Fowl
108 Eating In Siena: specialties and recipes
112 Sausage Crostoni
114 Herbal Pecorino
116 Black Eyed Peas Soup
118 Kale & Pancetta Pici
122 Sienese Ragu
124 Sienese Pigeon
128 Ribs & Olives
130 Sage Tart
132 Ciancifricola
134 Ciaccino
138 Panforte Margherita
142 Budinone – Siena's cake
144 Zuppa del Duca
148 Pinolata
152 Ricciarelli Cookies
156 Cavallucci Cookies
ready for an Italian adventure?