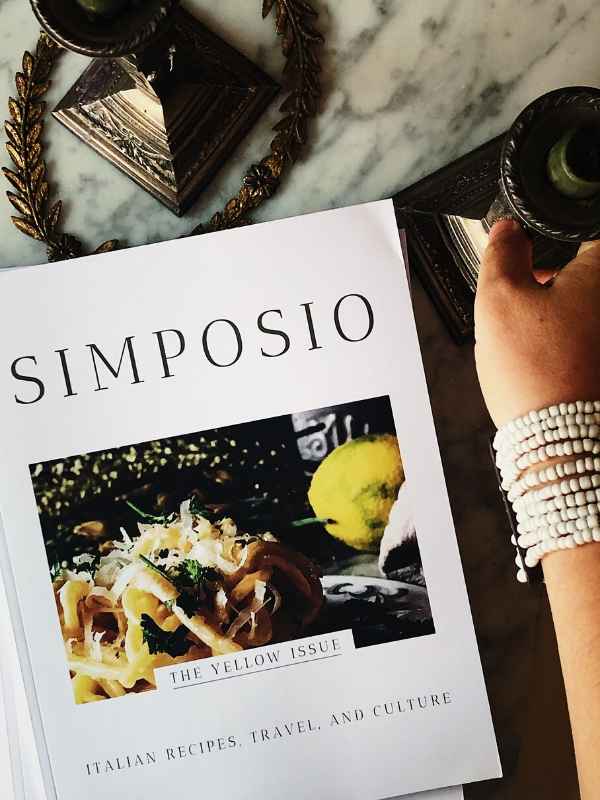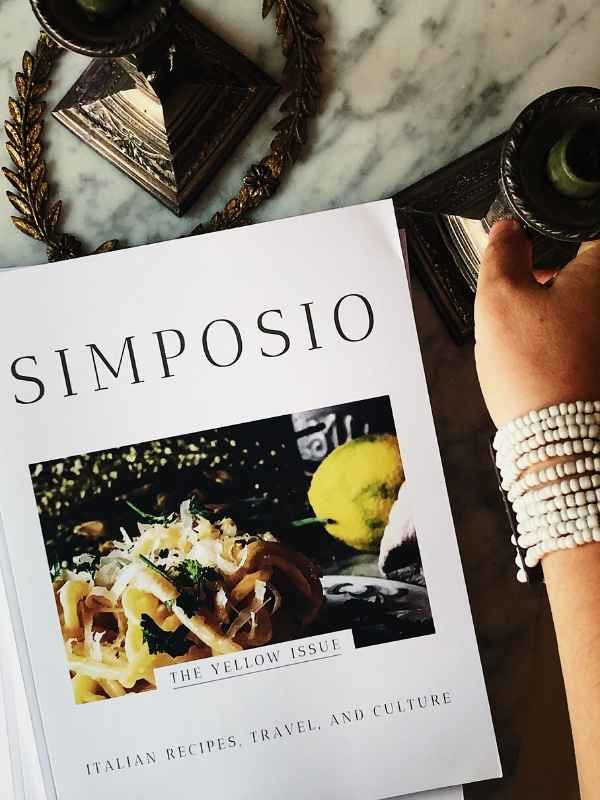 Welcome to the Yellow issue of Simposio and to the Italian winter: pasta, mushrooms, chestnuts, cheese, walnuts.
Cook Italian, learn traditions, and explore Rome's secret jewels!
about the Yellow issue
The yellow kitchen is where we cook nutritious Italian comfort food, based on seasonal ingredients. These are recipes that help us fight the cold and the melancholy of short and dark Winter days.
The yellow home is a place so warm and welcoming that everyone prefers to stay in, rather than hysterically run around in search of distractions.
But the yellow issue is also a source of inspiration to go out, for activities worth the effort of adding layers and layers of wool to your outfit. Less is more when it comes to Winter adventures: a night out at the theater, an art exhibition, a salt caves experience… and then… back to the sofa, with a hot chocolate and a good book.
Why yellow? Because of the yellow ingredients you'll use to cook comfort and tasty Winter dishes.
You will cook delicious pasta recipes, like pasta and cauliflower from Sicily, lemon tonnarelli, Pasta e Fagioli from Naples, truffle pappardelle, and mushroom sagnarelli. And yes, you'll learn what these pasta shapes are!
Next, you'll cook cheese like never before: crostini, cheese boards, fondues, and raclettes: all the goodness a slice of good Italian cheese can give!
Pulses are Winter favorites here in Italy, so next to Pasta e Fagioli, you'll find delicious ways to cook lentils and chickpeas too!
Between a cooking session and the other, wouldn't it be nice to visit a secret jewel of Rome? This year you'll uncover Rome's Jewish ghetto: the food, the people, and the traditions.
Back to the kitchen, you'll fall in love with an unusual ingredient: walnuts. You'll use them to make pasta, soups, and cookies.
You'll also become your local fishmonger's best friend: he'll be your supplier for some of the most fabulous recipes you'll cook this Winter: Italian fish recipes. Including pasta (of course), oysters and baked casseroles.
There's still more to be uncovered: life in Italy during Winter, seasonal celebrations, slow baking, and home projects.
Ready? Go grab a soft blanket, put on the boiler and choose your favorite tea blend, it's time for a good read!
In the Yellow issue:
107 pages
106 pictures
26 recipes
6 stories
THE INDEX:
2 HELLO
5 BUCKET LIST
6 THE YELLOW PROJECT
8 cauliflower pasta
10 lemon tonnarelli
12 lemon jam
14 chestnut soup
16 THE CHEESE PROJECT
18 kale crostini
20 cheese board
22 parmesan fondue
24 scamorza raclette
26 THE LEGUMES PROJECT
27 pasta & beans
28 lentil soup
30 chickpea tart
32 AMARO
34 THE MUSHROOM PROJECT
35 truffle pasta
36 truffle oil
38 porcini risotto
40 mushroom sauce
42 THE PASTA PROJECT
43 tonnarelli
44 trofie
45 bucatini
46 sagnarelli
48 JEWISH GHETTO
62 a poem
64 BRUSCOLINI
66 THE WALNUT PROJECT
68 walnut soup
70 walnut sauce
72 walnut cookies
74 BICCHIERE DELLA STAFFA
76 THE FISH PROJECT
78 fish & olives pasta
80 chic oysters
82 oven baked fish
84 FOODIE FIND
86 WINTER IN ROME
93 CARNEVALE
96 THE SLOW WINTER PROJECT
98 perfect beignets
97 pear chips
99 rosemary sweet potato bread
101 fancy tea
103 face cleanser
105 BREAKFAST IN ITALY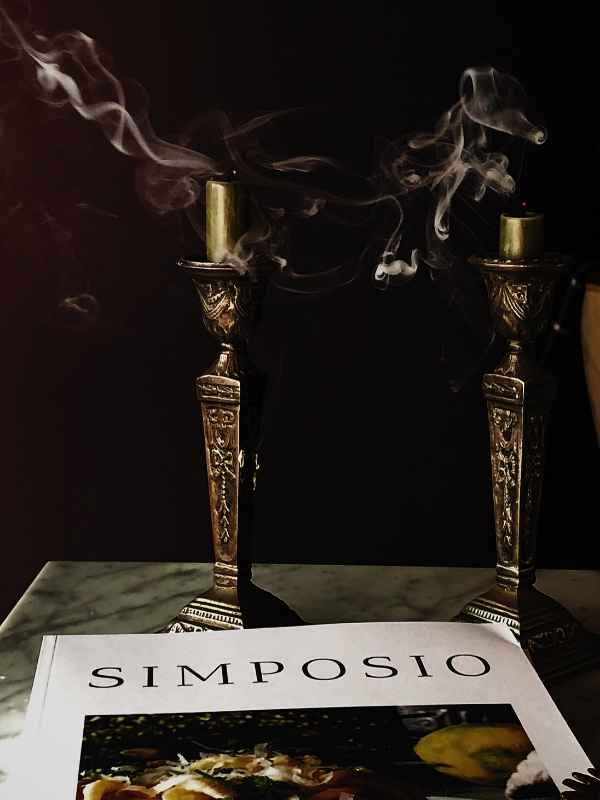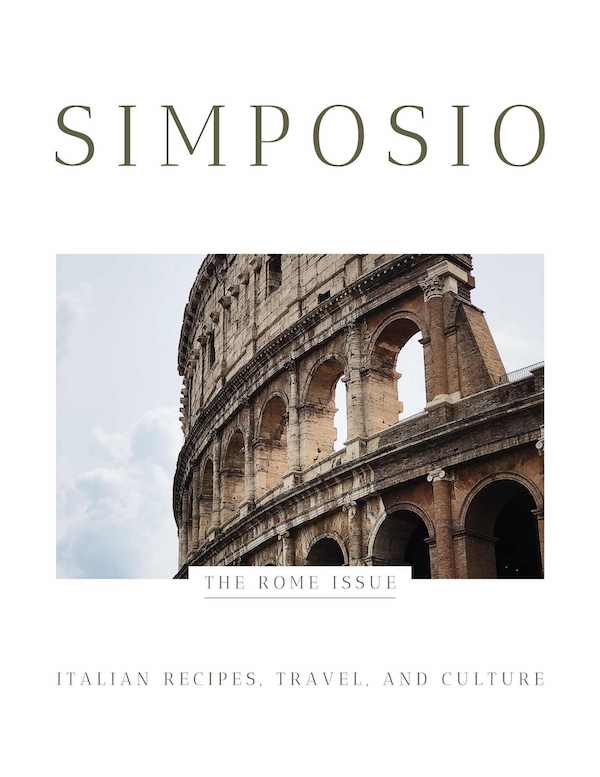 an Italian travel, recipe, and culture magazine
Subscribe to my weekly newsletter and get a
FREE SAMPLE
of the mag!
about Simposio
Experience Italy like a local: good food, extraordinary landscapes, infinite heritage, and unexpected adventures.
Simposio is an Italian seasonal cookbook and a travelogue.
In each issue, you'll walk through a different city or region. You'll go deep inside food culture, stories, lifestyle, and traditions.
Expect the following:
exploring the best monuments and secret places
things to add to your Italian bucket list
local & authentic recipes
jokes, beautiful words and expressions
culture, habits, and lifestyle
seasonal fun and inspiration
lovely pictures
A little technical stuff:
You can choose between print and digital.
Servings are for two people, to be duplicated as desired.
Measures are in gr, cups, and oz.