In this post, you'll find the Italian prosciutto and melon appetizer recipe, a little mention of Italian Summer eating habits, ad a twist to the classic dish.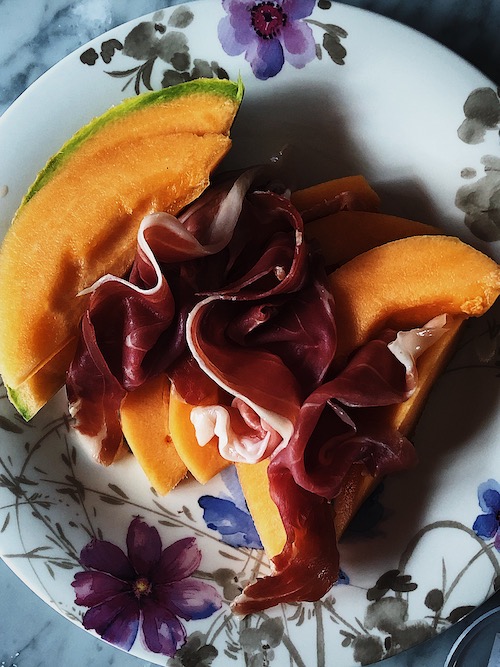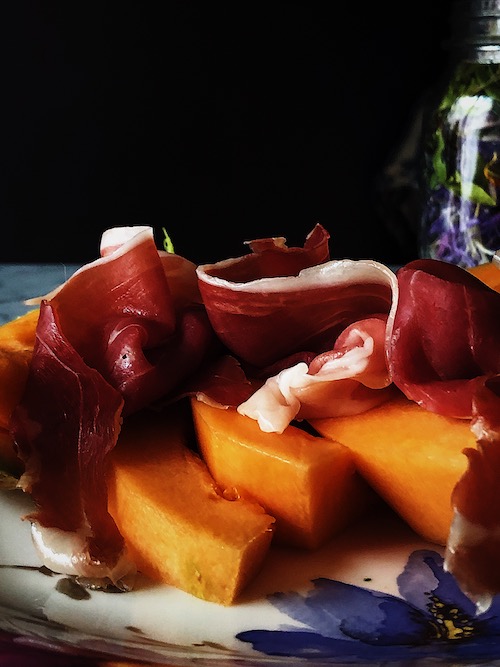 The Italian prosciutto and melon appetizer is the easiest summery recipe: once you've bought about 100 gr (3.5 oz) of prosciutto – keep it out of the fridge if you are going to serve it on that same day-, you only have to cut the melon in two, carve out the seeds with a spoon, cut each half in four to six slices and peel each. If you are tired or lazy, you can leave the peel on and let each commensal deal with it.
"Prosciutto e melone" is considered an appetizer for fresh and light summer lunches. So it is usually followed by a Caprese salad, a pasta, or a rice salad. 
Prosciutto and melon may be served separately or by wrapping melon slices in prosciutto (which means you peeled them). Either way, each bite will consist of a piece of melon wrapped in or covered by prosciutto.
Or… you could make prosciutto jam!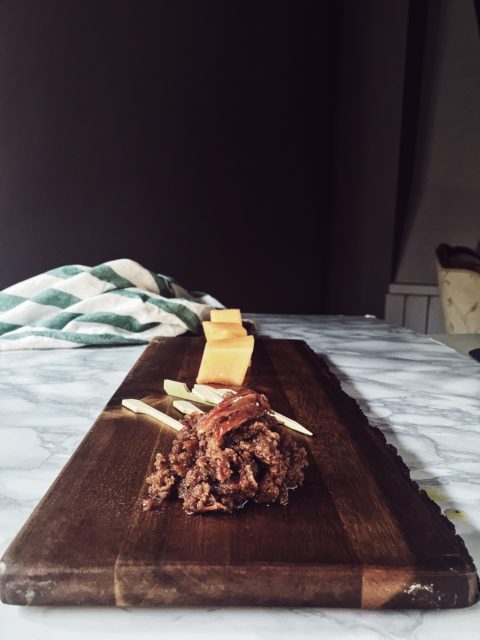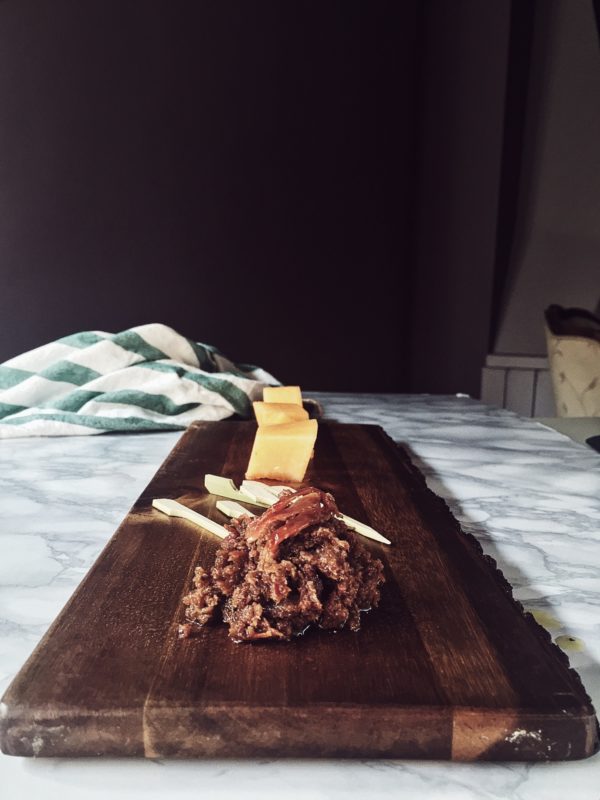 prosciutto jam
A creative unique way to serve prosciutto and melon: with prosciutto jam
Ingredients
1/2

teaspoon

of ground nutmeg

1/2

teaspoon

of allspice

1/2

teaspoon

of red chili flakes

3.5

oz

prosciutto crudo

100 gr

2

tablespoons

of rum

1

shallot

2-3

tablespoons

of extra-virgin olive oil

2

teaspoons

brown cane sugar

or coconut sugar
Instructions
Peel and slice the shallot. Grind the spices.

Heat a large skillet and brown the prosciutto slices, on one layer, for less than a minute per side, medium heat.

Remove prosciutto and add the spices, toast them for a few minutes.

Add a tablespoon of olive oil and the shallot. Brown for a minute. Add rum and sugar and caramelize. It should take less than a minute.

Place everything in a blender, add 2 tablespoons of olive oil and blend. You don't need it creamy, cause prosciutto flakes now and then give a pleasant crunch.

Slice or dice the melon and serve it with the prosciutto jam.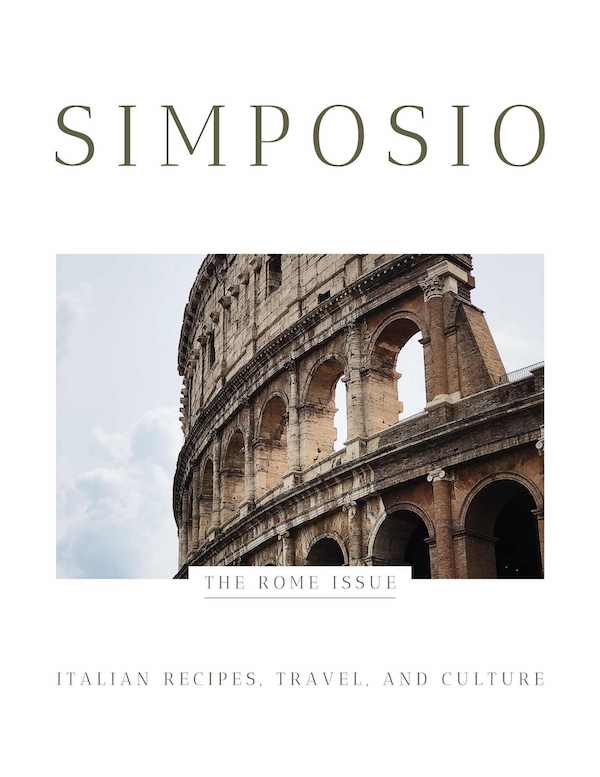 an Italian travel, recipe, and culture magazine
Subscribe to my weekly newsletter and get a
FREE SAMPLE
of the mag!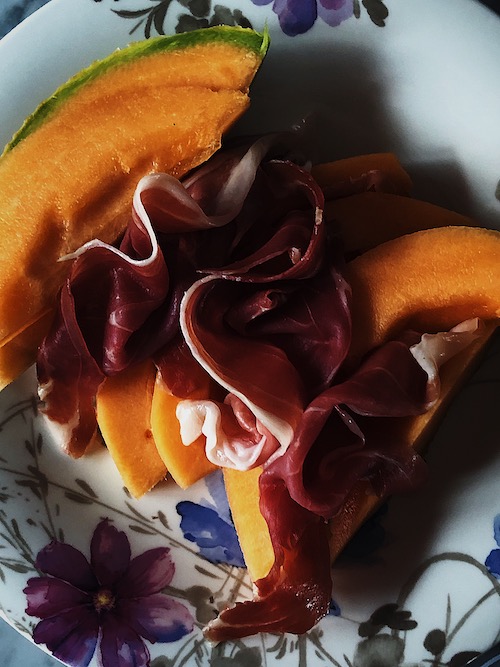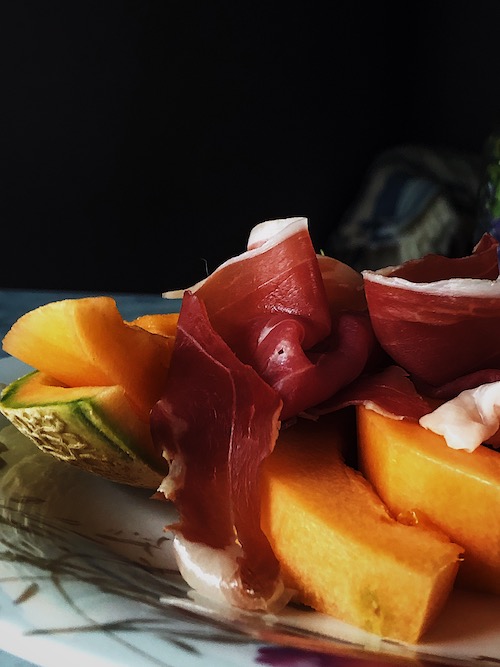 The best wines to pair to prosciutto and melon are white, still, fresh, and aromatic wines like Ribolla Gialla, Sauvignon, Chardonnay, or Pinot Grigio.
Enjoy your prosciutto e melone antipasto!
Claudia