In this post, you'll get a delicious mortadella and pecorino Italian stuffed eggplants recipe.
It is a traditional eggplant recipe from Puglia, the heel of Italy.
This Italian stuffed eggplants recipe comes from Puglia: it's called "barchette di melanzane", stuffed eggplant boats.
These Italian style stuffed eggplants are quite easy to make: once you've cut eggplants in two and cooked them a few minutes in a pan with olive oil and water, you only have to carve them and mix the pulp with the other blended ingredients. 
A bit of tomato paste, a few minutes in the oven and voila, dinner is ready! You have veggies, proteins and carbs (if you serve them with toasted Italian bread!).
You can substitute pecorino with Parmesan, and mortadella with ham.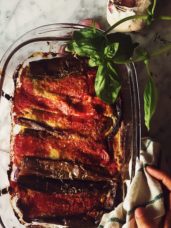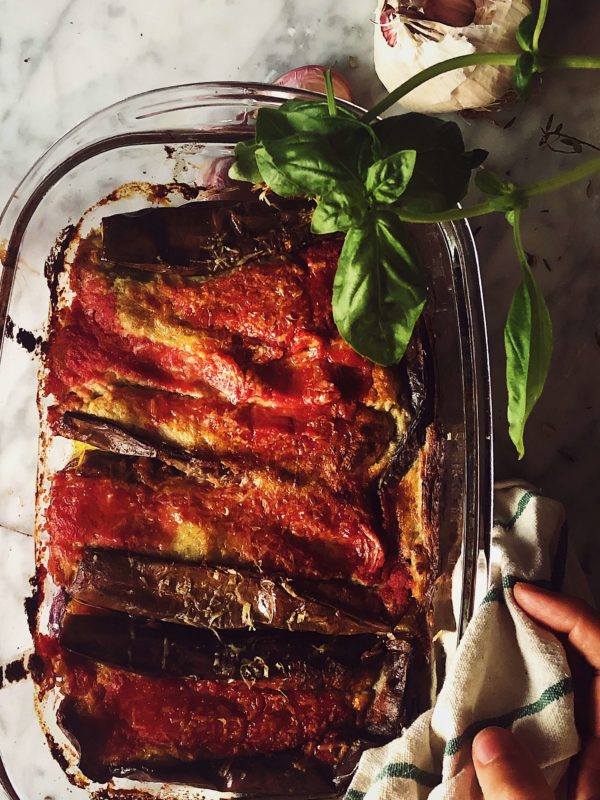 Italian stuffed eggplants
Stuffed eggplant recipe with tomato, breadcrumbs, pecorino or Parmesan, and mortadella or ham.
Total Time
1
hour
25
minutes
Ingredients
2

eggplants

2

slices

of mortadella

1

egg

2

tablespoons

of tomato passata

1/2

garlic clove

2

tablespoons

of chopped parsley

2

tablespoons

of breadcrumbs

2

tablespoons

of grated pecorino cheese + 1-2 teaspoons

extra-virgin olive oil

salt
Instructions
Divide the eggplants in two and slice them with a knife, diagonally, in both directions. Go deep, almost to the peel. Sprinkle every half with a pinch of salt.

In a large and tall pan heat 2 tablespoons of olive oil and 1/4 cup of water.

Add the eggplants, open side down, cover and cook until fork tender.

Remove from heat and bring to room (or manageabltemperature. Scoop out the pulp with a spoon; try not to rip the peel (that will contain the stuffing). Collect the pulp in a medium bowl.

Preheat oven to 180°C (350°F).

In a food processor blend the parsley, the mortadella, the breadcrumbs, and two tablespoons of pecorino cheese. Pour everything into the eggplant pulp bowl, add the egg and mix thoroughly.

Place the eggplant peels in a medium/small casserole (lined with parchment paper), fill them with the stuffing, dividing it equally between the four halves.

In a small bowl, mix the tomato passata with a teaspoon of olive oil and a pinch of salt.

Pour the passata on top of the stuffed eggplants. Sprinkle them with the remaining pecorino and bake them 40-50 minutes, until you see a tiny crust formed on the borders.
Recipe Notes
Serve the eggplants hot or room temperature.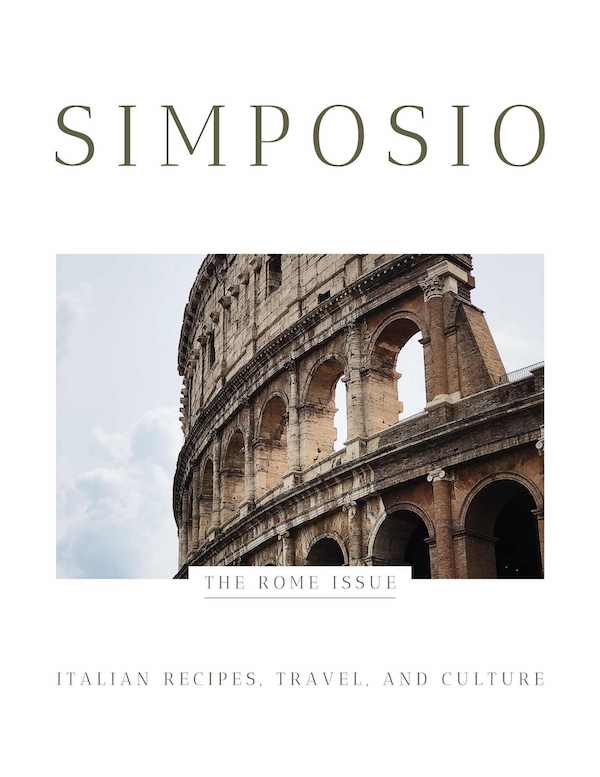 an Italian travel, recipe, and culture magazine
Subscribe to my weekly newsletter and get a
FREE SAMPLE
of the mag!
Enjoy your stuffed eggplants!
Claudia
this is a recipe from the SIMPOSIO magazine
The Italian stuffed eggplants is a recipe from the Lecce issue of Simposio. You'll find many other, Puglia recipes and lots of Lecce stories, traditions, and photographs.