This issue of Simposio is a Capri travel guide book, a cookbook, and an Italian culture journal full of stories, legends, and food.
In this issue:
– 115 pages
– 113 pictures
– 26 recipes
– 30 pages of travel journaling and pictures
– a lot of sea creatures
– no ads
– made in Italy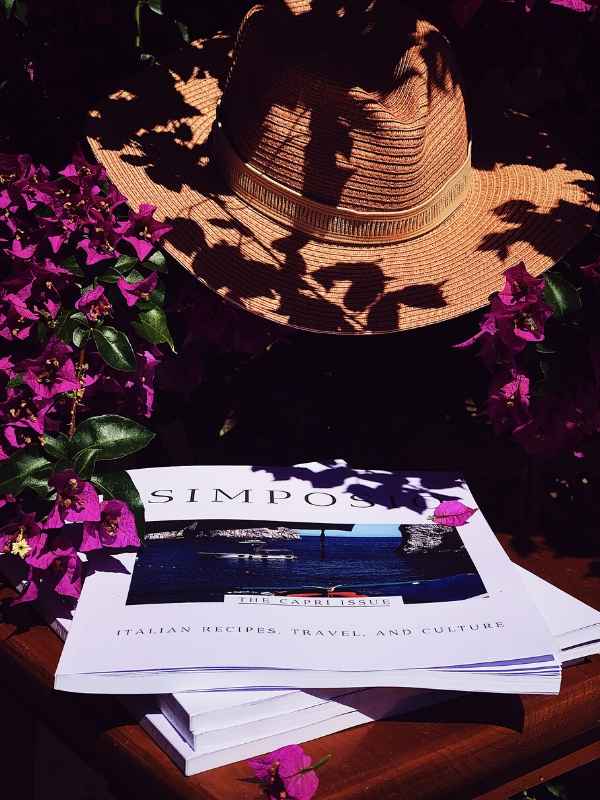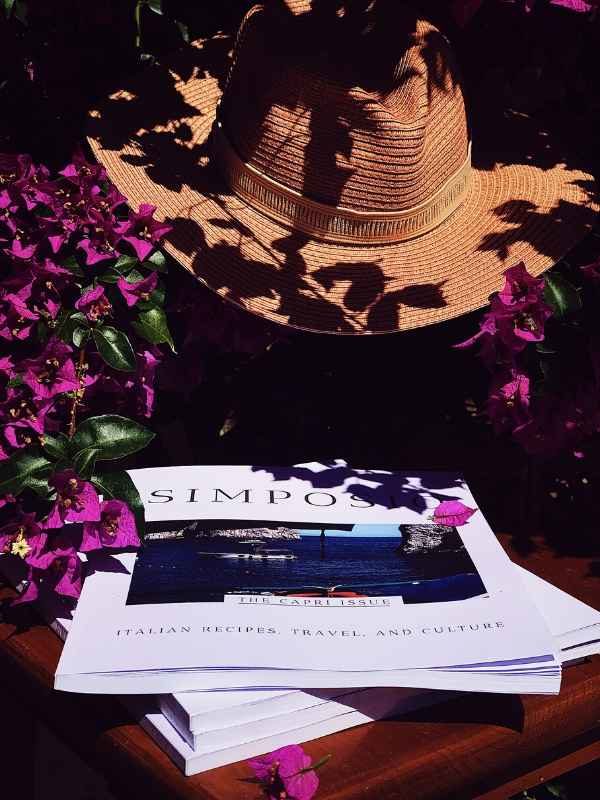 about the Capri issue: a travel guide book, a cookbook, and a culture magazine
If I were asked to describe Capri, I would say it is a sunkissed moon.
Those dark rocks coming out of a deep blue, dark, almost metallic sea. The light that illuminates the water: flat, calm, with a moonstone sparkle. 
Usually, the sea gives you special permission to come in. You must break in, through the foam of the waves, through the force of the dense liquid. 
In Capri, the sea calls you in, come dive in. I will swallow you. I'll embrace you. Come. 
It is a little frightening: it's so deep, will you be able to reemerge? Yet you cannot oppose yourself. The mermaids are singing, and you're not armed like Ulisse.
The sun is welcoming, clear, and blunt; you look for it when you are in doubt. The moon is dark and melancholic; you tend to avoid it… until it seduces you, and you can't help but plunge. After that first, exhausting challenge, you are bound forever: it changed you, and there's no going back. You'll enjoy the sun and have fun during the daytime, but you will live at night.
Capri is a moon in disguise as a sun.
Enjoy the Capri issue!
Claudia
THE INDEX: 
|
Travel
08 Capri
22 San Michele
26 The Island of Sirens
28 The Island of Paganism
30 The Island of Slander
32 The Island of Style
34 The Island of Food
| Culture
76 Italian Witches
83 Falling Stars
98 The Italian Summer
| Projects
06 Bucket List
70 The Lavender Project
| Recipes
36 Fichi e Ventresca
38 Spaghetti alla Ciammurra
40 Clams & Lemon Pasta
42 Chiummenzana Pasta
44 Pasta e Cicerchie
46 Ravioli Capresi
48 Aumm Aumm Pennette
50 Basil Mussels
52 Squid & Potatoes
54 Caprese Salad
56 Monacone Stuffed Pizza
58 Lemon Salad
60 Caponata Caprese
62 Caprese Cake
64 Anacaprese Cake
66 Caprilù Almond Cookies
68 Limoncello
84 Pasta Salad
86 Stracceti Beef Rugs
88 Neapolitan Peach Sangria
90 Lavender Meringues
93 Arugula and Parmesan Carpaccio
94 Steak Tartare
96 Cipriani Carpaccio
109 Classic Negroni
110 Negroni Sbagliato
about Simposio
Simposio is an Italian recipe, stories, and culture magazine made in Italy.
In Ancient Greece and Rome, philosophers, artists, and intellectuals attended rich banquets followed by wine, singing, dancing, playing, and meaningful conversations. This last part was called Symposium, Simposio in Italian.
When you browse the pages of the magazine you will attend a symposium: a world of deep conversation, inspiring learning, and dionysian pleasures.
In each issue, you will find recipes, stories, local traditions, and beautiful pictures. 
A little technical stuff:
You can choose between print and digital.
Servings are for two people, to be duplicated as desired.
Measures are in gr, cups, and oz whenever possible.
Enjoy your Capri travel and food guide!
Claudia