Arepas recipe: crispy outside, soft inside corn meal patties, from the most beautiful country in the world.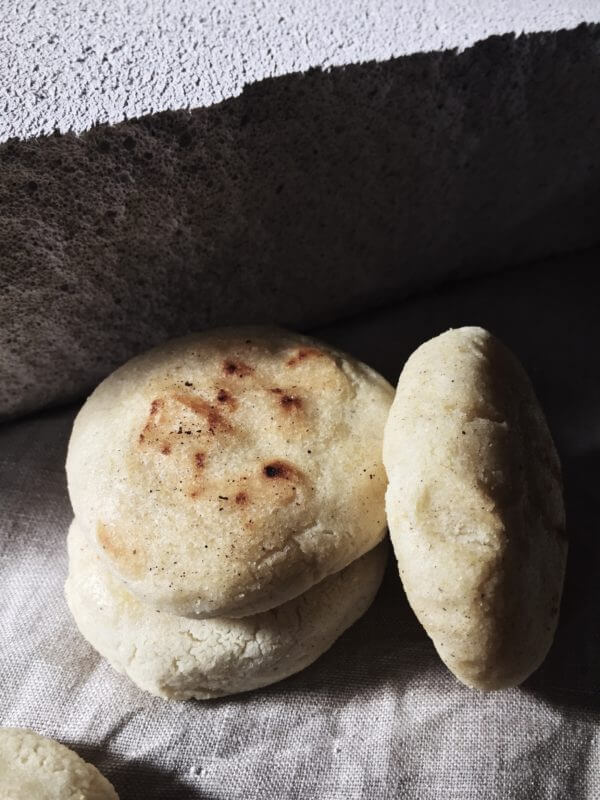 Arepas recipe is the basis of Venezuelan cuisine. You have bread, we have arepas. You have street food, we have arepas rellenas. You have fried chicken, we have arepitas fritas (probably with fried chicken inside).
Arepas have also been acknowledged as the best breakfast in the world. Hurray!
But don't get confused…
breakfast is just the beginning.
They fit well in your lunch box, in your snack bag or in your dinner plate.
This month, I'm going to explore the arepa world. Starting with… the basic arepas recipe!
Here's how to bake arepas, Venezuelan arepas. You'll see how easily you'll get used to have arepas in the oven, waiting for you to choose when and how to eat them 🙂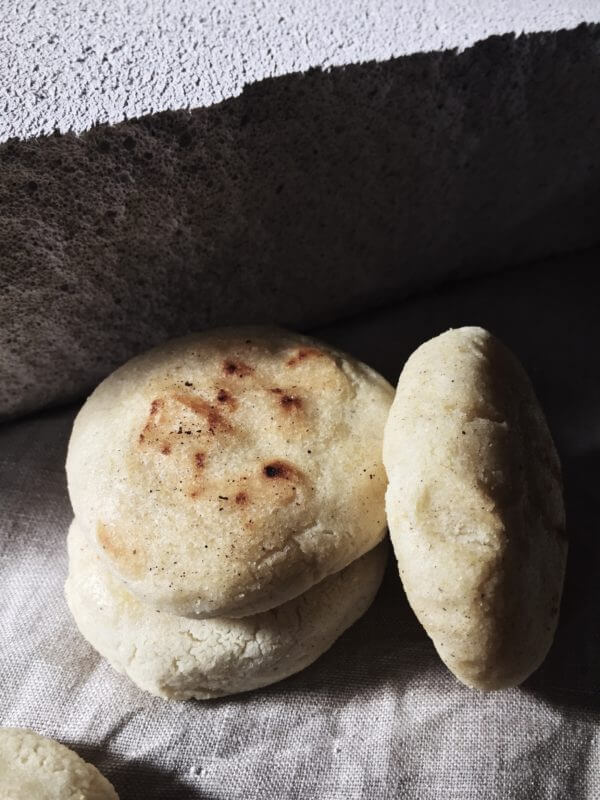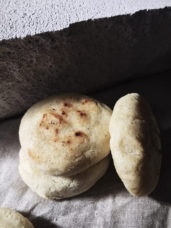 arepas recipe
Ingredients
2

cups

harina pan

pre-cooked white corn meal

2

cups

hot tap water

1

teaspoon

salt

1

tablespoon

extra-virgin olive oil

or other vegetable oil & something more for grilling

a grilling pan
Instructions
Preheat oven to 350°F/180°C.

Mix water, oil and salt in a large bowl. Gradually add the cornmeal and mix with your hands until completely amalgamated. The dough should be firm enough to not stick to your hands and soft enough to not crack. If not add cornmeal or water.

Place a small bowl with water next to your dough bowl. Form small (half palm) or big (palm size) balls with your hands. Press them between your hands to form patties. Round the corners with wet hands to give them a smooth surface.

Heat the grilling pan for about 5 minutes, until very hot. Brush it with a teaspoon of olive oil and grill the arepas, 5 minutes per side. You are looking for a crispy layer on the outside (and brownish grilling strips).

Place the arepas on an oven tray, lined with parchment paper, and bake them for 15 minutes. Try tapping on one of them: if it sounds like it's empty inside, they're ready.
now that your arepitas are baked…
enjoy your arepas recipe!
Claudia