Homemade pasta dough with semolina flour and without eggs. By hand or with the pasta machine.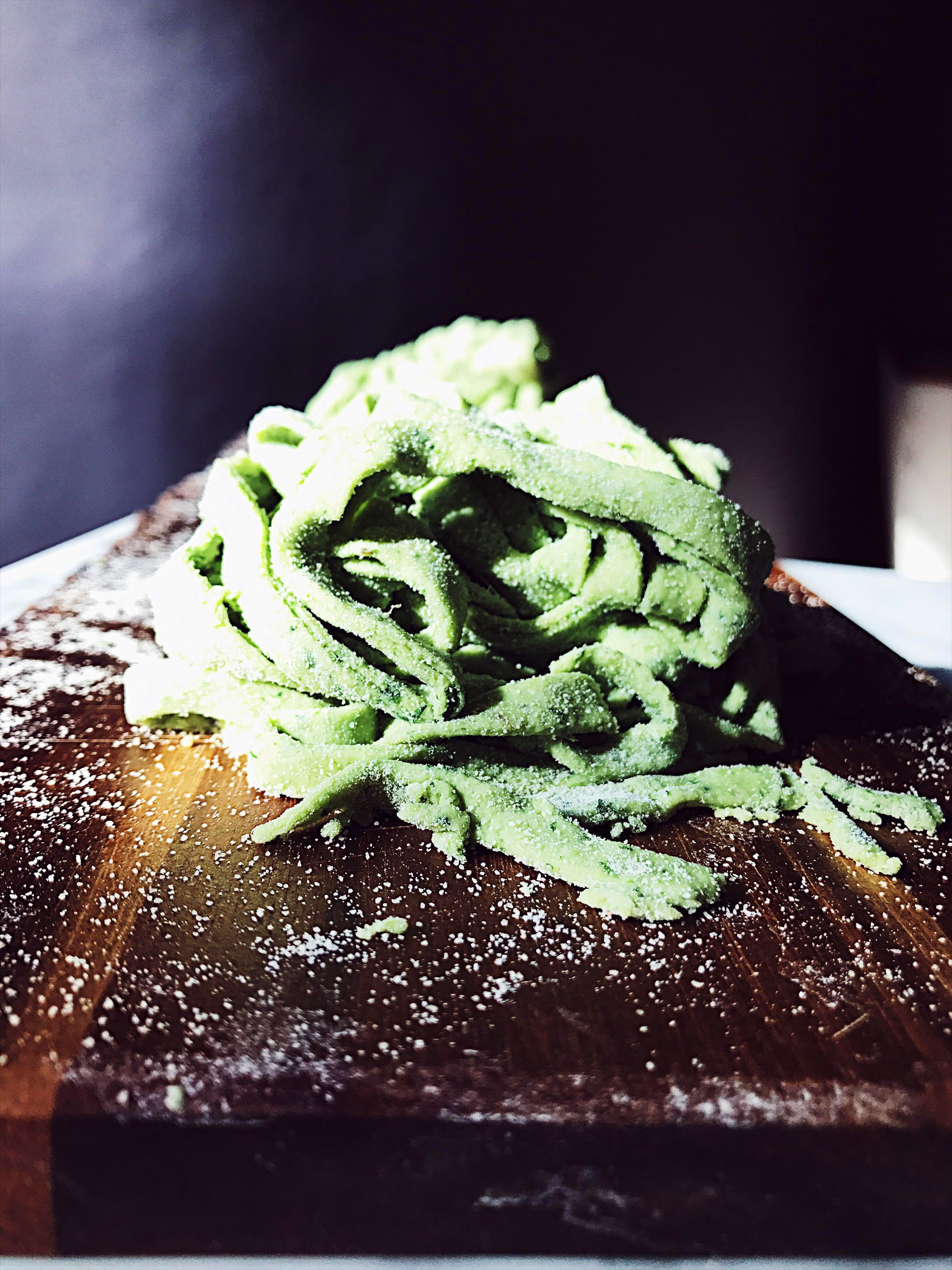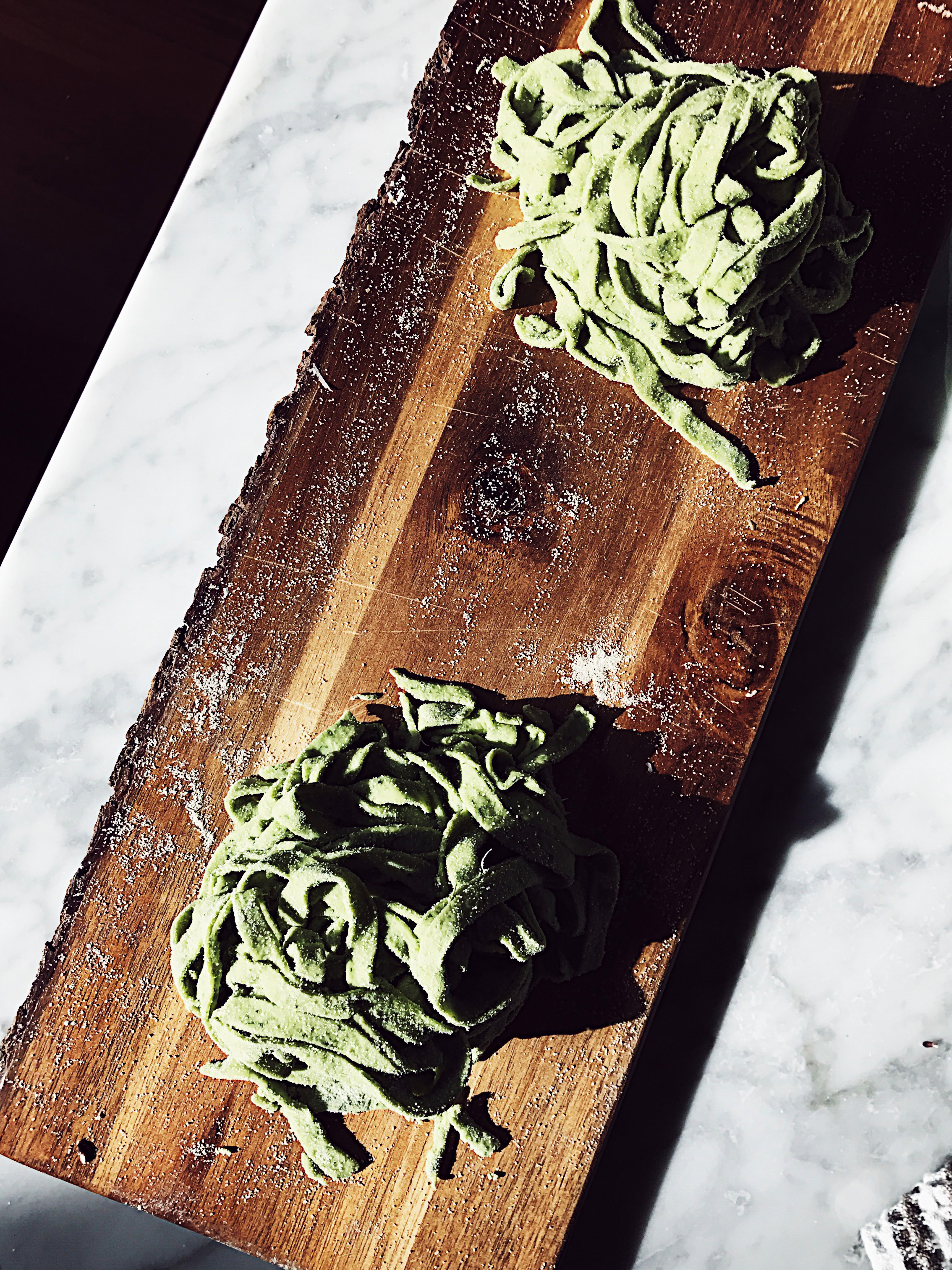 Homemade pasta dough is quick and easy. You'll find yourself asking: why do I buy it when I can make homemade pasta from scratch? Oh yes, because it's a little bit messy too. Flour everywhere, tools to wash, yourself to clean as well…
But, on a Sunday rainy day, or on a Friday end-of-the-week night, making homemade pasta is fun.
Semolina homemade pasta ingredients are just a few: semolina flour, 00 or all-purpose flour (just to powder the working surface and the dough), water, and salt.
Homemade pasta with semolina is eggless: semolina flour is richer in proteins, that will help the dough stay together and better hold the heat of boiling water.
Italian homemade pasta shapes are usually short, like orecchiette and cavatelli. But I like to make long pasta, and you can see from the pictures that even this time I made homemade pasta noodles.
You can make homemade pasta by hand or with a mixer (dough hook on)
And you can also choose between homemade pasta flavors: here I added basil, milled with the flour. Just note that it adds humidity to the dough, so you'll probably need a little less water.
As for homemade pasta tools: if you are not making pasta in a stand mixer, you only need a working surface (wood is better), a pasta cutter, and a lot of energy.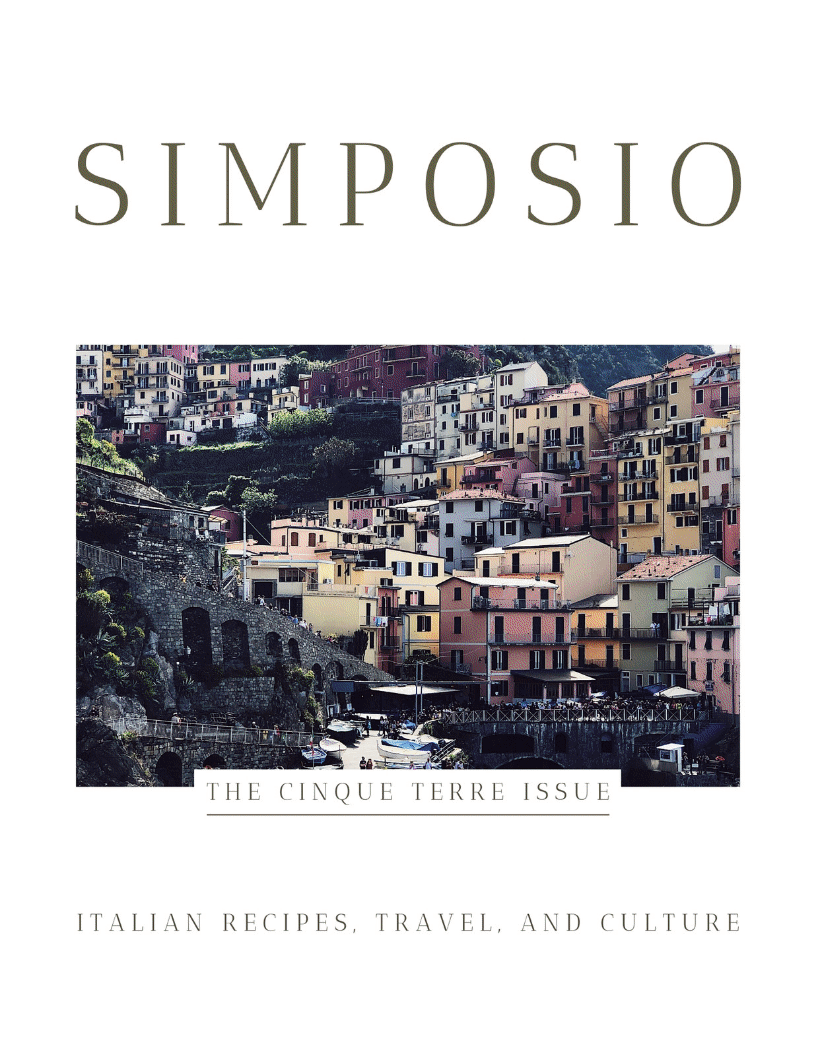 a seasonal Italian magazine and slow travel journal
Simposio is an independent magazine about Italy. It aims to narrate Italy, the authentic one, describing it through its cuisine, places, lifestyle, and culture.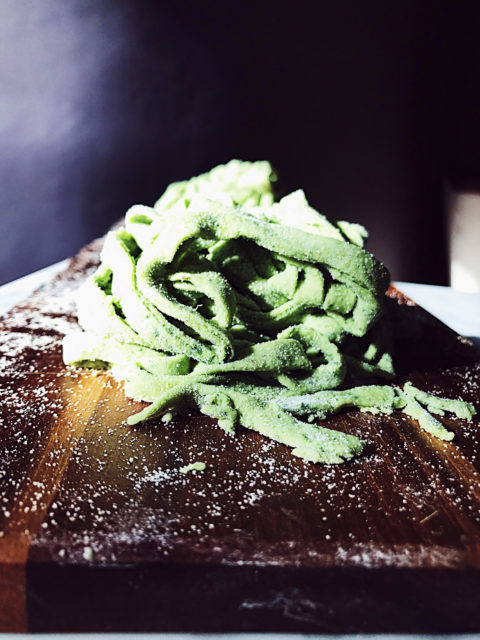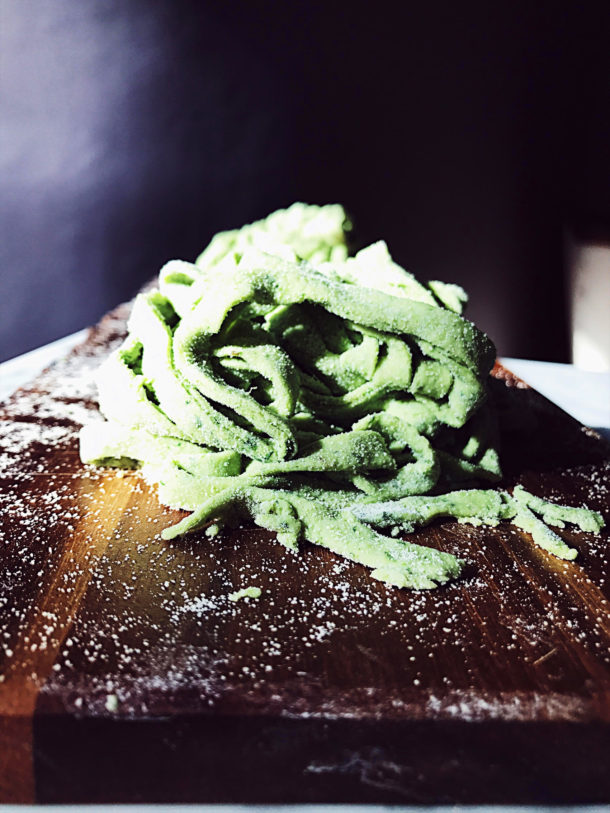 homemade pasta dough recipe
Ingredients
1.5

cups

semolina flour

1/2

cup

00 flour

1

big handful

basil leaves

optional

1

pinch

salt

water
Instructions
If you are making basil pasta, grind the (cleaned and dried) basil leaves together with the flours.

Place the flour in the mixer bowl (with kneading hook on), or on a working surface, if you are going to work the dough with your hands. Believe me: it is healing.

Add salt and water, one tiny tablespoon at the time.

Work the dough and add water until you get a smooth and elastic ball, it could take you up to 10 minutes (of manual work). If you are using the mixer, after the dough gets together and a ball forms around the hook, you will need at least a few minutes of extra handwork.

Finally, wrap the dough ball in plastic and let it rest for at least 30 minutes.

Divide the dough into 2-4 even sections. Flour the working surface and sprinkle some more flour over the dough.

Roll it out, working from the center outwards, as thin as you can, to get a rectangular shape.

If you are using a pasta machine, start with the wider aperture, if the dough brakes, fold it and pass it through the machine again. Gradually pass to lower apertures, I usually stop at 7, consider that my machine has 9 apertures.

Use a pasta cutter (or a pasta machine) to cut out long strings of pasta (these are fettuccine/tagliatelle).

Place them on a floured sheet until ready to cook.

Bring a big pot of water (4 cups of water for every serving of pasta) to a boil and add 1 teaspoons of salt every 4 cups of water, more or less. 

Homemade pasta cooking time is variable, around 4 minutes, but stay there and wait: when it comes to the surface, it should be ready. Anyway, taste it and cook it to your taste.
Recipe Notes
Drying homemade pasta: place the cutted/shaped pasta on a rack for at least 24 hours. You don't need a pasta drying rack: any rack, as far as it is perforated, should do the work.You can store it in your pantry up to six months, but be sure it is completely dry.
Enjoy your Italian pasta!

Claudia