A crunchy green bean salad recipe with roasted coconut flakes, lime and all the goodness of balinese slow cooking.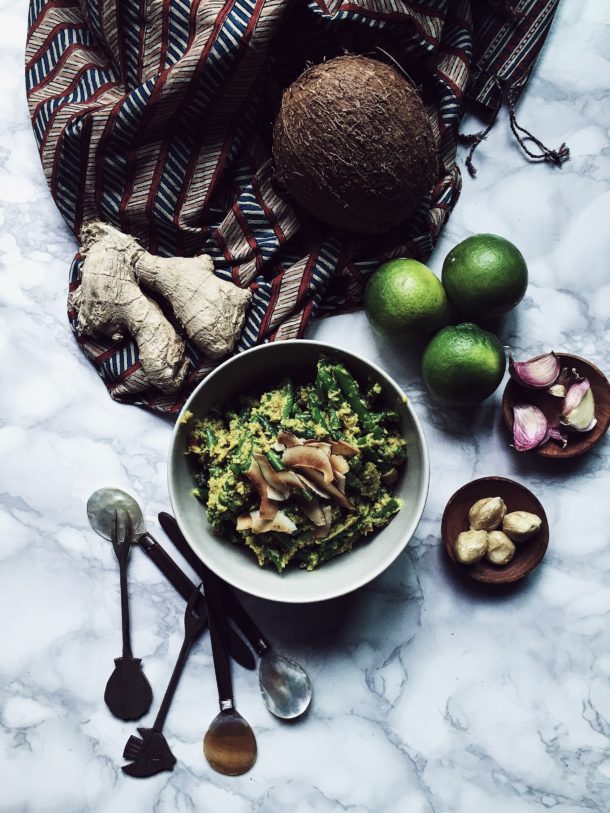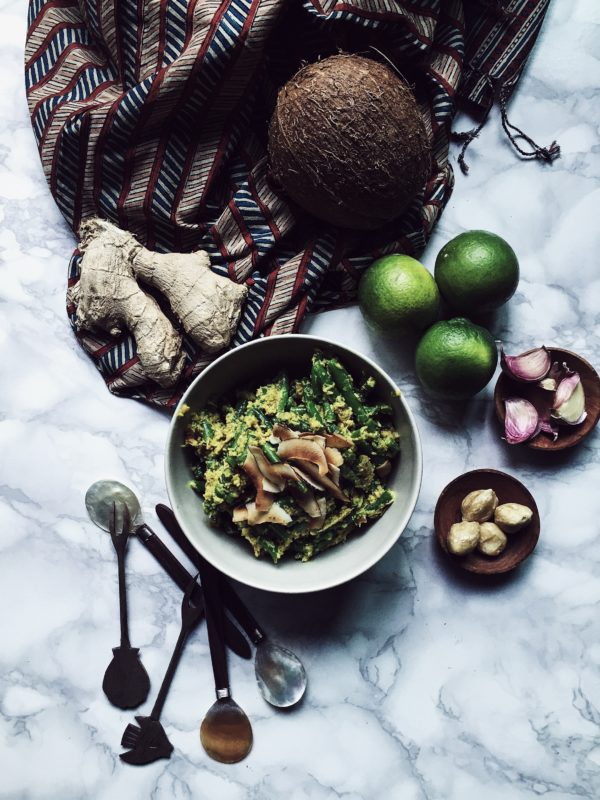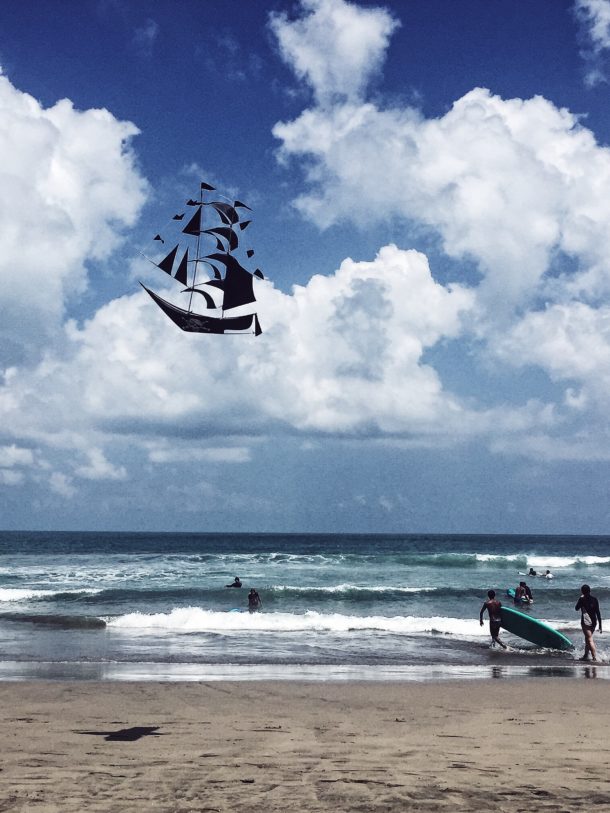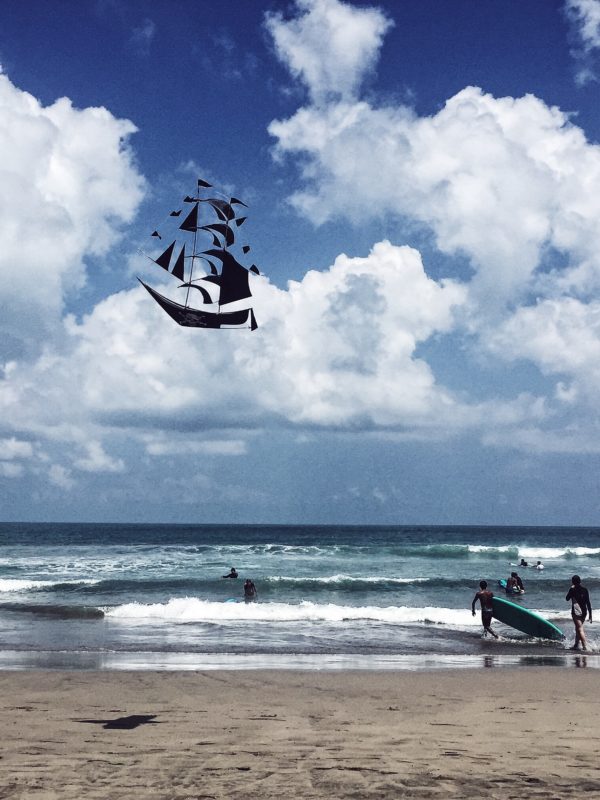 Balinese master the art of slow living, deeply (learn more on my Bali guide). Every part of their day is somehow filled with meditation, good intentions and smiles. So is the kitchen. Slow cooking meals that require time, fresh ingredients and dedication. Slow food!
The second recipe of the Bali Project is another vegetarian, and bento-friendly dish: a bean and roasted coconut salad recipe, emblematic of Balinese slow cooking.
It never took me so much to make a salad. But it's worth it (and you can make a lot of steps ahead of time).
Note: sambal goreng is THE sauce of balinese cooking. Every home or place is proud of its recipe. It is always hot, very hot. Mine is way milder: I brought Casaluna's recipe from 8-10 small chilies to 1 medium.
You? Do what you have to do.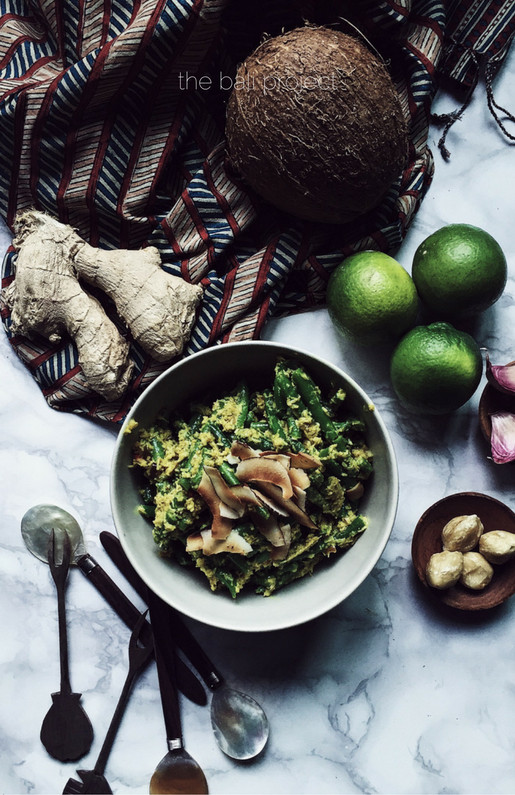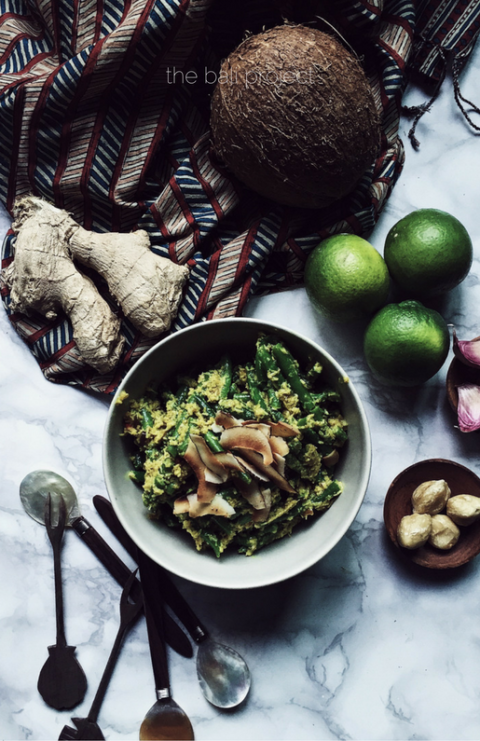 urab buncis aka green bean salad
Ingredients
for the spice mix – you can make 1-2 days ahead
1

garlic clove

2

teaspoons

of grated ginger

3

tablespoons

of sesame seeds oil

2

candlenuts

you may substitute with 3 tablespoons of ground almonds

2

tablespoons

of fresh turmeric
for the sambal goreng – you can make 1-2 days ahead
5

shallots

finely sliced

1

teaspoon

of soy sauce

1

garlic clove

finely chopped

1

red chili

finely sliced

1/4

cup

of sesame seeds oil
for the rest of the salad
3

cups

green beans

300 gr - cleaned, trimmed and cut in 2-3

1

cup

of shredded coconut

the zest of 1 lime

1

lemongrass

cut in 2-3 pieces

1

cup

of coconut milk

sea salt to taste
Instructions
for the spice mix
Pestle in a mortar or blend in a food processor all the spices.
for the sambal goreng
Heat the sesame seeds oil in a small wok or pan. Brown the shallots and garlic, stirring continuously.

Add chili and soy sauce and fry a few seconds.

Pour everything in a jar and set aside
to finish the salad
Boil the green beans in salted water 3-5 minutes, until tender but still crunchy.

Roast the shredded coconut in a very hot skillet until it begins to golden brown.

Heat the sesame seeds oil in a large wok, add the spice mix and brown it, over medium heat, 1-2 minutes.

Add the coconut milk, the lemongrass and the lime zest. Stir and simmer until creamy and thick.

Assemble the salad: green beans, coconut, spice mix and coconut milk from the wok, finally 1-2 tablespoons of sambal goreng (depending on taste and spicy resistance).

Salt to taste and serve at room temperature.
enjoy your green bean salad
Claudia