a chinese steamed bao buns recipe with cashew milk marinated chicken and sauerkrauts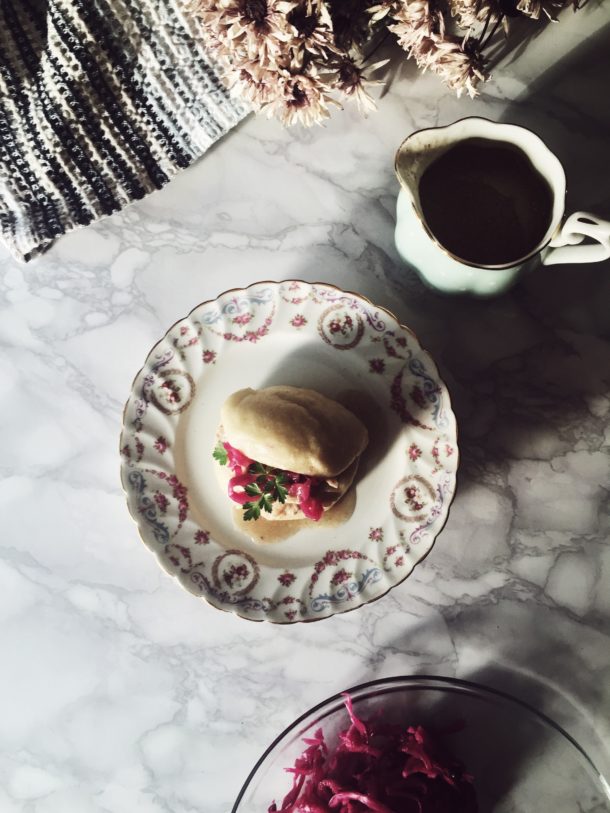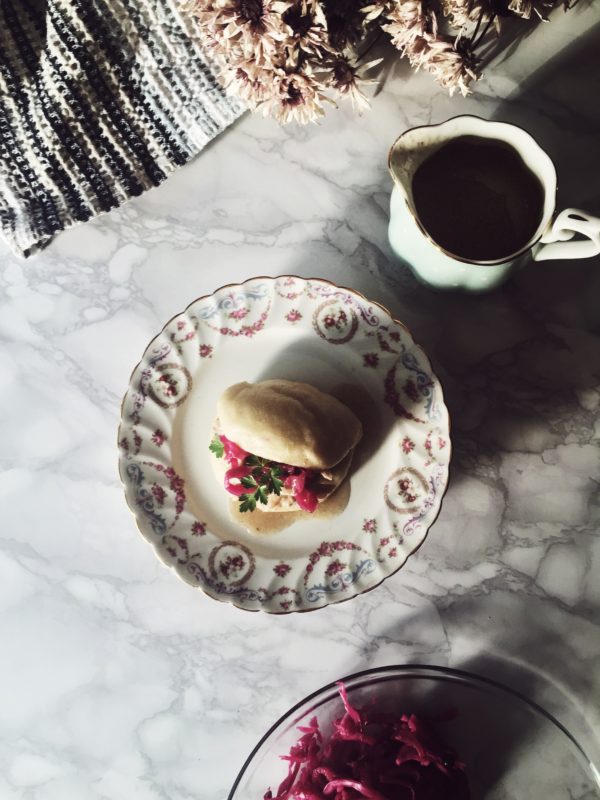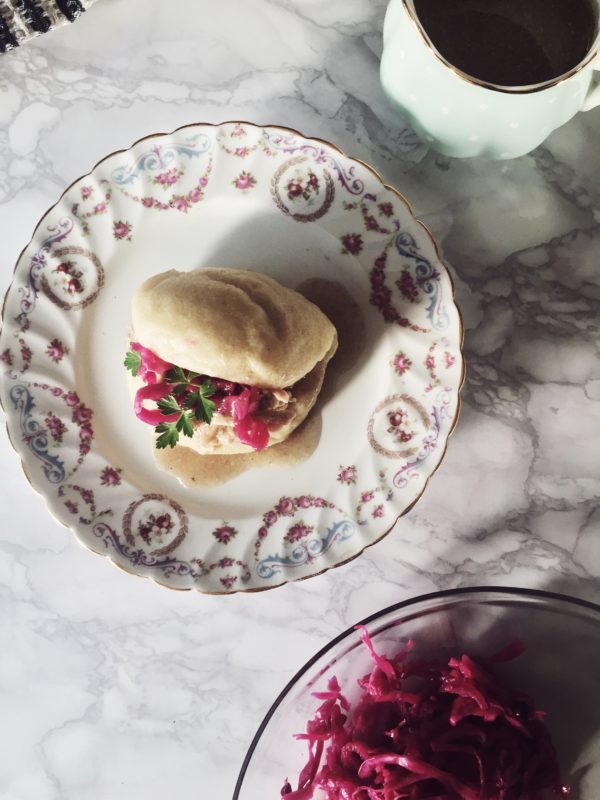 You can be sure of one thing: if you cook, you'll never get bored.
First because there are infinite ingredients, recipes & techniques: wonders to be discovered, everywhere. Some are around the corner, from the tiny town near where you live. Some come from far far away. Some are still to be invented!
Second, although all the effort you may put in it, you'll always get a different result from the same recipe. Sometimes you'll change something, sometimes your feelings will affect the flavor. Sometimes a tomato will simply taste different from the tomato you used last time.
I guess that's probably why Italians are always talking about food: there's so much to be said, commented, argued.

I love this project. I'm cooking all the things I've always wanted to try. The list is long, so I prioritized. But these little chicken bao buns had to occupy the top 5 list.
I spied the bao London menu for filling inspiration, and Steph for the bao buns recipe.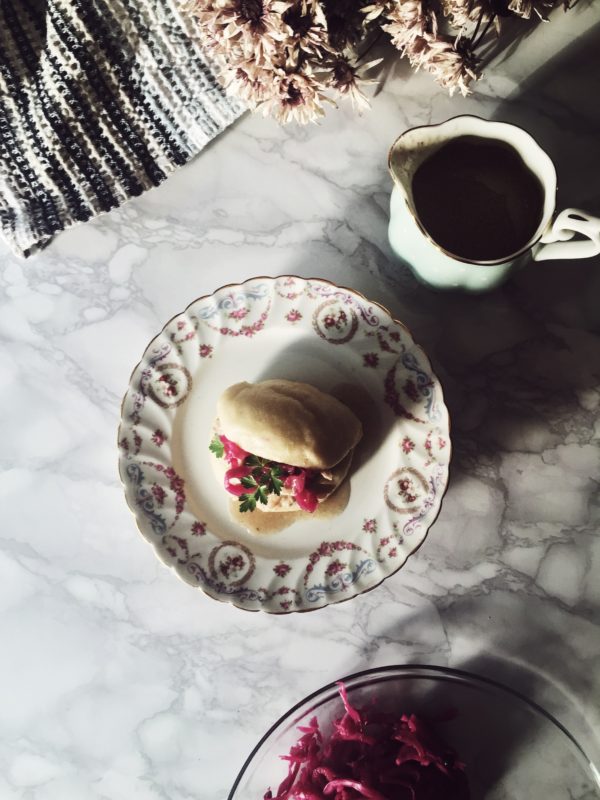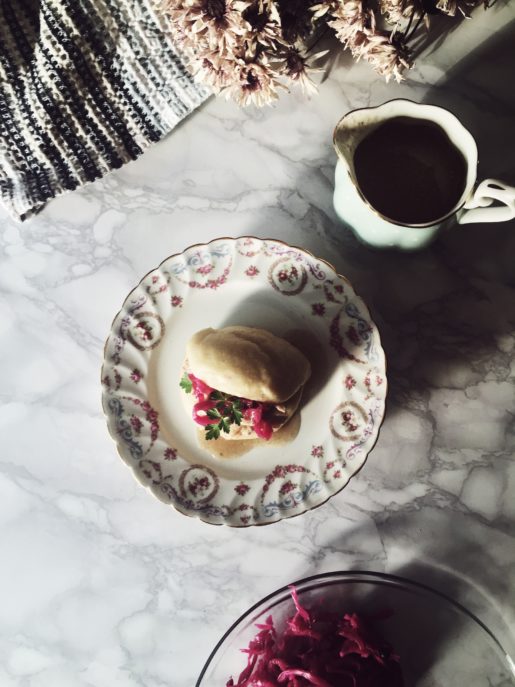 chicken bao buns recipe
Prep Time
3
hours
30
minutes
Total Time
3
hours
30
minutes
Ingredients
baos:
2/3

cups

hot tap water

2

tablespoons

sugar

1

tablespoon

dry active yeast

10.5

oz

00 flour (or cake flour)

300 gr

1

tablespoon

Greek yogurt

1

tablespoon

extra-virgin olive oil
Chicken:
2

chicken thighs

2

cups

cashew milk

1

tablespoon

salt

2

tablespoons

sesame oil

2

tablespoons

brown sugar

1

teaspoon

cloves

1

shallot

thinly sliced

1

tablespoon

cornstarch

½

cup

sauerkrauts
Instructions
Bao making: Mix water and sugar in a bowl. Add the dry yeast, mix and let rest 10 minutes.

Add flour, yogurt and olive oil and knead, medium speed, a couple of minutes. You should get an elastic, not sticky, bready dough.

Cover it with a cloth and let rise a couple of hours.

Take the dough to a working surface (you shouldn't need flour on it) and work it with your hands into a rectangle. Fold it in the middle and roll it out again. You may use a rolling pin or your hands: you don't need regular shapes. Repeat a couple of times.

Cut the dough in 6-8 equal pieces. Display them over the working surface, cover them with a cloth, and let them rest at least 20 minutes.

Model each piece, with your hands, into an irregular sphere and press it down into an oval.

Cut out 6-8 squares of parchment paper (5 inches – 12 cm), plus 6-8 smaller squares (3 inches – 7 cm).

Fold each dough oval over itself with the smaller paper square in the middle, for edges to stay separated. Place it over the bigger paper square. Cover them with the cloth and let them rise one more hour.

Finally, display baos (with parchment paper and all) over a steamer. Place a few cups of water in a large pot, add the steamer, cover and cook buns 7 minutes. Uncover for a few seconds to lower temperature, cover and cook 3 more minutes. I had to cook 2 baos at the time, my steamer is quite small.

Chicken making: In a bowl, mix cashew milk, sugar, salt, sesame oil, shallot and cloves.

Place chicken thighs in a Dutch oven or casserole. Add the milk mixture and marinate 2 hours-overnight.

Preheat oven to 350°F (180°C).

Bake the chicken 1 hour, covered.

Remove chicken thighs. When cold enough, tear out the meat.

Meanwhile strain the marinating, add the cornstarch and mix well. Before serving, bring it to a boil and simmer 3-5 minutes, until it thickens.

Serve the bao buns filled with the chicken meat, sauerkrauts and the chicken gravy. And, well, dip them in the gravy too.
enjoy your bro bun!
Claudia