Genovese sauce recipe from Naples: slow cooked onions and meat sauce. Make the authentic recipe for genovese sauce.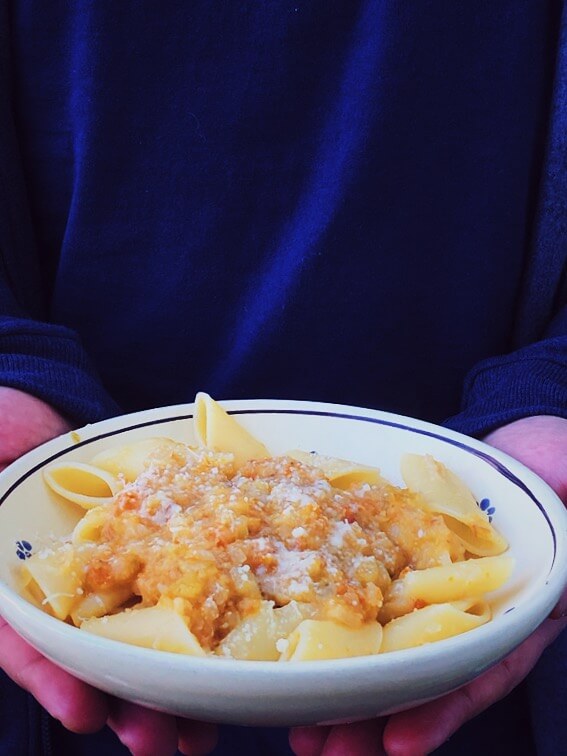 When in Sorrento, I finally realized that the Genovese sauce, despite the name, is a Neapolitan recipe. Apparently, this onion sauce was invented by a cook from Genova: there where many people from the Northern city working in Naples' immense port.
Some say it was created by a Neapolitan cook instead, who worked in the street called "dei Genovesi."
No matter the story, if you ask any person from Naples if he wants a big bowl of Genovese meat sauce pasta, the answer will be an enthusiastic YES, with the only condition that it is cooked the proper time: at least two hours.
This long and slow cooking method transforms the Genovese sauce ingredients: onions become a creamy and sweetish condiment, and overcooked meat becomes tender and quite tasty.
The onion sauce is used to season pasta, while the meat is served afterward, as the second course of the Sunday lunch.
The pasta used for the Genovese sauce recipe is usually "ziti" – cut in pieces before cooking it; otherwise, it's almost impossible to eat -, but you can also use fusilli or other short pasta shapes.
My husband's nonna is from Naples, and when she saw me studying the Genovese sauce someone had ordered at our Sorrento lunch, she gave me her secret for an authentic and delicious Genovese sauce. The magic, as I learned from her, happens when you add a big piece of prosciutto.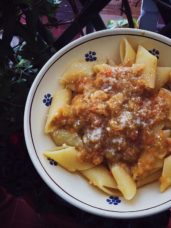 genovese sauce recipe
Ingredients
2.5

cups

white onions

4

tablespoons

extra-virgin olive oil

1

carrot

½

celery

1

tablespoon

of marjoram

1.5

oz

prosciutto

a whole piece

14

oz

meat

any beef cut good for roasts

1.5

cups

ziti pasta

or other long pasta

parmesan cheese
Instructions
Peel and chop the onions as finely as possible. Peel and thinly dice the carrot and the celery.

Heat the olive oil in a large pot, add the whole piece of meat and brown it for a few minutes on each side to seal. Remove meat and add the onions. Brown for about 3 minutes - be careful not to burn them. Add the carrot, the celery and the marjoram, stir and cook a few minutes.

Return the meat back to the pan and add the prosciutto. Season them with a few pinches of salt and pepper. Completely cover with water, lid, and cook over medium heat for at least 2 hours (add water if necessary). The onions will become creamy and the meat tender.

Remove the meat: you can slice it and serve it as the second course of the meal.

Cook pasta according to package directions and season it with the Genovese sauce. If you opted for ziti, break them in two or three before cooking them: they are far easier to eat.

Serve the pasta hot and let each one add as much freshly grated parmesan as they like.
Enjoy your Genovese sauce!
Claudia