The Italian grissini recipe from Turin, Piedmont. Get the authentic recipe for grissini and bake your own Italian breadsticks!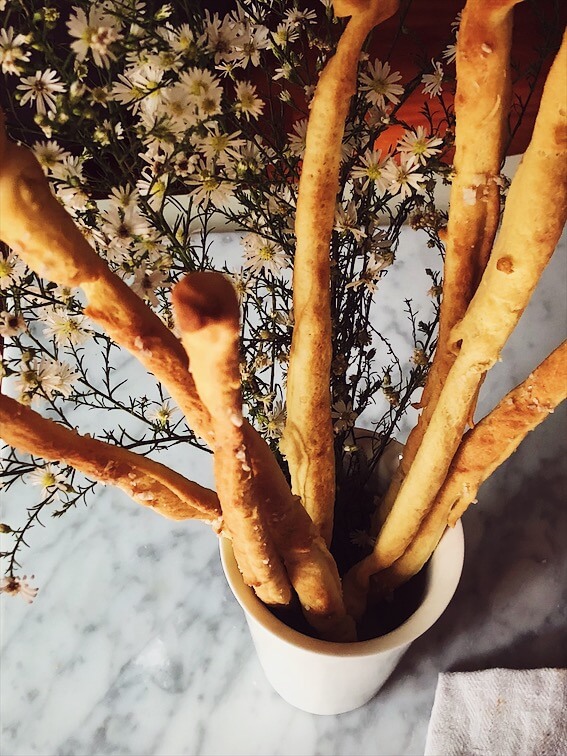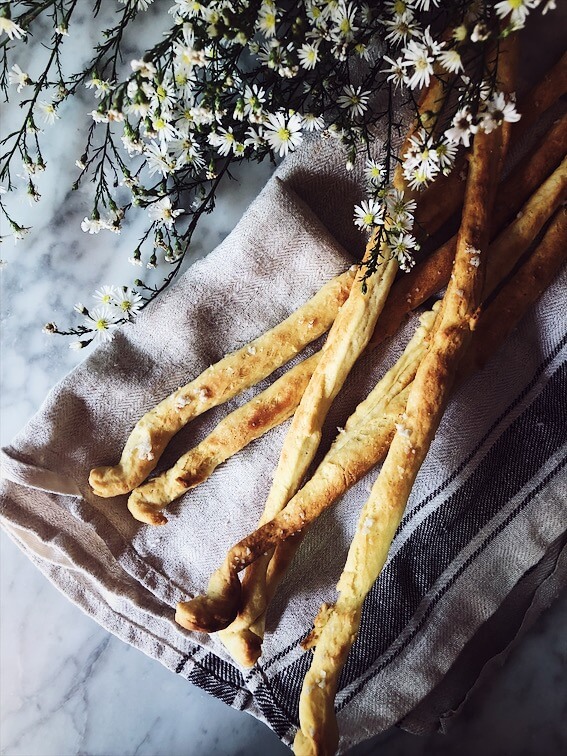 Grissini, Italian breadsticks, are omnipresent in Italian restaurant tables (the fancy ones will offer you handmade, herbs and spice flavored, grissini).
These delicious, oily, and crunchy Italian breadsticks come from Piedmont. Italians eat them while waiting for food or with the aperitivo: oh! when you wrap them in prosciutto!
You can try adding different ingredients to the basic grissini recipe (herbs and spices) and also garnishing them with sesame or poppy seeds, instead of or together with the salt.
I made my breadsticks extra-long, cause the original Turin grissini were at least 60 cm. You can do the same or cut them shorter.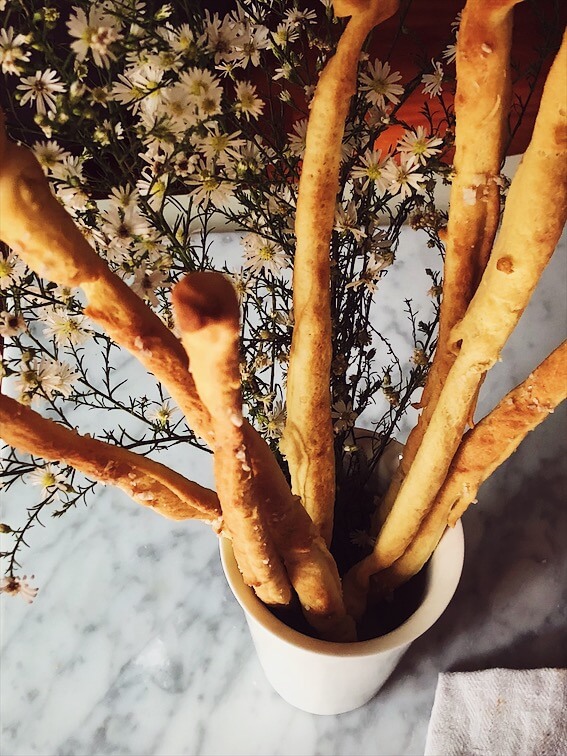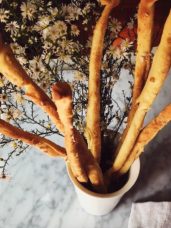 Italian grissini recipe
Basic grissini recipe for thin and crunchy Italian breadsticks.
Total Time
1
hour
50
minutes
Ingredients
8,8

0 flour

250 gr - about a tablespoon less than 2 cups

4,4

oz

water

room temperature 125 gr - 1/2 cup + 1 tablespoon

0,2

oz

fresh baker's yeast

7 gr - 1/4 cube

1

teaspoon

sugar

1

teaspoon

salt

1,2

oz

extra-virgin olive oil

35 gr - 4 tablespoons

more olive oil

keep it at hand

coarse salt or salt flakes
Instructions
Dissolve yeast and sugar in the water.

Place flour in the mixing bowl (kneading hook on), add the yeasted water and mix a few seconds.

Add olive oil and salt and knead until the dough comes together around the hook (or is not sticky anymore, if kneading by hand).

Spread with a tablespoon or two of olive oil a working surface (plastic, wood or marble).

Work the dough with your hands to form a thin (1 cm/1/3 inch) rectangle (12 inches/30 cm x 6 inches/15 cm).

Pour 1-2 tablespoons of olive oil over it and spread it evenly with your hands, including sides.

Cover the dough with a clean kitchen cloth and store it in a warm spot of your home, to rise for about an hour.

Preheat oven to 200°C (390°F).

Take back the dough (it should have almost doubled in height) and cut out 1 cm/1/3 inches large stripes longwise.

Line an oven sheet with parchment paper.

Take each dough string from extremities (yes, let gravity do its job! which means they'll stretch out) and display them, longwise, on the oven sheet.

If you want regularly sized grissini, simply cut these strips in two.

Sprinkle them with coarse salt or salt flakes.

Bake grissini 8-10 minutes or until golden. Let them chill completely before removing them.
Recipe Notes
Serve them in a cute bread basket or as a bouquet with fresh or dried flowers :-).
You can store breadsticks in brown paper bags up to 3 days. If you want them fragrant as just-made, toast them a couple of minutes in a very hot (180-200°C) oven.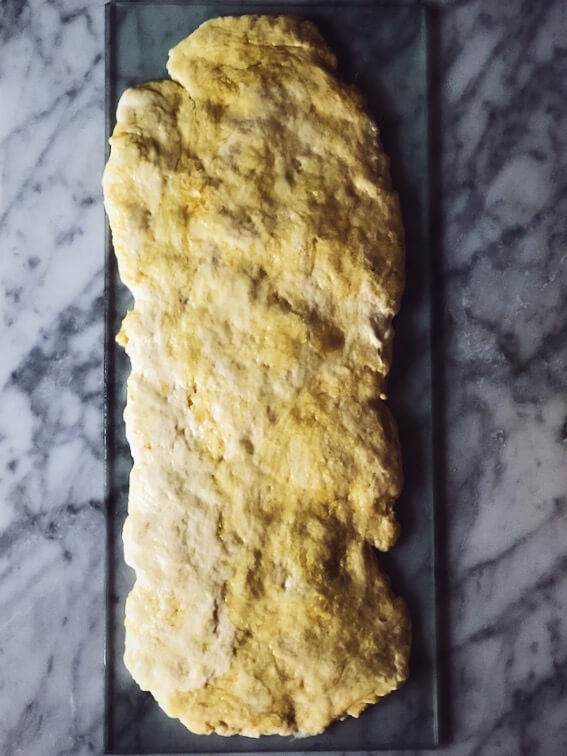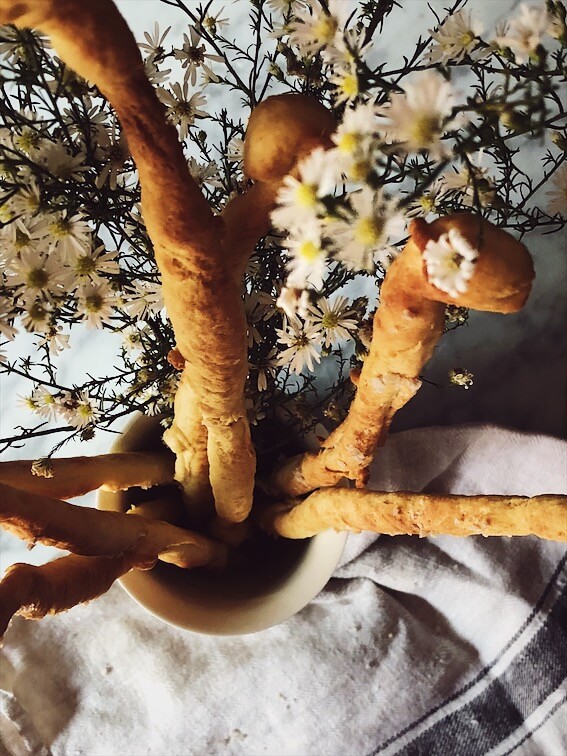 Enjoy your grissini recipe!
Claudia