savory oatmeal recipes: a flaming Italian oatmeal soup with sweet pear crisps and prosciutto flakes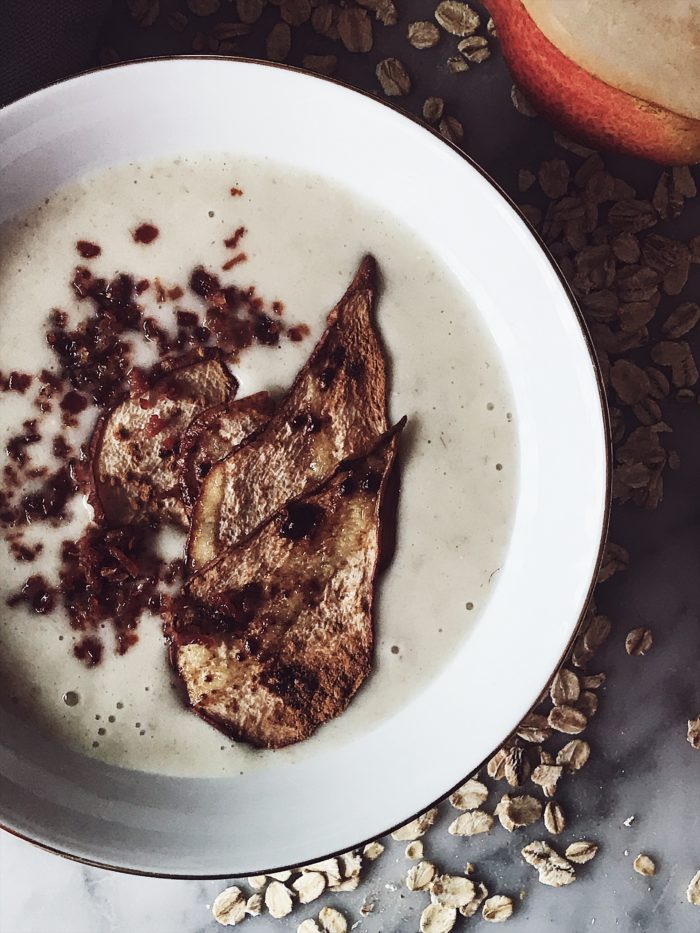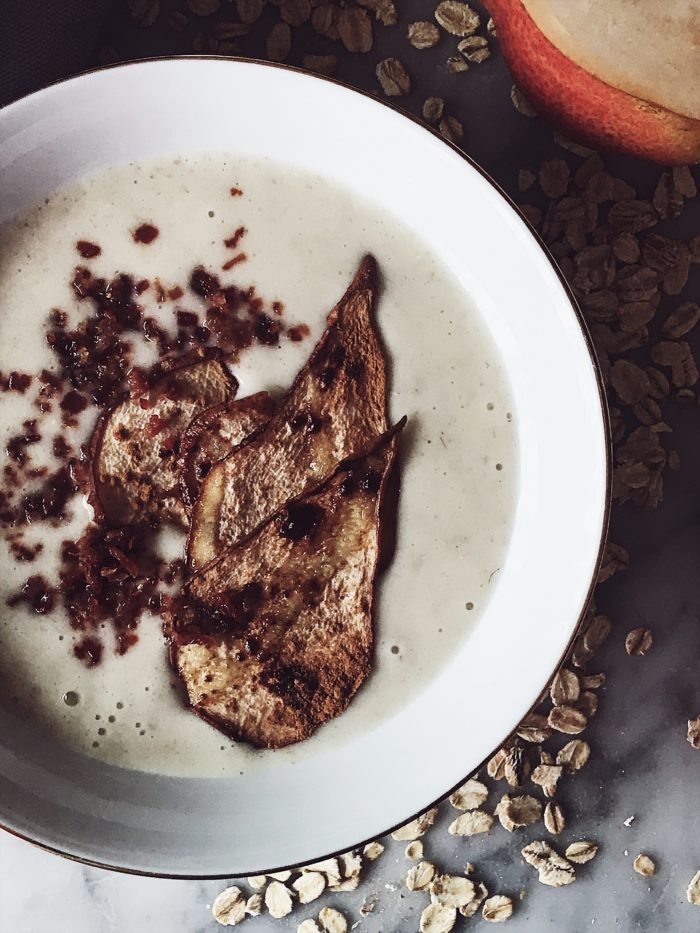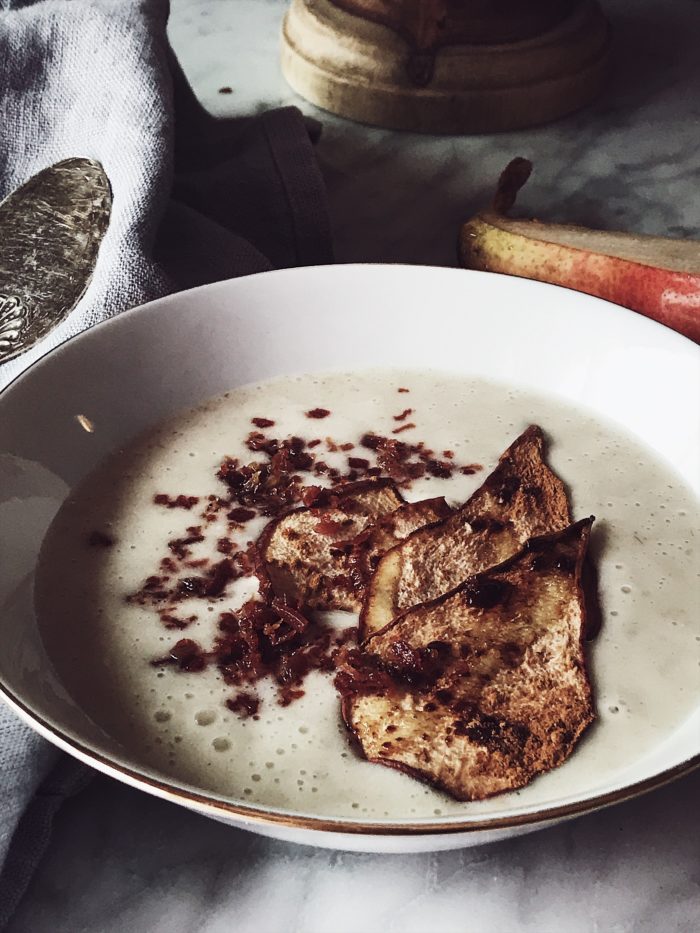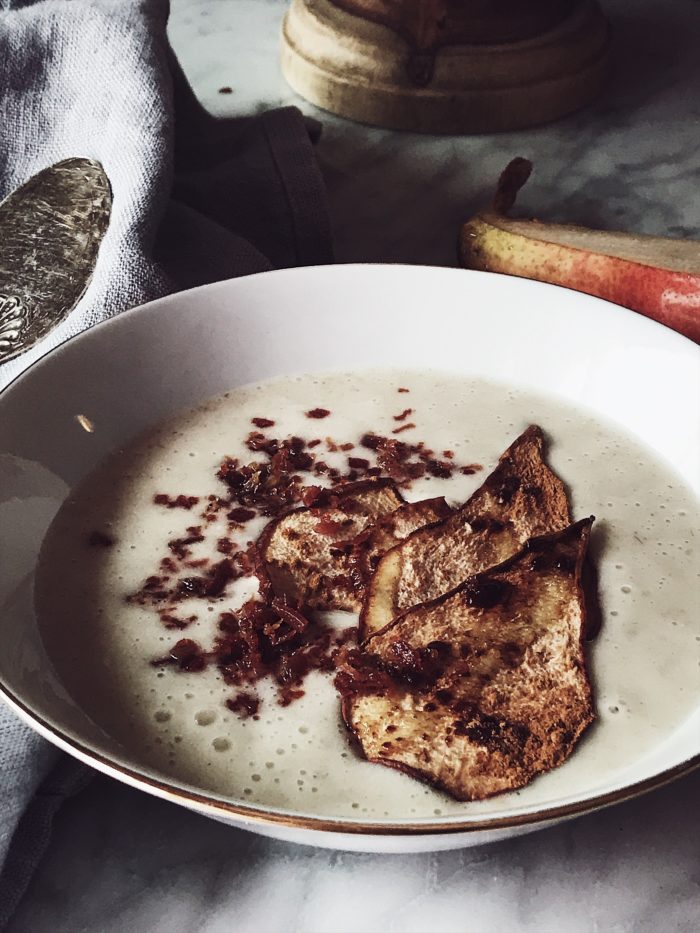 Last time we had snow here in Rome it was 4 years ago. I mean real snow, the one that stays longer than a few hours.
For a reason or another, we are all paying lots of attention to forecasts these days. Many wishing for some candid magic. It is cold. Cold enough to expect at least a little white veil to cover up monuments and buildings (and believe me, Rome becomes spectacular even just with that veil).
And cold enough to want flaming soups for dinner. With the ingredients for a good sleep (oatmeal and milk)…
What about having oatmeal for dinner? You can, with savory oatmeal recipes 🙂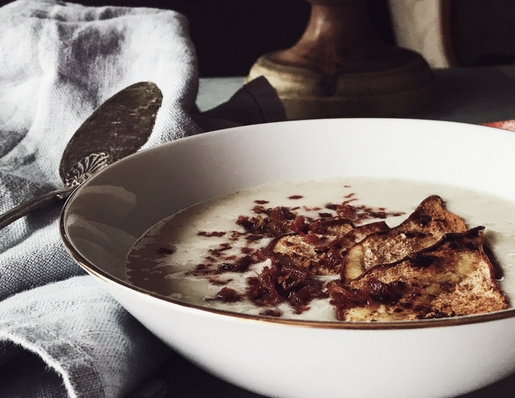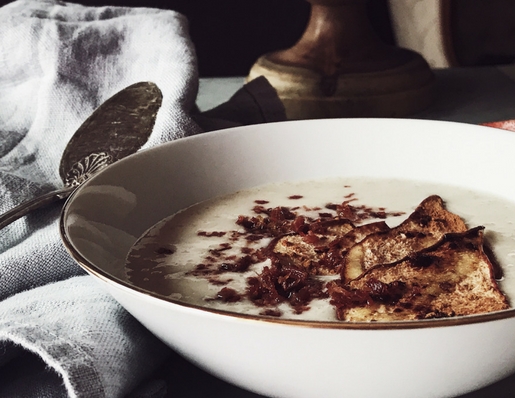 Italian cuisine does include savory oatmeal recipes, a soup, for example. Therefore, I made a version of it, a little pumped, with the sweet and crispy touch of pear chips, and the tasty peeks of prosciutto flakes. It's divine!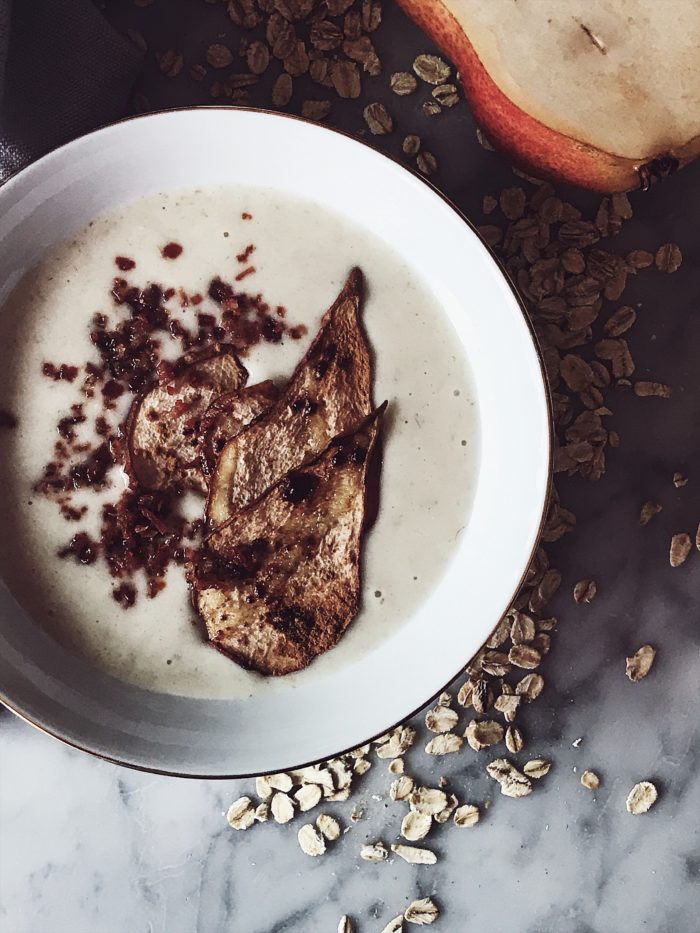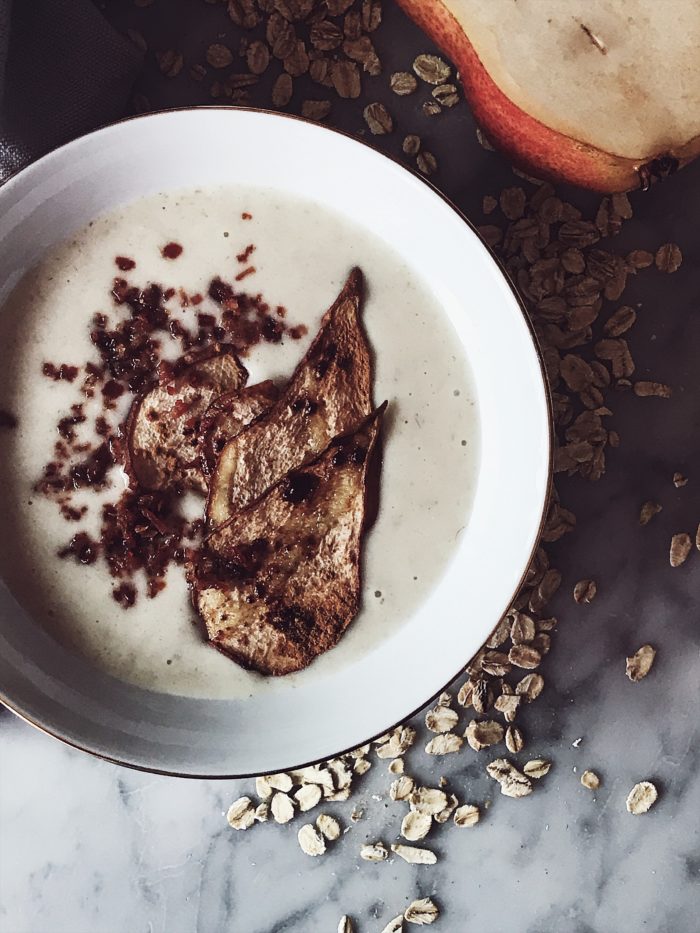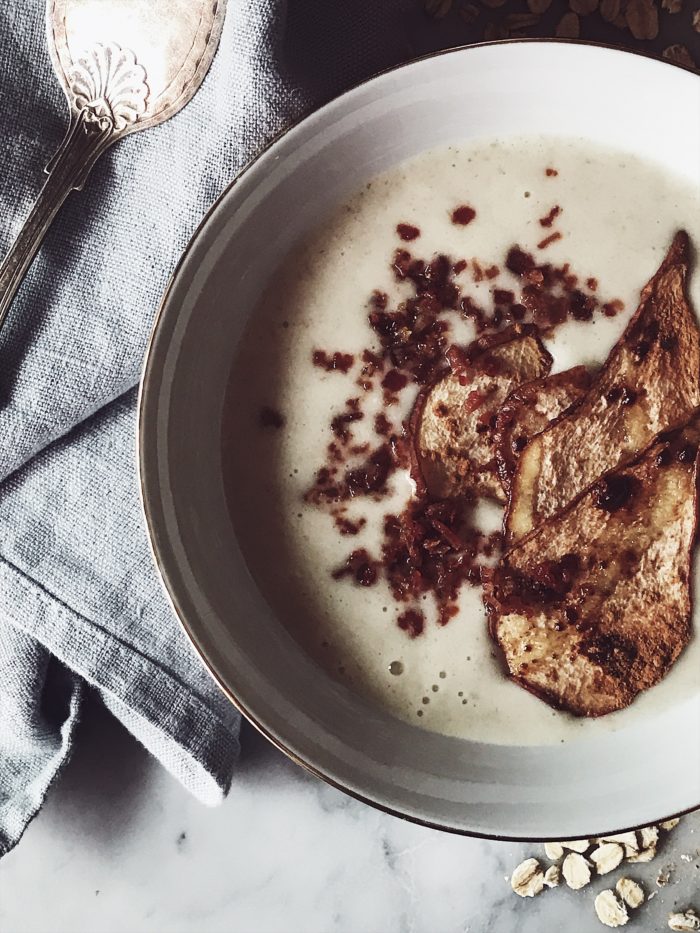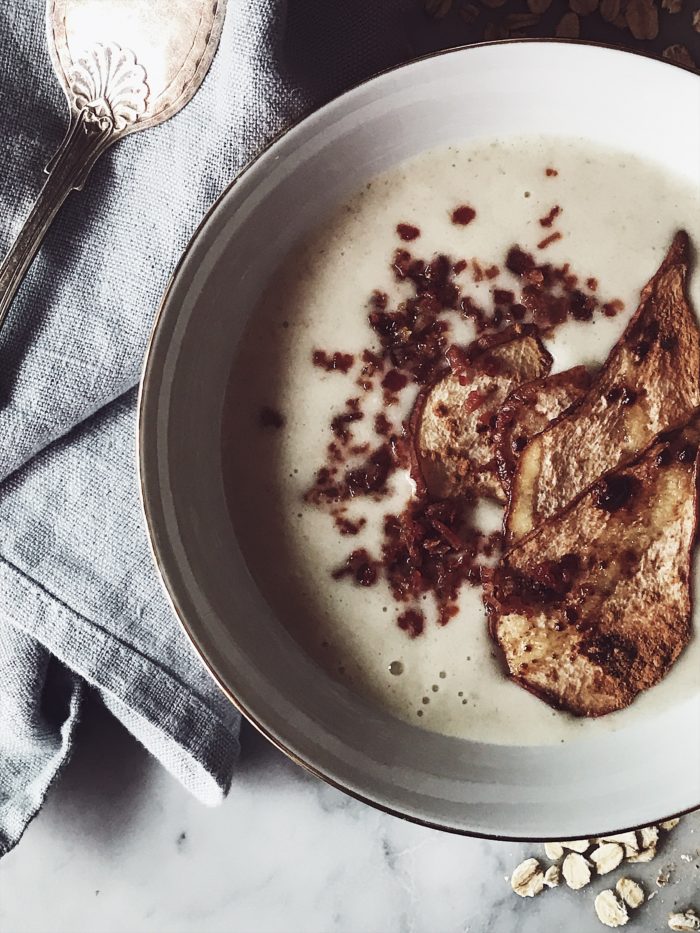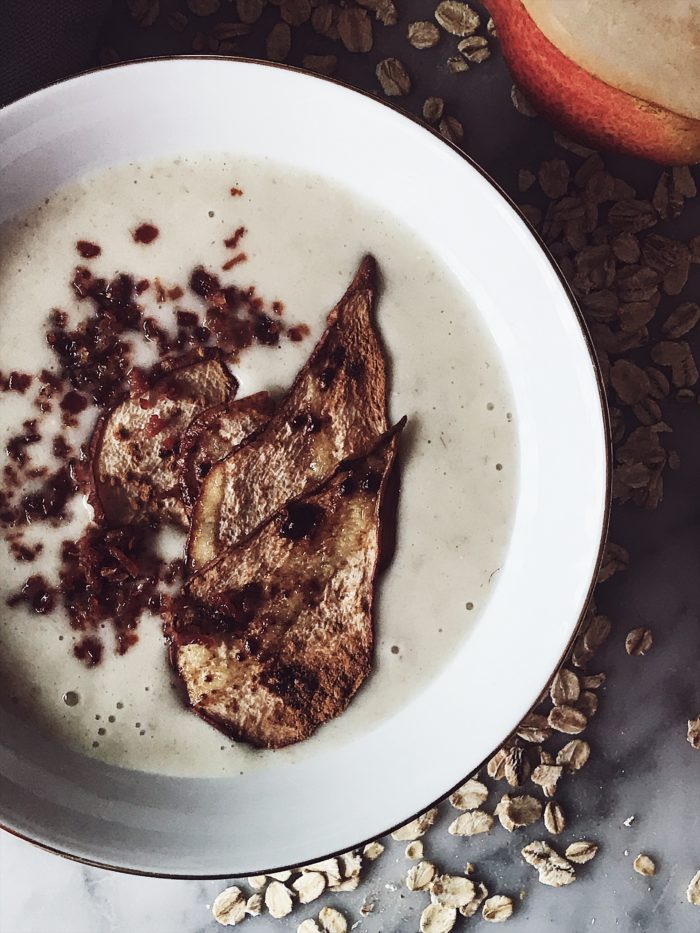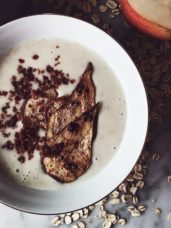 oatmeal soup recipe
Ingredients
1

small pear

2,5

tablespoons

extra-virgin olive oil

1

teaspoon

ground cinnamon

1

shallot

½

carrot

1

garlic clove

¾

cup

oatmeal flakes

1

cup

milk

3-4

cups

water

2-3

sprigs

thyme

4-5

thin slices

prosciutto crudo

salt
Instructions
Preheat oven to 200°F. Clean and thinly slice the pear. Place the slices in a bowl, add half a tablespoon of extra virgin olive oil and cinnamon. Mix to well cover the slices. Lay them on a tray with parchment paper and oven dry them for an hour and a half.

Peel and thinly chop the shallot, the garlic clove and the carrot. Heat the remaining olive oil in a medium/large pot. Brown the chopped aromatics for a few minutes. Add the oatmeal and brown it for a minute. Add milk, one cup of water, thyme sprigs and ½ teaspoon of salt. Bring to a boil, then simmer, on low/medium heat for 10 minutes. Remove from heat and remove thyme sprigs. Add 2-3 cups of water (depending on the desired density) and blend until creamy. Salt to taste.

Brown the prociutto slices in a pan (no oil), until you see the first crusts. Even if they don't look crunchy remove them from the pan, they will be a few minutes later. Julienne them.

Return the oatmeal soup to the stovetop and bring to a boil. Serve the soup hot, sprinkled with prosciutto flakes and pear crisps and seasoned with olive oil.
enjoy your savory oatmeal!
Claudia