Brioche recipe: the authentic Sicilian brioche.
Bake it and dip in pistachio, coffee or almond granita.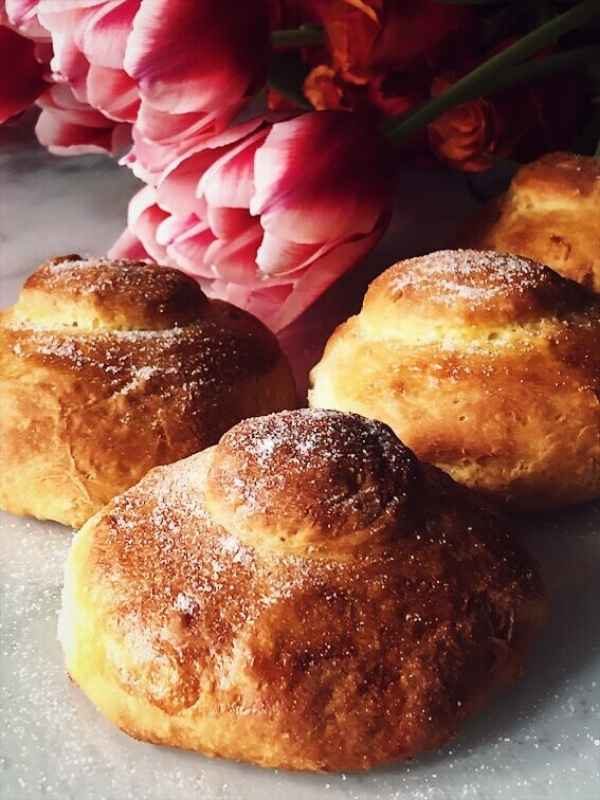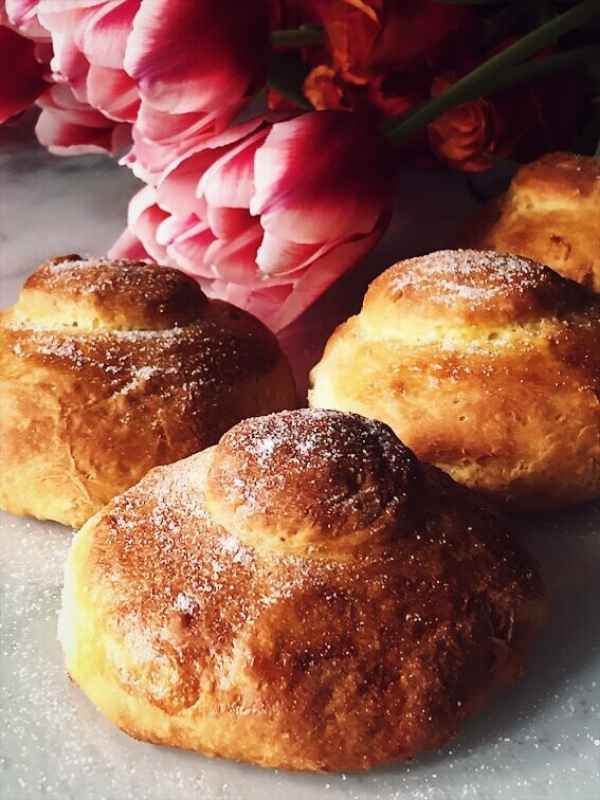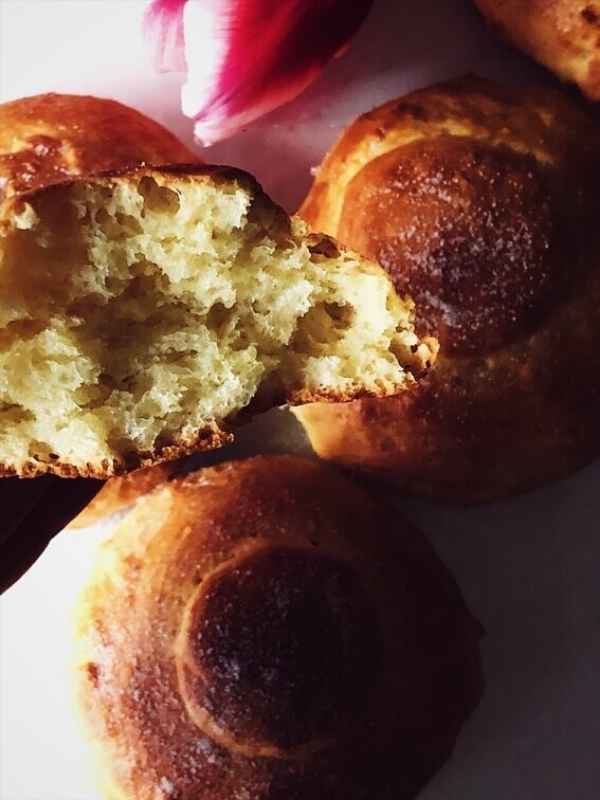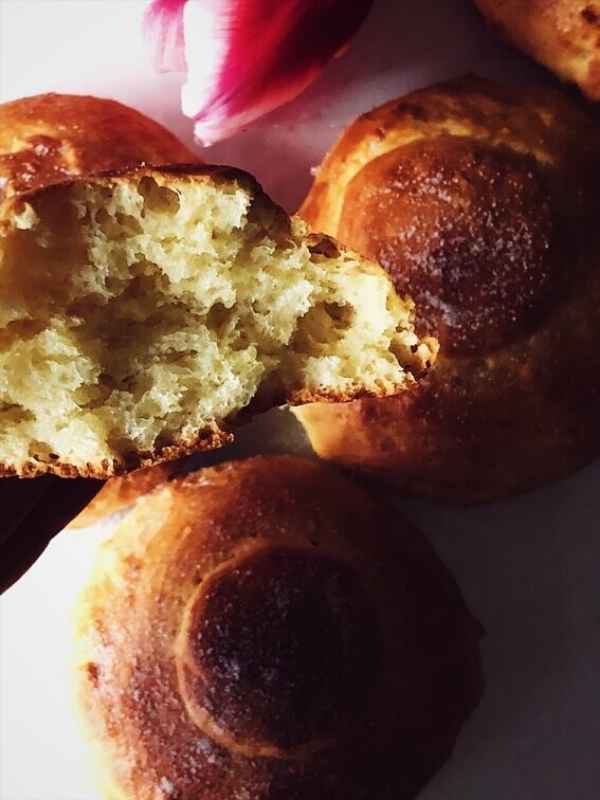 WHAT ARE SICILIAN BRIOCHES?
Italian brioche buns are the traditional Sicilian breakfast or snack. They may be filled with gelato or granita, or served aside for you to tear off a piece of brioche bread at the time and dip it into any of the above.
Dear heaven-aspiring friends, here's the brioche bread recipe for homemade Sicilian buns.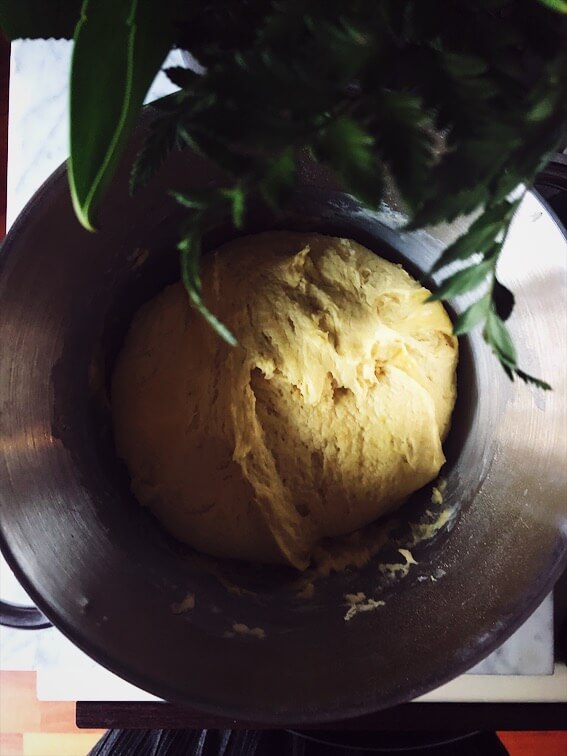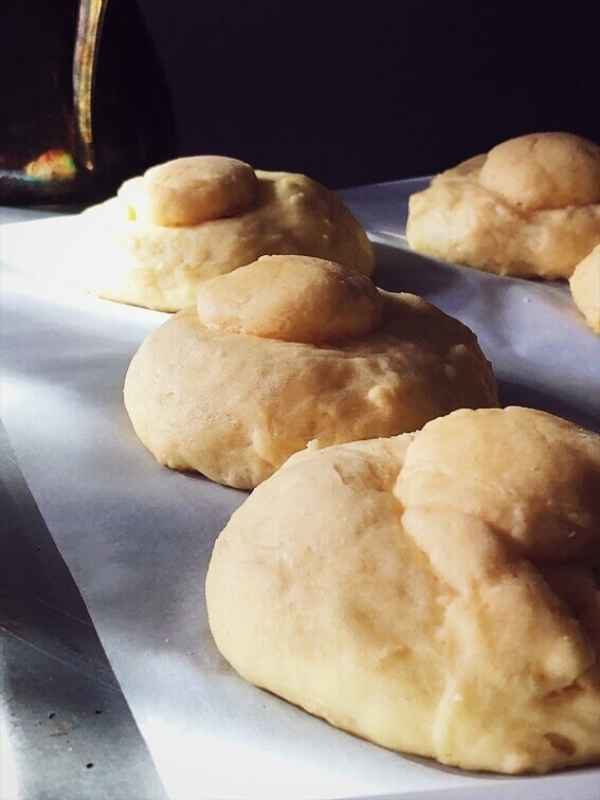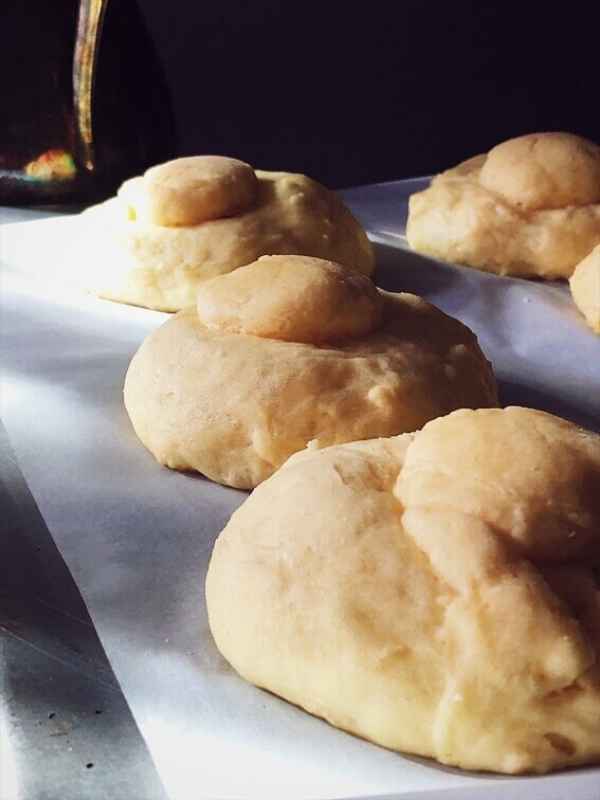 HOW TO MAKE SICILIAN BRIOCHES
But to deserve paradise, you must turn on the oven, even if it's 100 degrees out there. Make the brioche dough, form the rolls, display them on a sheet, and go to another room while they bake. Come back when the sweet aroma starts calling your name…
If it's Winter, remember leavening is going to be tricky: to rise, place the dough in the oven, light on.
Sicilian brioche
The authentic Sicilian brioche recipe.
Total Time
1
hour
15
minutes
Ingredients
8.8

oz

Manitoba flour (or a substitute)

250 gr or 1+1/2 cups + 2 tablespoons

3.4

oz

milk

100 gr or 1/2 cup

1.4

oz

sugar + a few tablespoons

40 gr or 2 tablespoons

1.7

oz

butter, room temperature

50 gr

1

teaspoon

of salt

2

eggs

0.2

oz

dried active yeast

5 gr or 1/2 cube of fresh brewer's yeast

1

teaspoon

of vanilla extract
Instructions
Slightly heat the milk in a saucepan - a little over room temperature -, add the yeast, and mix.

In a mixing bowl, combine the flour and sugar. Add the milk, vanilla extract, and salt, and incorporate.

Add the butter and start kneading.

Crack in one egg and knead until totally absorbed.

Cover the bowl with a kitchen cloth and let it rise for two hours in a warm spot. If it's Winter, place the bowl inside the oven with the light on and a kettle with boiling water next to it, this will help.

Take back the dough and divide it into six pieces. Tear off a small amount from each. Form two balls by working the dough with your hands: a big one and a tiny one, called "tuppo". It will be a sticky dough, so work it on a floured surface and add some flour to the dough if needed, but as little as you can.

Display the big balls, equally distanced, on an oven sheet lined with parchment paper. Place the small balls on their top and press a little to fix them.

Let the brioches rise for two hours, covered with a cloth (inside the oven if it's Winter).

Preheat the oven to 350° F (180°C).

Mix the remaining egg with two tablespoons of milk. Brush the brioches' surface with the egg mixture.

Bake them for fifteen to seventeen minutes, until golden brown.

You can have them hot or at room temperature.
Recipe Notes
You have twenty-four hours to devour them, or you can freeze them before baking them and throw them in the oven for less than half an hour, as previously said, until fìgolden brown.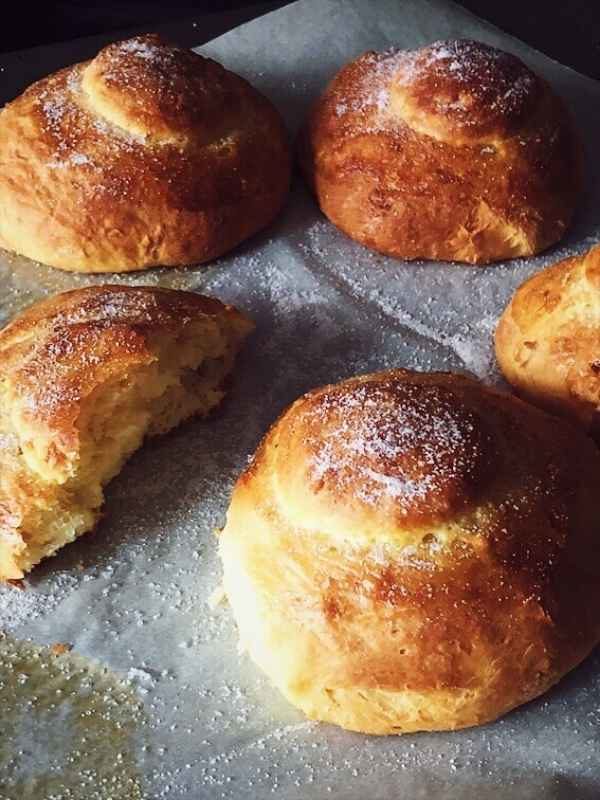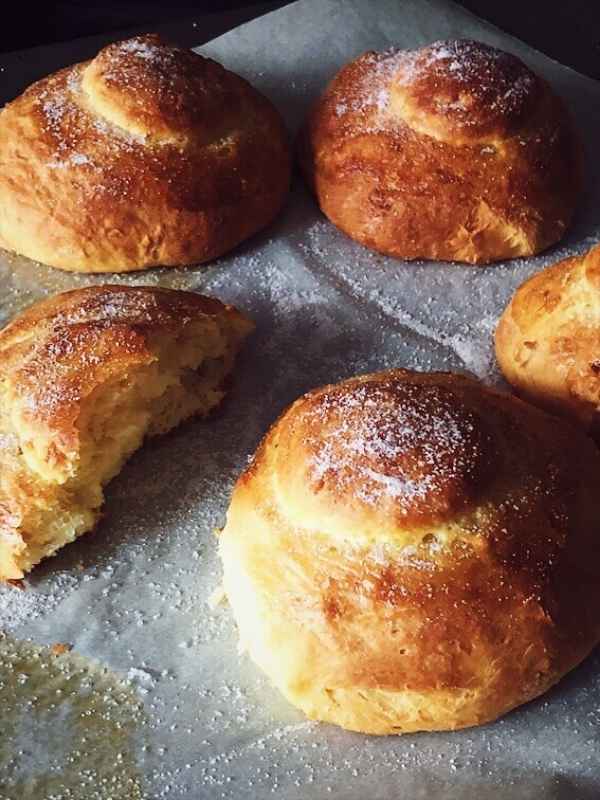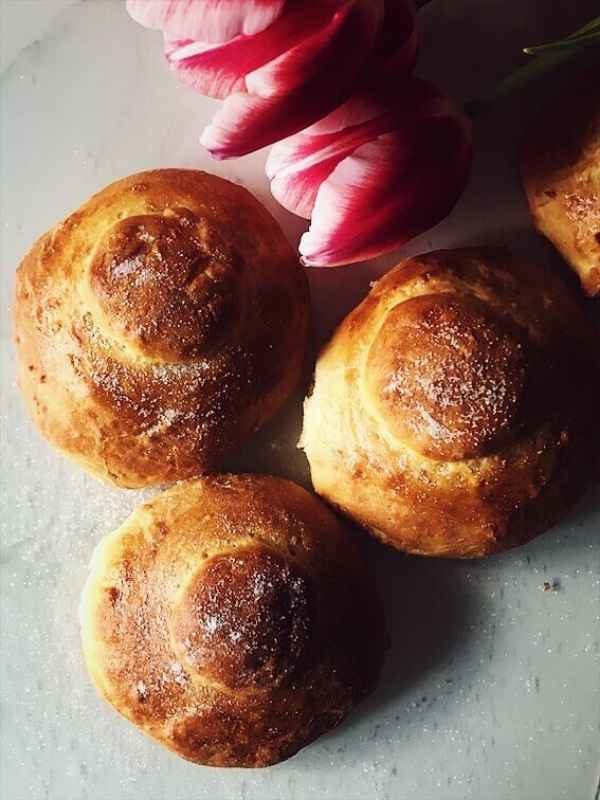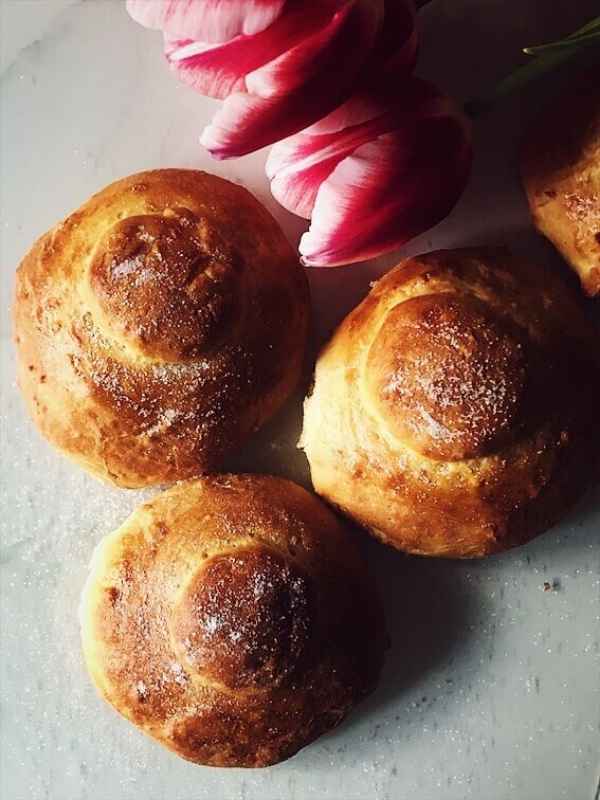 FROM THE ITALIAN COLORS NEWSLETTER:
"…Remember starving Israelites saved by manna from Heaven?

Well, although I'm quite sure it has nothing to do with the myth (or does it?), we do have something called manna here in Italy, and it is delicious as the original was told us to be.

Manna is a very sweet and tasty sap extracted from ash trees.

There are only two places in the world where you'll find it (or import it from): Sicily and Israel…"
Are you obsessed with Sicilian food? Cause I am, and I am looking for partners in crime:
ready?
Meanwhile… enjoy your tasty Italian brioche!
Claudia