The authentic Sicilian eggplant caponata recipe is a sautéed eggplant side dish with tomato, olives, capers, vinegar, and almonds – or pine nuts.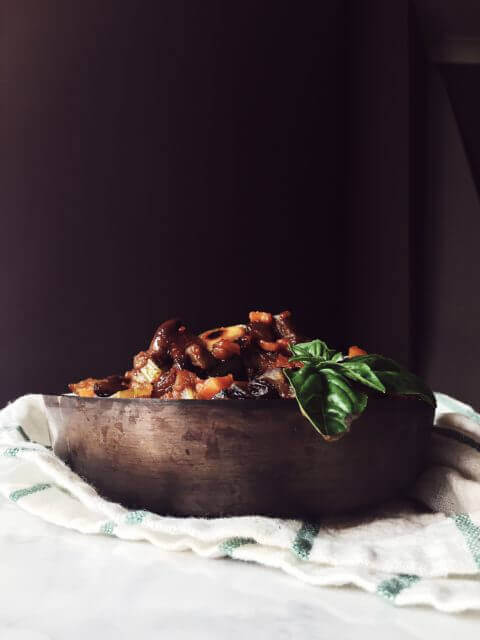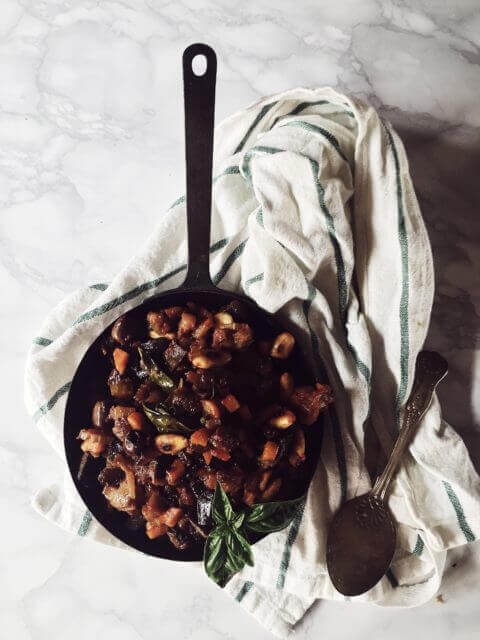 My childhood was a delicious vegetarian adventure. Full of eggplants and Sicilian recipes: the ones my grandmother tough my mom to feed her only figlio maschio/son.
Eggplant nights were my favorite: cheesy parmigiana, stuffed eggplants, or pasta con le melanzane. And the queen of them all: la caponata! Served with crusty Italian bread and a salad, or with a cheese plate and a few bruschettas, the Sicilian eggplant caponata recipe was a delicious dinner saver for a vegetarian Italian family. 
I found and adapted to my family traditions the authentic eggplant caponata recipe of a wonderful book I recommend, Sicilia in cucina: the flavors of Sicily. Their recipe has toasted almonds, but pine nuts are a delicious and popular choice too – and what my nonna and I preferred.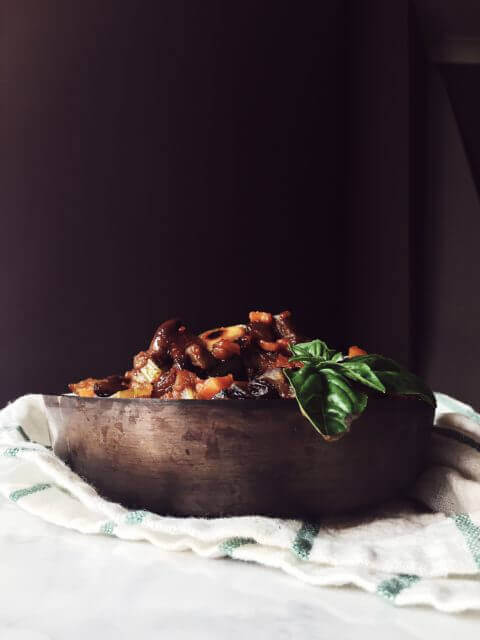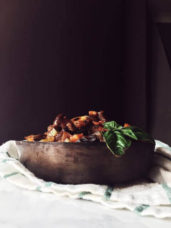 caponata recipe
Ingredients
2

eggplants

2

celery stalks

3

carrots

1

onion

1.5

cups

tomato passata

200 gr – 7 oz

1

cup

of water

2

handfuls

white (or black or taggiasche) deseeded olives

2

tablespoons

capers

3.5

oz

peeled almonds (or pine nuts)

100 gr

3.5

oz

raisins

100 gr

2

tablespoons

pure honey

6-8

basil leaves

4

tablespoons

extra-virgin olive oil

2

tablespoons

red wine vinegar

salt and pepper
Instructions
Dice the eggplants into medium/small pieces.

In a large skillet, toast the almonds over medium heat until golden.

Remove the almonds from the skillet and set them aside.

In the same skillet, heat 2 tablespoons of olive oil. Add the eggplants and fry them (medium/low heat) until well cooked. This should take you 20-30 minutes, depending on how big the pieces are.

Meanwhile, peel and finely chop the carrots, onion and celery.

Remove the eggplants, add 2 more tablespoons of olive oil and brown the onion. Add the carrots and celery and sauté them until tender - not squashy, about 6-8 minutes.

Add the tomato puree and the basil leaves. Mix and, if it looks too dry, add water. Cook 8-10 minutes.

Return the eggplants to the skillet, add the capers, olives, raisins, the toasted almonds, honey, vinegar and a pinch of salt and pepper.

Mix and cook until the pungent smell of vinegar has vanished.

Add salt and pepper to taste.

Eggplant caponata is delicious when hot, but paradisiac when cold.
enjoy your caponata!
Claudia