This Simposio is a cookbook and a guide to Italy's winter. Get ready for Carnival cooking and celebrations, amazing paintings, comforting minestrone soups, baking recipes, Rome little gems, artichoke delights, and a Northern foodie city, Modena. The kingdom of Tortellini and Tagliatelle!
Italian Winter's Simposio
A COOKBOOK ABOUT MODENA
This Simposio is dedicated to a jewel of Northern Italy: the kingdom of Tortellini, Tagliatelle, balsamic vinegar, and fried gnocchi.
In this cookbook we explore the lovely tiny delicious Modena. So expect a lot of local foods, recipes, stories, traditions, and beautiful pictures.
When I told an uncle from Northern Italy I was exploring Modena's cuisine, he told me: "Do you know what people say about Modena? That when someone from Bologna wants to eat well, he goes to Modena". And that, my friends, sums up the goodness of this place.
Modena is worldwide famous for its traditional balsamic vinegar, the real, authentic, aged for at least 12 years. So after investing a little capital in a tiny bottle, I enjoyed testing recipes that exalted its flavor. It turns out pork is balsamic's best friend.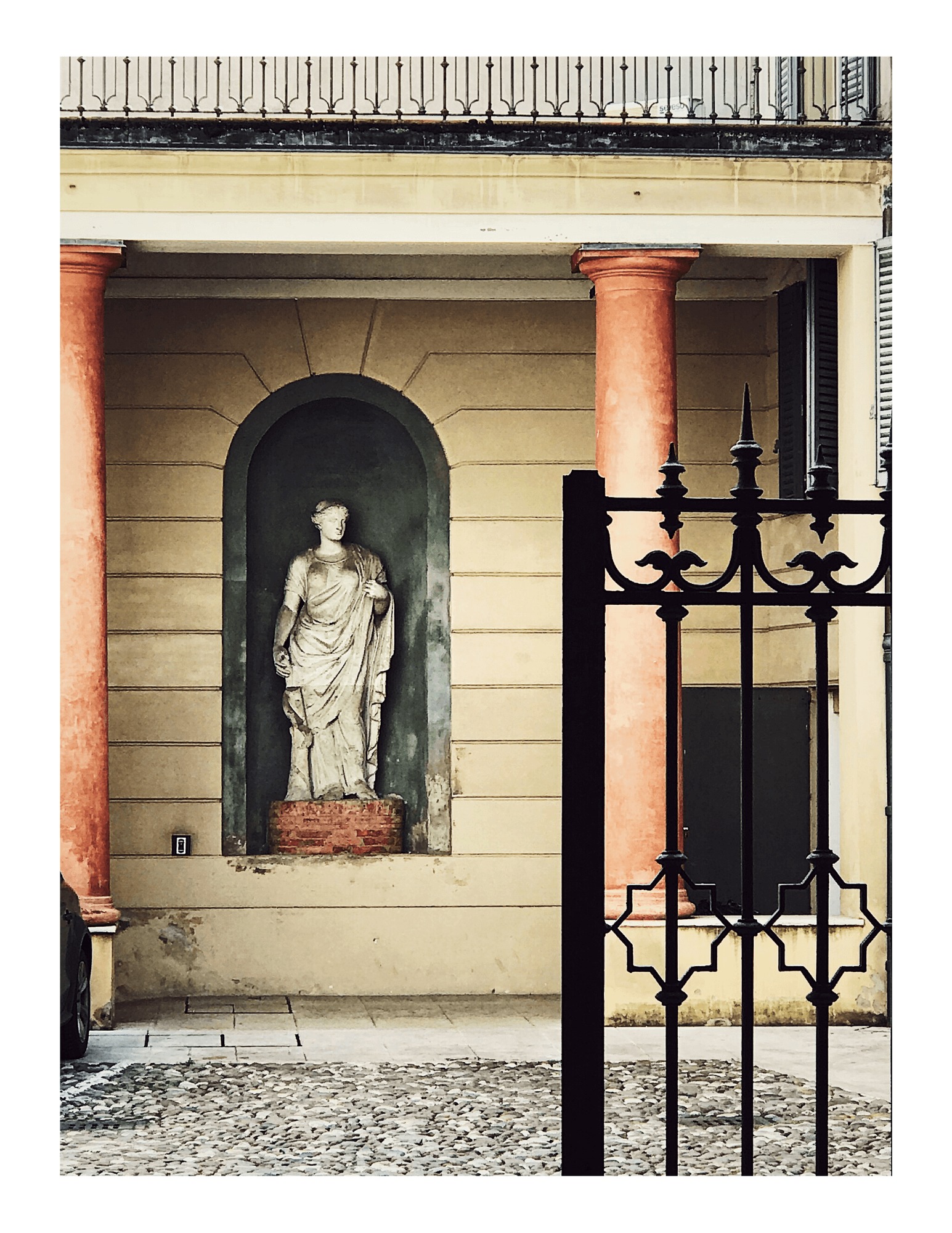 A COOKBOOK ABOUT THE ITALIAN WINTER
After exploring Modena, we will celebrate Carnevale with some regional recipes: two sweet treats and polpette! 
But winter is also a time to pamper yourself, contemplate beauty, and learn new things, so I added Winter Flowers and Corcos… what's that? you may be wondering… Vittorio Matteo Corcos, the painter of modern femininity! His painting "Dreams" inspired much of this book and a lot of my recent artsy life. Corcos was the Belle Epoque painter who could read the souls of women and reveal them in his portraits.
More winter cuddles will come from flaming hot minestrone soups. You thought there was only one minestrone soup recipe, right? I did as well, but we were wrong! We'll take it easy now and explore three recipes from North to South of the peninsula.
For more healthy but delicious eating, and to celebrate the winter veggies, we will honor the king of them all: the already crowned – put it upside down – Sir Artichoke!
Winter Sundays wouldn't be complete – and warm and cozy – without turning on the oven. So get ready to flour your hands (and nose and cheeks), and be sure you have a good book at hand to read while waiting for your creations to rise.
Lastly, I added a few little gems from my always fascinating, difficult to live but never boring city, Rome: a secret spot out of touristic paths and some wintry adventures.
Ready for a rich, mindful, tasty Winter?
subscribe to the ITALIAN COLORS NEWSLETTER and get a free sample
take a look inside the cookbook:
learn more about the cookbook
THE INDEX:
A WINTER BUCKET LIST
MODENA:
06 Welcome To The Italian Winter
08 A Winter Bucket List
10 Modena
START YOUR MODENA ADVENTURE
MODENA RECIPES:
18 Gnocchi Fritti
22 Pesto Modenese
24 Crescentine or Tigelle
28 Borlengo
32 Tagliatelle
38 Ragù Modenese
40 Tortellini Modenesi
44 Torta Di Riso Modenese
48 Bensone
50 Carnevale
52 Tagliatelle Fritte
54 Cicerchiata
58 Eggs And Flour
60 Polpette Di Carnevale
62 The Table
64 Balsamic Vinegar
66 Pork Fillets With Apples And Balsamic
68 Frittata With Balsamic
72 Balsamic Vinegar Pork Cutlets
74 Tagliata Rucola, Grana E Balsamico
76 Minestrone
78 Minestrone Alla Milanese
82 Minestrone Alla Genovese
86 Minestrone Alla Livornese
90 Winter Flowers
96 Vittorio Matteo Corcos
106 Artichokes
108 Patate E Carciofi Alla Romana
110 Carciofini Sott'Olio
114 Carciofi Alla Napoletana
118 Fondi Di Carciofo
120 Artichokes And Parmesan Salad
122 Carciofi Alla Villanella
126 Snow In Rome
130 Lievito
132 Grissini
136 Brezels
140 Ricotta Bread
142 Palazzo Della Sapienza
146 Father's Day
148 The Mimosa Melodrama