This Simposio is a winter Italian cookbook. We will explore winter in Italy through the most delicious winter comfort food recipes, winter traditions, places in Rome, and cultural investigation.
A WINTER ITALIAN TRAVEL COOKBOOK: COMFORT FOOD, PASTA, SOUPS, AND COOKIES!
The cold season is perfect for rich and nutritious cooking; therefore, we'll focus mainly on traditional Italian cheese, legume, mushroom, and walnut recipes. But we won't forget healthy winter vegetables. And winter Italian pasta and soup recipes, of course!
We will take a slow walk through Rome's Jewish ghetto, eat artichokes, and snack on Bruscolini.
And we will explore the traditional breakfast in Italy, past and present.
Welcome to the Yellow Simposio!
a winter Italian cookbook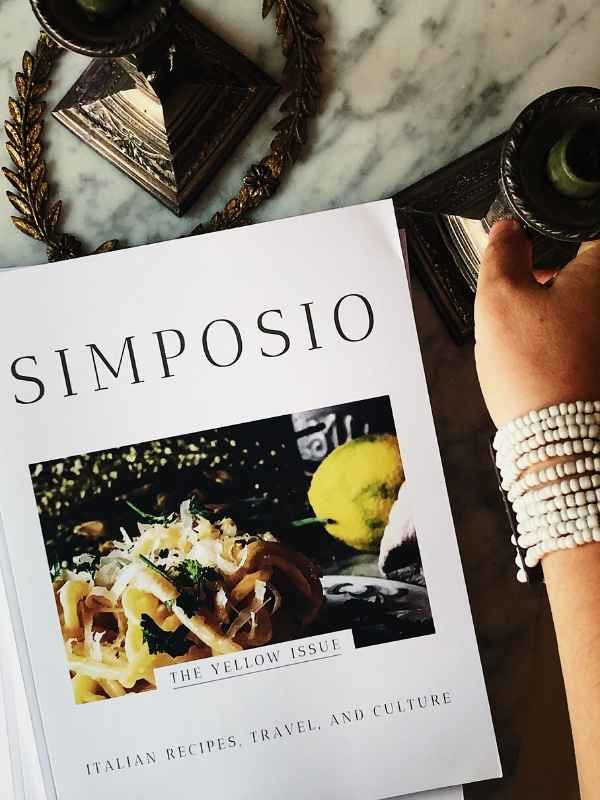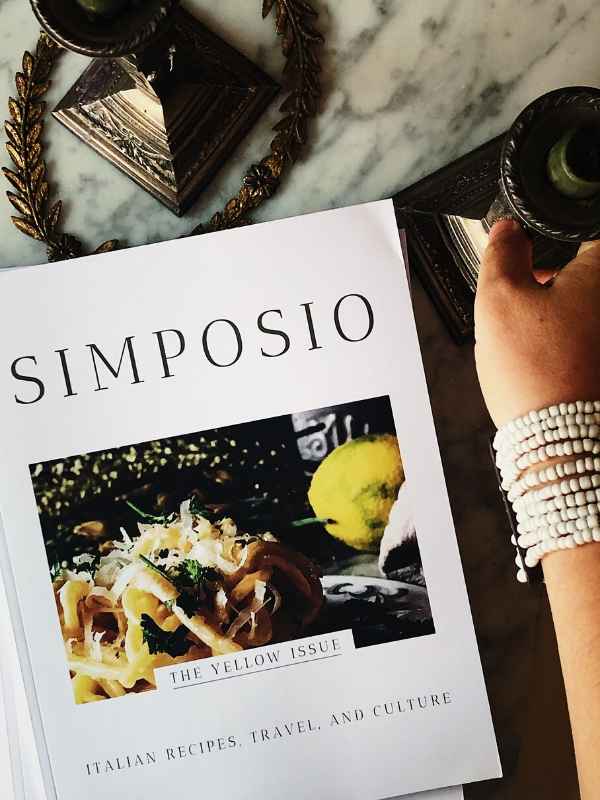 get a free sample of the Simposio Italian travel cookbooks
take a look inside the Yellow Simposio: Italy's winter COOKING AND TRADITIONS
This is a Yellow Simposio because yellow is the predominant color of this winter Italian cookbook and the dishes we'll make, the landscapes we'll enjoy, and the mood accompanying us.
We'll cook comfort food winter recipes with seasonal ingredients: legumes, walnuts, and mushrooms. And rich Italian dishes, with protagonists cheese, pasta, and winter vegetables; they'll help us fight the cold and the melancholy of short and dark days.
Most of the ingredients we'll use are yellow.
We'll make winter Italian pasta recipes like the cauliflower pasta from Sicily, lemon tonnarelli, Pasta e Fagioli from Naples, truffle pappardelle, and mushroom Sagnarelli.
We'll devour regional Italian winter soups and risotto. 
We'll discover Italian cheeses to prepare unforgettable crostini recipes, cheese boards, fondues, and raclettes.
Legumes to add a healthy hint to our cooking adventures. So expect beans, lentils, and chickpeas!
And walnuts to make other winter Italian pasta condiments, soups, and cookies.
Yellow also recalls the Bruscolini we'll crunch while exploring Rome's Jewish ghetto, a beautiful neighborhood famous for the architecture, the cuisine, and the fried artichokes!
Cozily at home, we will learn about and practice Italian winter traditions and slow-living DIY projects.
Snuggling on the couch, we'll explore what a traditional breakfast in Italy is today and was like in the past.
Ready? Go grab a soft blanket, put on the boiler and choose your favorite tea blend: it's time for a good read!
THE INDEX
2 CIAO
8 THE YELLOW PROJECT
10 cauliflower pasta
12 lemon tonnarelli
14 lemon jam
16 chestnut soup
20 THE CHEESE PROJECT
22 kale crostini
24 cheese board
26 parmesan fondue
28 scamorza raclette
30 THE LEGUMES PROJECT
32 pasta & beans
36 lentil soup
38 chickpea tart
40 AMARO
42 THE MUSHROOM PROJECT
44 truffle pasta
46 truffle oil
48 porcini risotto
50 mushroom sauce
52 THE PASTA PROJECT
54 tonnarelli
56 trofie
58 bucatini
60 sagnarelli
62 JEWISH GHETTO
74 bruscolini
78 a poem
82 THE WALNUT PROJECT
84 walnut soup
86 walnut sauce
88 walnut cookies
90 BICCHIERE DELLA STAFFA
92 THE FISH PROJECT
94 fish & olives pasta
98 chic oysters
100 oven baked fish
102 WINTER IN ROME
110 CARNEVALE
114 THE SLOW WINTER PROJECT
116 perfect beignets
118 pear chips
120 rosemary sweet potato bread
122 fancy tea
124 olive oil face cleanser
126 BREAKFAST IN ITALY
Enjoy your winter Italian cookbook and Italy's comfort food!
Claudia