A tortilla soup recipe in a wintry, orang-y version: hot broth, fresh avocado and crispy tortilla fries.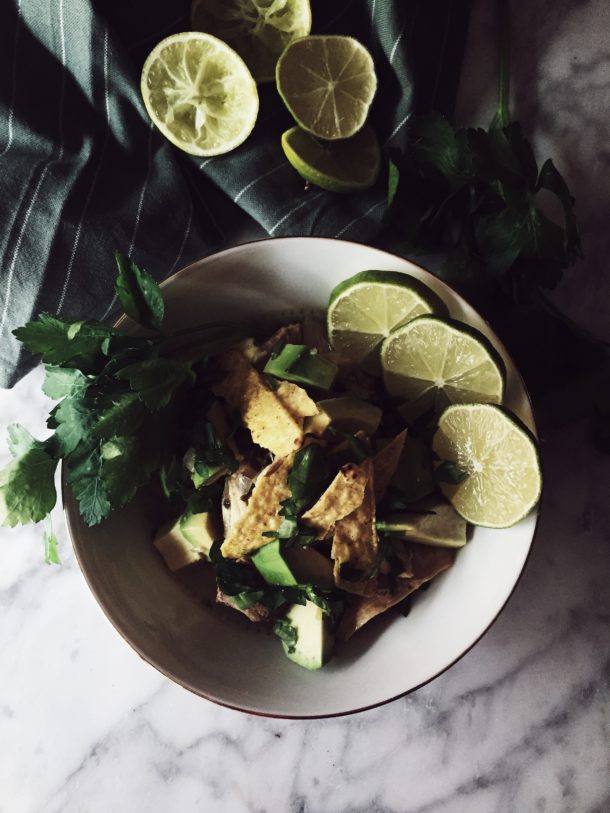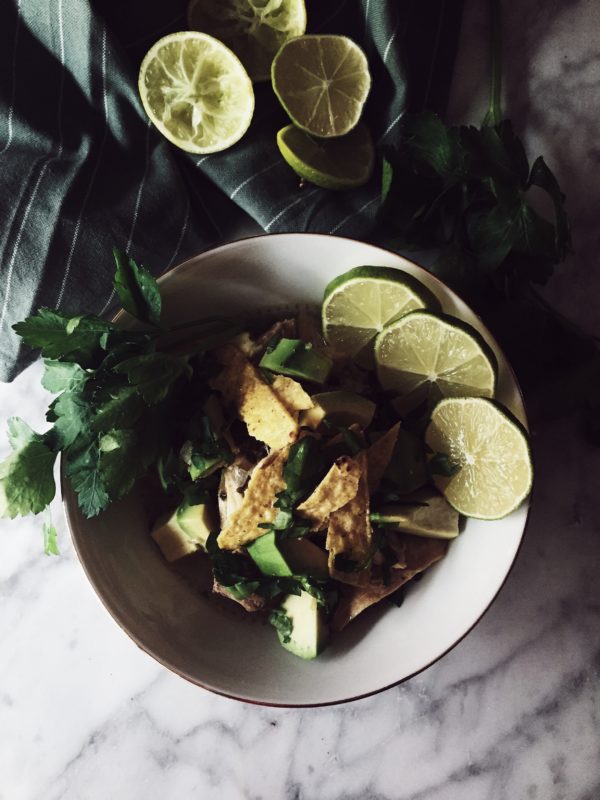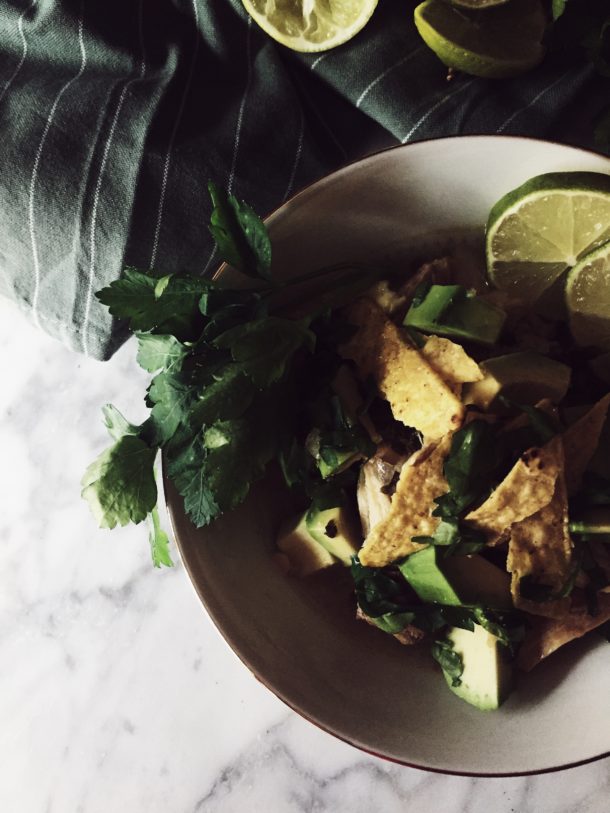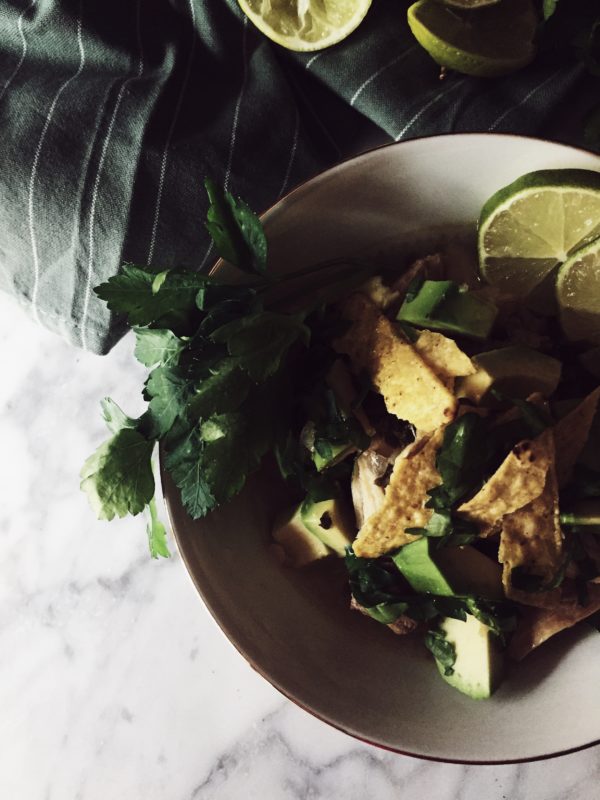 Sopa de Lima is a specialty from the Yucatan peninsula.
I had my first taste right after visiting Chichen Itza, and it was love at the first spoon.
This is a sopa the lima wintry (and made in Italy) version. Of course, I didn't find lima (a more delicate and sweet version of lime, native of the Yucatan peninsula), so I used limes and added orange to sweeten it a bit.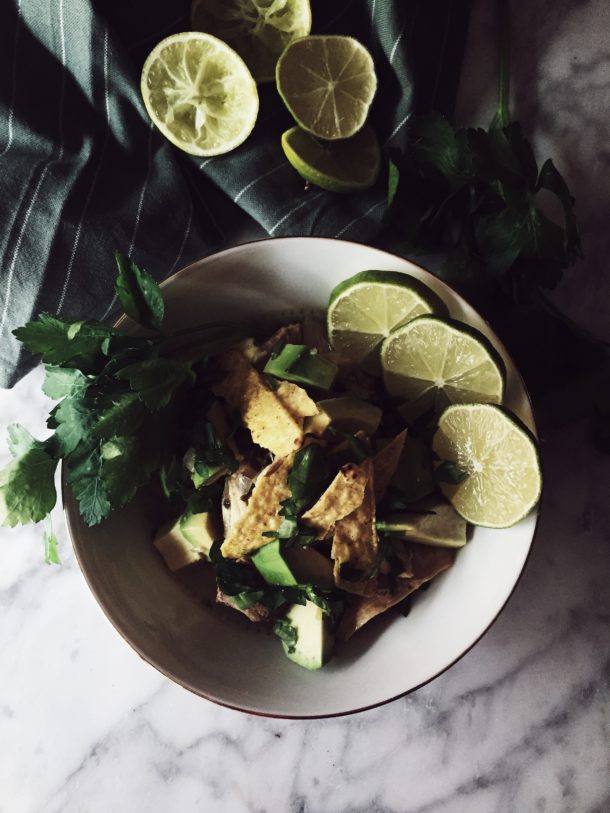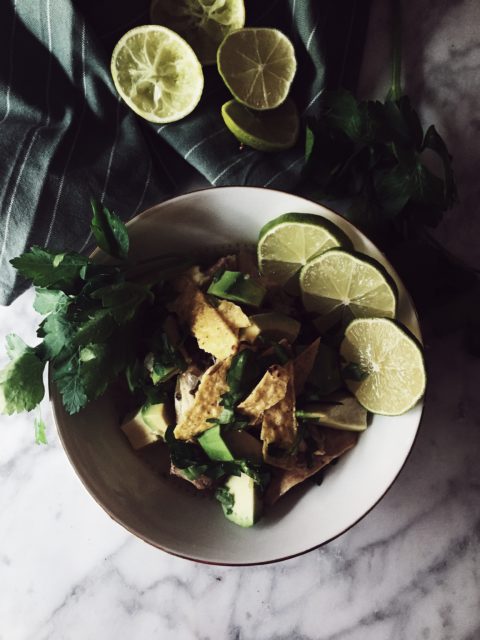 sopa de lima recipe
Ingredients
2

large chicken legs

15

red pepper peppercorns

or just peppercorns

5

allspice berries

1

cinnamon stick

6-8

bay leaves

3

tablespoons

extra-virgin olive oil

3

shallots

1

garlic clove

1/2

chipotle

or other chili

3

teaspoons

dry oregano

or fresh oregano leaves

3

limes

juice and zest

1

orange

juice and zest

3-4

tablespoons

vegetable frying oil.

1-2

tortillas

corn or wheat

1

avocado

1

handful

cilantro leaves

I didn't find it, so I used very Italian parsley

salt

pepper
Instructions
Peel and finely chop shallots and garlic. Deseed and finely chop the chili.

Put chicken, peppercorns, allspice, 4 of the bay leaves and two liters (8.5 cups) of water in a large pot. Bring to a boil and simmer for about 20 minutes (until the meat comes easily away from the bones).

Remove the chicken and set aside until it chills. Strain the broth.

In a saucepan heat the olive oil and golden-brown the shallots. Add oregano, chili and garlic. Brown for less than a minute. Add orange and lime zest and salt and pepper to taste.

Return the broth to the pot, add the saucepan content, plus the remaining bay leaves and the orange and lime juice. Bring to a boil, then simmer for about 20 minutes. Salt to taste. Don't worry if it tastes very sour, when you'll add the greasy ingredients everything will match perfectly.

Meantime shred the chicken meat and add it to the simmering broth (5 minutes before ending the simmering phase).

Cut the tortillas in long strips and fry them, until golden brown, in the vegetable oil (I used a small pot). Peel and dice the avocado. Finely chop the coriander (or parsley).

Serve the soup hot, topped with tortilla fries, fresh avocado and aromatic parsley.
enjoy your wintry sopa de lima
Claudia