Winter Salad Recipes from hypertalented fellow bloggers.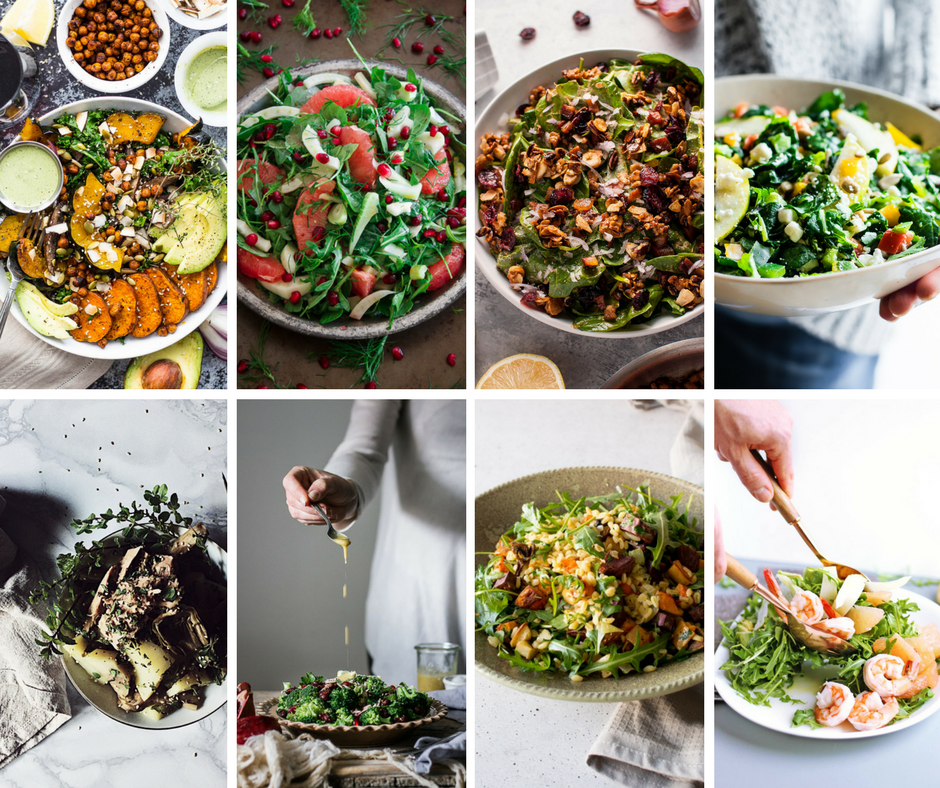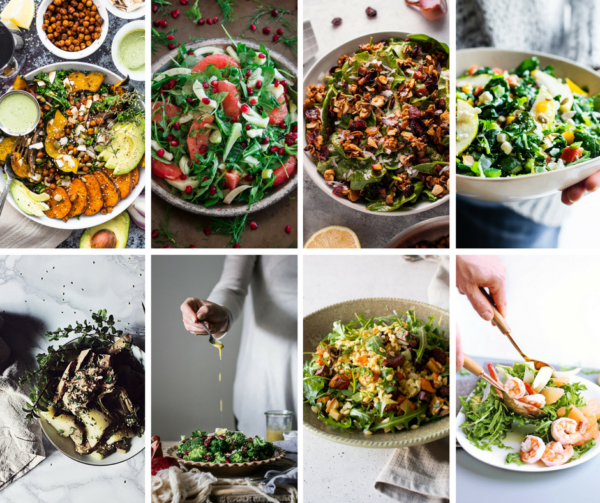 As we are gradually passing to a healthier diet, we are also (and will probably be until next Christmas) seesawing between pasticcini* and veggies. That's why I collected the best winter salad recipes from some of my most talented fellow Bloggers:
28 + 1 unbeatable winter salad recipes
Gina's Pickled Fennel Citrus Salad – Running to the Kitchen
Lauren's Roasted Pear & Pecan Salad – The Schmidty Wife
Emily's Kale and Hazelnut Winter Salad with Warm Sweet Dressing – The Best of This Life
Karen's Detox Quinoa Salad with Turmeric Tahini Dressing – Seasonal Cravings
Kathy's Roasted Sweet Potatoes and Greens Salad with Quince Vinaigrette – Lemon Blossoms
Mel's Pear Walnut Salad – A Virtual Vegan
Taylor's Sweet Potato, Squash and Kale Buddha Bowl – The Girl on Bloor
Linda's Greens with Pomegranate Vinaigrette – The Organic Kitchen
Kelly's Tempeh Buddha Bowl – My Organic Diary
Elena's Healthy Broccoli Salad with Vegan Bacon, Apples, Blue Cheese and Pecans – Happy Kitchen Rocks
Lisa's Butternut Squash & Carrot Salad – Food Well Said
Lindsay's Zippy Pear Goat Cheese Kale Salad  – Cotter Crunch
Lorena's Winter Salad with Sage Vinaigrette – Green Healthy Cooking
Tania's Fresh and Crunchy Broccoli Salad – Cooktoria
Amy's Winter Pear, Pomegranate & Swiss Salad with Poppy Seed Dressing – House of Nash Eats
Simon's Grilled Pear Salad Bowl – BBQ Bastard
Erin's Shaved Brussels Sprouts Salad with Mustard and Parmesan – Platings & Pairings
Tricia's Grapefruit arugula salad with avocado and shrimp – Rhubarbarians
Rachel's Sunshine Chard and Carrot Salad – Simple Seasonal
Samantha's Lentil and Cauliflower Dill Salad – My Kitchen Love
Jenn's Quinoa Spinach Salad w/ Butternut Squash & Apple – Veggie Inspired
Dana's Warm Roasted Squash Salad With Red Currants + Maple Tahini Dressing – Killing Thyme
Angela's Za'atar Roasted Chickpea Salad with Garlic Tahini Dressing – Eat Spin Run Repeat
Natasha's Spinach Salad with Crispy Pancetta and Candied Nuts – Salt & Lavender
Emma's Grilled Halloumi, Caramelised Shallots, Green Bean & Pine Nut Salad with a Lime Dressing – Emma Eats & Explores
Tina's Simple Lacinato Kale Salad with Walnuts, Bacon, and Lemon Dressing – The Worktop
Anja's Popped Beans and Steamed Broccoli Salad – Use Your Noodles
Lauren's Roasted Vegetable Wheat Berry Winter Salad – Lauren Caris Cooks
And there's my contribution too: the Italian tuna, potatoes and artichokes salad. A tuna salad with steamed artichokes and potatoes, fresh oregano and mint, and sesame seeds.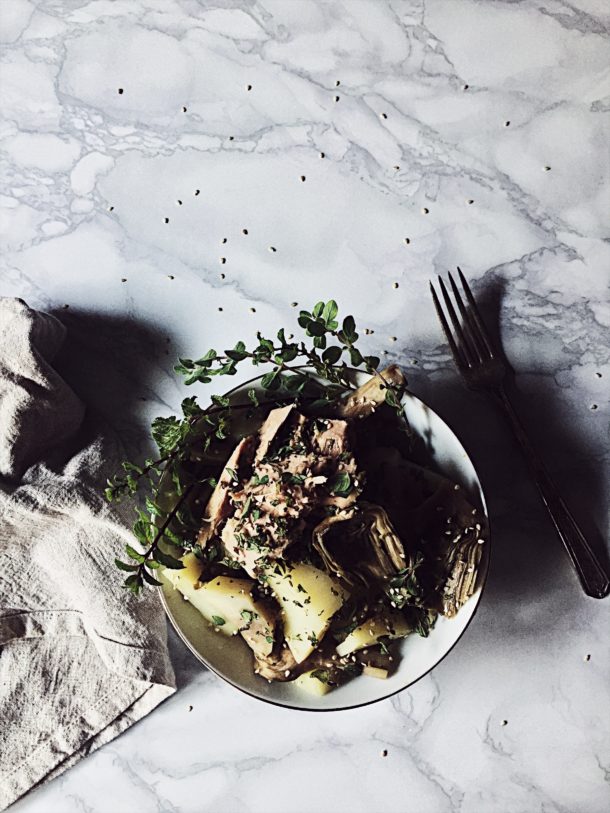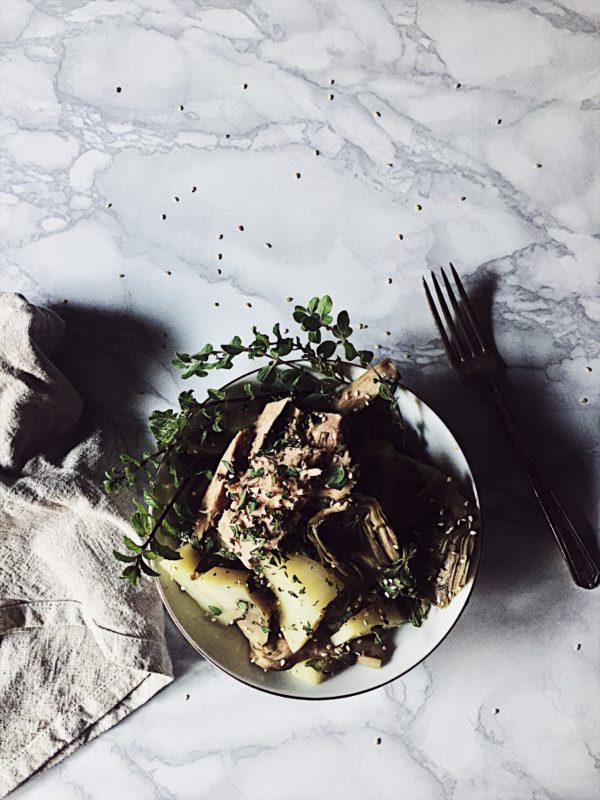 Also the last recipe of the Plant Based Project.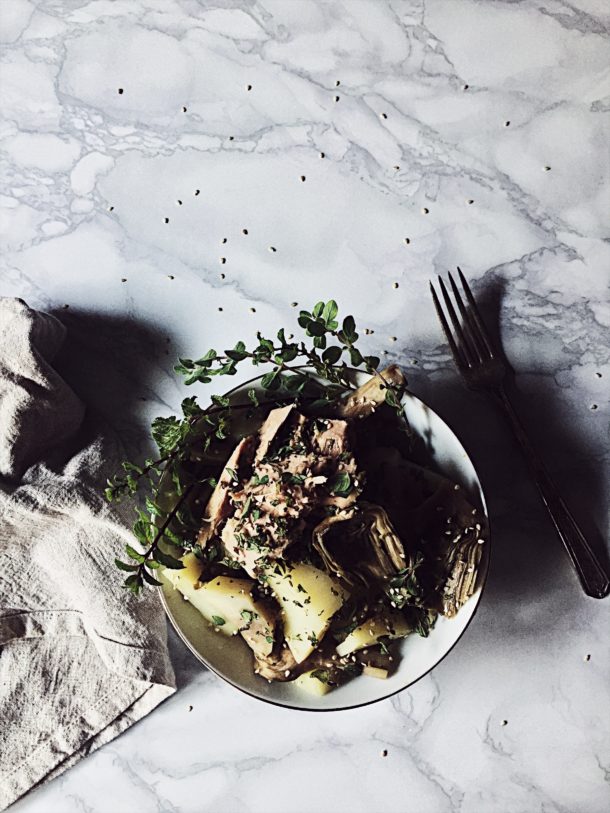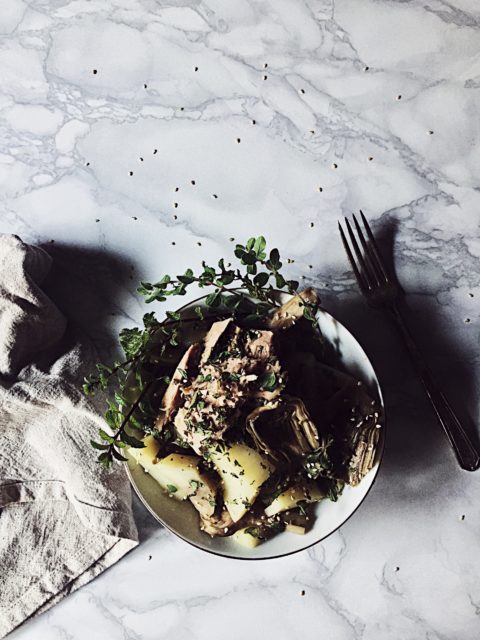 artichokes and potato Italian tuna salad
Instructions
Peel the potato and cut it into chunks. Clean the artichoke from external leaves and the hairy heart and slice it.

Steam both, sprinkled with a pinch of salt, until fork tender.

Meanwhile, finely chop herbs.

Once ready, place the potato and artichoke in a bowl. Add tuna and olive oil.

Sprinkle with herbs and sesame seeds.

Sauté a few minutes in a skillet and serve your Italian tuna salad recipe, hot or at room temperature.
enjoy Winter seesawing and your new collection of Winter Salad Recipes 🙂
Claudia