This asparagus rice bowl is made following the rules of a Buddha bowl: a cereal base, vegetable proteins, healthy fats, and seeds. It is made with rice, chickpeas, almonds, mixed seeds, and a touch of aromatic thyme. It gives us a good reason to claim that vegan can be delicious, besides healthy.
The asparagus rice bowl ingredients are simple, but they also give birth to a tasty, nutritious, complete, and satisfying lunch or dinner meal.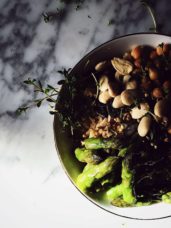 asparagus rice bowl
Ingredients
1

cup

of cooked rice

12

asparagus

1/2

cup

of pre-cooked chickpeas

1

tablespoon

of mixed seeds

1/2

tablespoon

of peeled almonds

extra virgin olive oil

fresh thyme

or dry, but fresh is better
Instructions
Clean the asparagus by bending each one with your hands until they split. Discard the bottom and keep the top.

Steam them (sprinkled with a pinch of salt) for about 5 minutes, until fork-tender.

In a medium pan, heat a tablespoon of extra-virgin olive oil. Add one tablespoon of thyme - a couple of sprigs - and sauté for a few minutes.

Cut the asparagus into three to four and add them to the pan. Drain the chickpeas and add them too.

Add one to two pinches of salt - according to your taste -, mix and sauté for a couple of minutes.

Put the rice in a large bowl, add the asparagus and the chickpeas.

Season your asparagus rice bowl with the seeds, the almonds, and more thyme leaves - rubbed between your palms to make them release their aroma.

Mix and enjoy your Buddha bowl.
Enjoy your healthy bowl!
Claudia