This is an authentic Italian minestrone soup recipe. It is one of the many recipes all over the country. 
This minestrone recipe from Milan has carrots, potatoes, beans, cabbage, pancetta, and rice.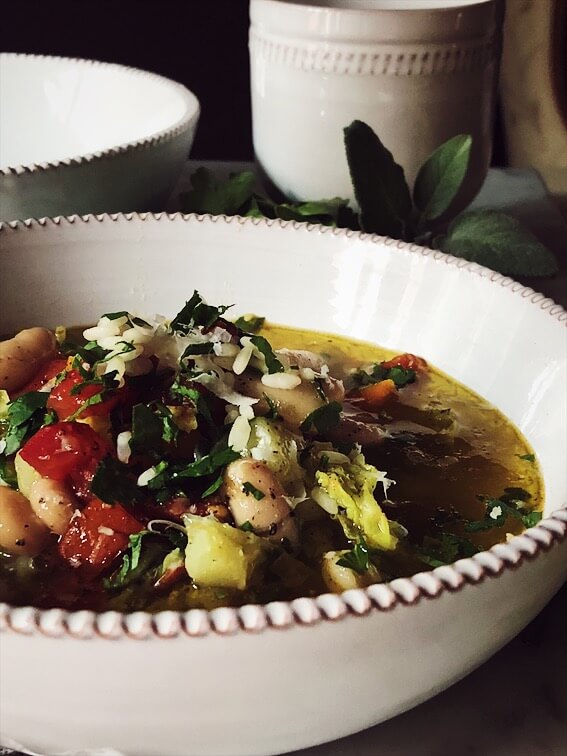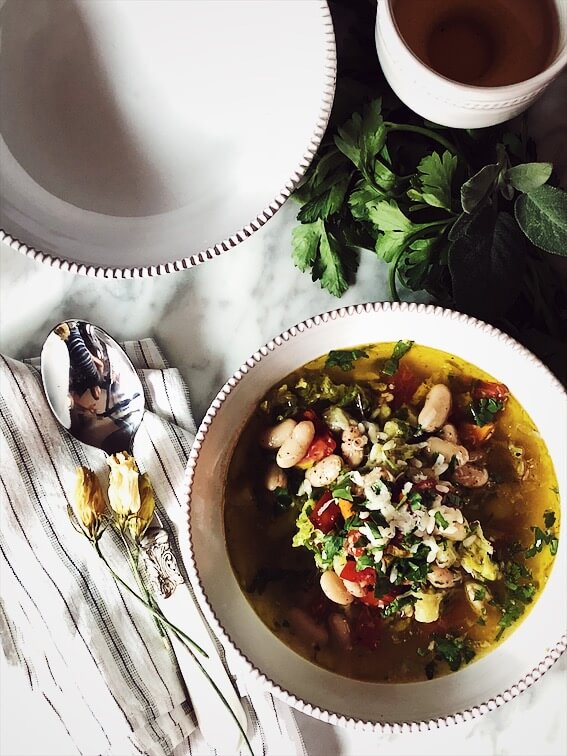 When your hands and feet are cold, your nose is runny, and your spirit is low, there's no better remedy than making the authentic Italian minestrone soup.
HOW TO SERVE THE ITALIAN MINESTRONE
You can serve minestrone plain or with pasta, rice, or crostini.
After pouring it into porcelain bowls, you can also garnish it with fresh chopped herbs, parmesan, or a few drops of raw extra-virgin olive oil.
Plus, depending on your personal tastes, you may leave veggies in chunks (big or small), blend them – once cooked, or do half and half.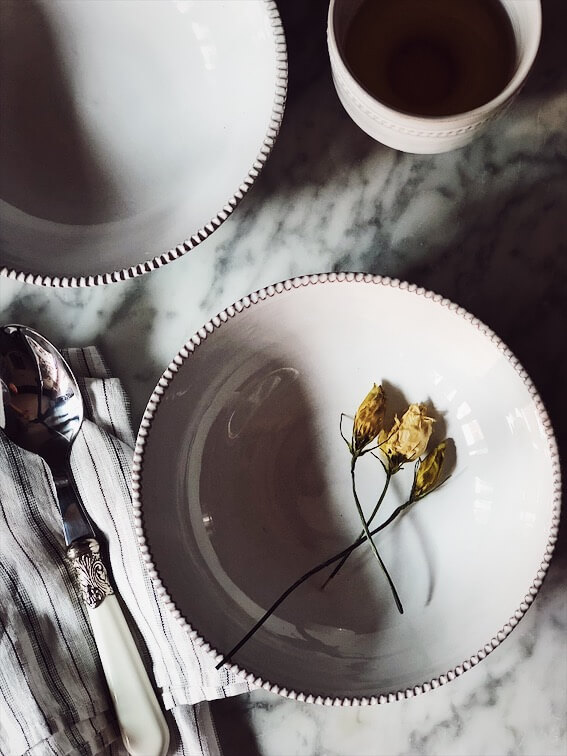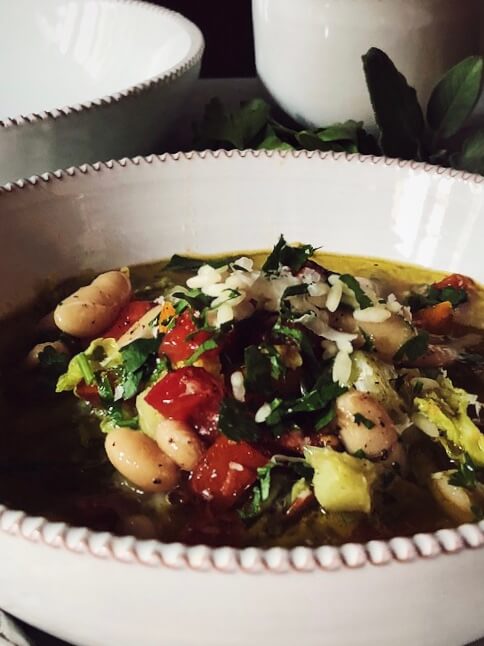 THE SECRET OF THE MINESTRONE RECIPE
The secret of any authentic Italian minestrone soup recipe is slow-cooking. To be honest, I don't always simmer it as long as indicated in the recipe. I often turn the heat off after thirty minutes or until potatoes or beans are fork-tender. But I had to give you a choice between tradition and everyday life demands.
The Minestrone soup is a recipe from THE "ITALIAN WINTER" SIMPOSIO COOKBOOK
Get your copy for more Italian recipes, travel, and culture
HOW TO MAKE MILAN'S MINESTRONE
The base of this minestrone soup is a parsley-and-pancetta trite, which gives it an intense flavor.
If you want to make it a vegetarian minestrone, skip the pancetta and add a little more salt once cooked.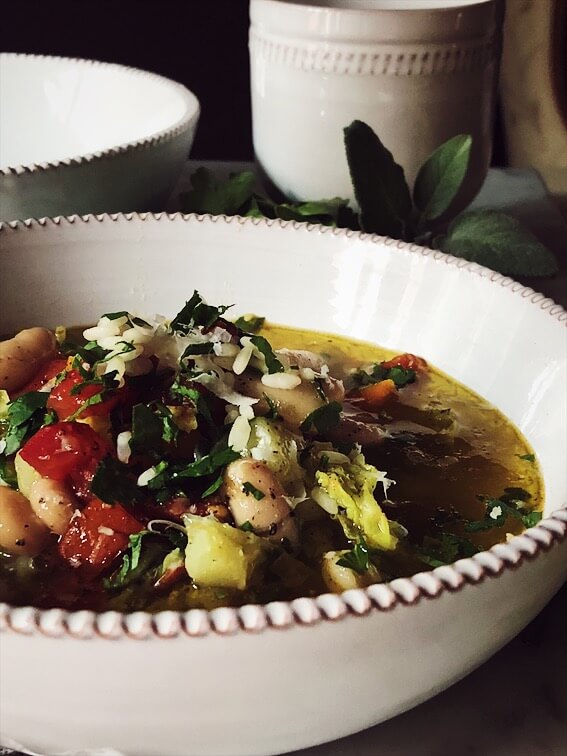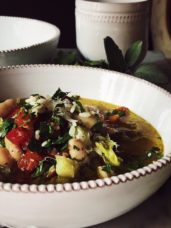 Milan's authentic minestrone soup
Cabbage and other vegetables soup with pancetta and beans.
Cook Time
2
hours
20
minutes
Ingredients
1,4

oz

pancetta or of pork rind

40 gr - 1 thick slice

a big handful of parsley

1/2

white onion

1

garlic clove

1

carrot

2

medium potatoes

3-4

sage leaves

1

rosemary sprig

1

celery stalk

3,5

oz

beans (precooked or raw, in which case soak them overnight)

100 gr - 1,5 cups

1/4

savoy cabbage

2

oz

short rice (Originario or Roma, or what you find)

60 gr - 1/3 cup

1

medium tomato

or 1/2 cup of passata, when they're not in season

extra-virgin olive oil

parmesan cheese

grated
Instructions
Peel and cut the carrot and the potatoes in chunks. Slice the celery stalk. Slice the cabbage and set it aside. Cut the tomato in chunks and set it aside as well.

Coarsely chop or blend the pancetta/pork rind, parsley, and onion. 

Place it all in a medium/large pot. Add the garlic clove, the carrot, the potatoes, the beans (if uncooked), the celery, the rosemary sprig, and the sage leaves. Cover with water by an inch and bring to a boil.

Lower the heat to the minimum and simmer for two hours, lid on.

Add the savoy cabbage and cook 10 minutes more.

Add the rice, beans (if precooked), and tomato, and cook 20 minutes or the cooking time on the rice package directions.

When done, add salt to taste (you should need very little if you use pancetta).

Serve the minestrone soup hot, garnished with a teaspoon of olive oil, parsley, and black pepper. You can also add a teaspoon of grated parmesan cheese.
Recipe Notes
You can skip the pancetta and make this a vegetarian minestrone recipe. In this case you'll probably need to add a little more salt.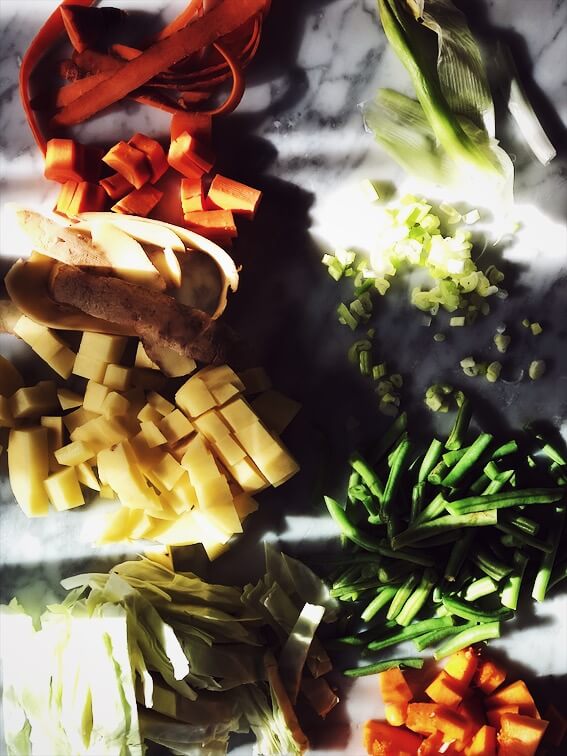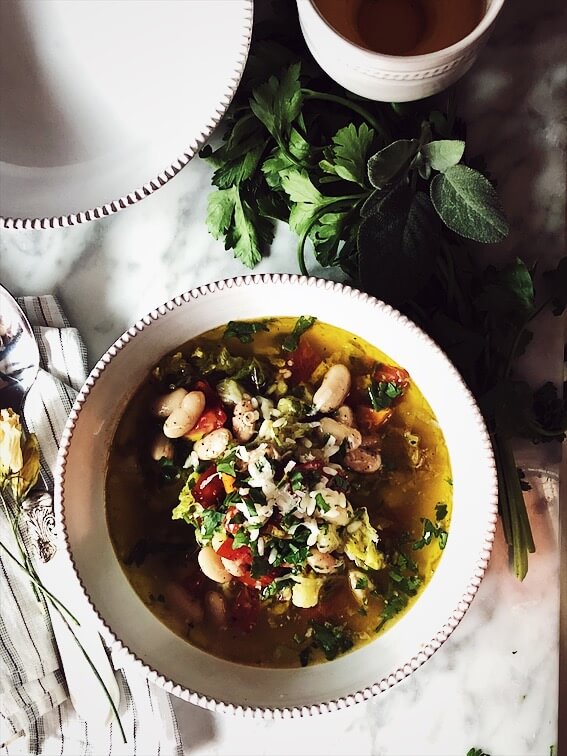 Enjoy your authentic Italian minestrone soup!
Claudia