The authentic Italian puttanesca recipe is a pasta dish from Rome – well, maybe-: a tomato sauce with olives, capers and anchovies.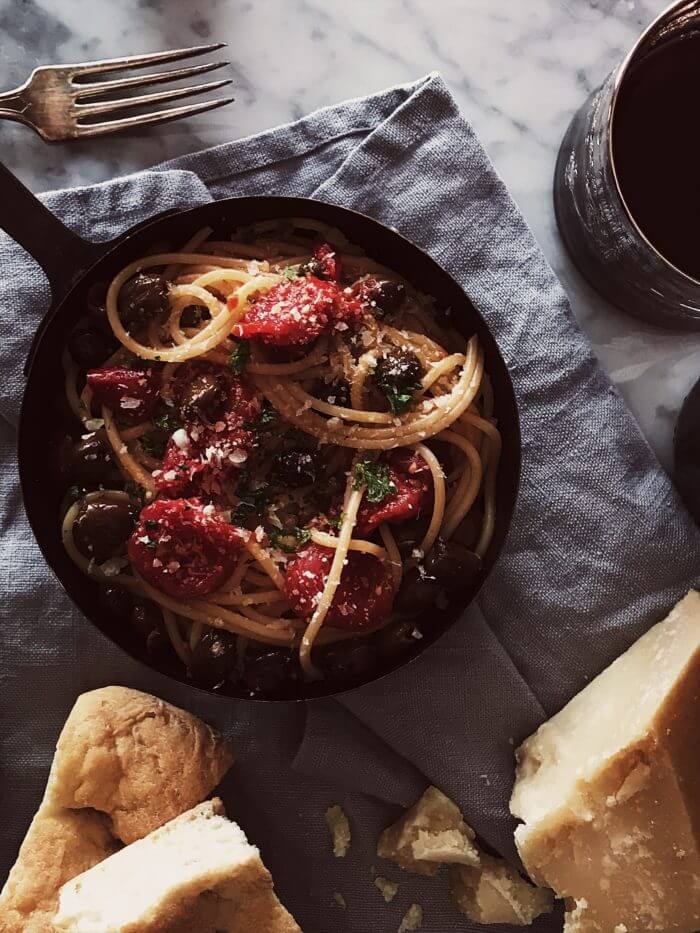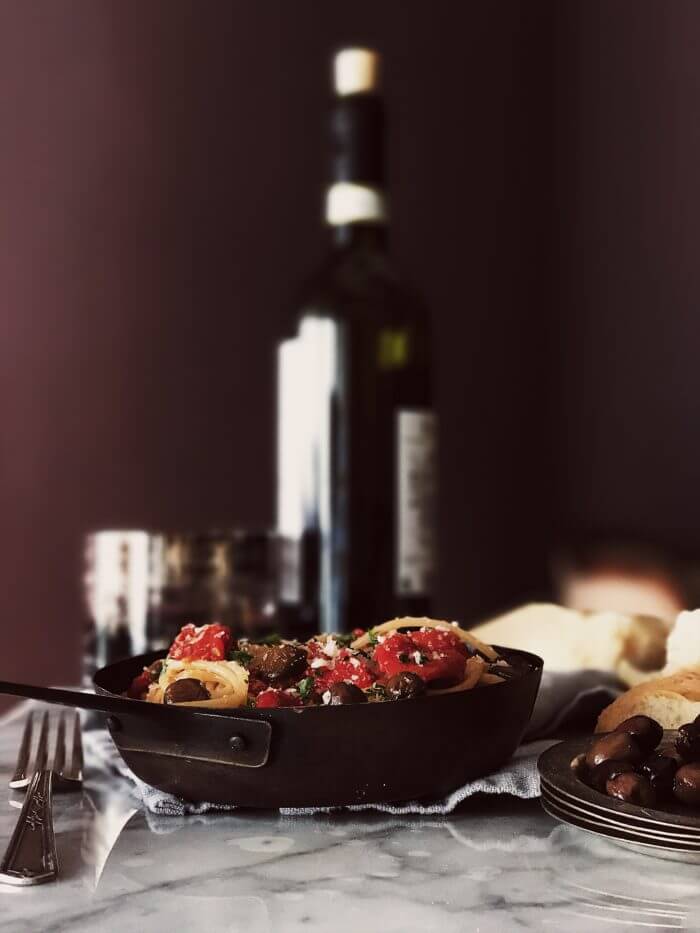 The authentic Italian puttanesca has a dirty name. It recalls a bad word that elegantly translates to "prostitute". The recipe is instead an easy, pantry-stocks and delicious pasta dish seasoned with tomato sauce, anchovies, and olives.
Although the puttanesca recipe has the infamous reputation of being the pasta prostitutes made for their lovers, the name refers more to an Italian idiomatic expression. A "puttanata" is something stupidly easy to do, a mistake you did, or something it took you no effort to achieve. 
Apparently, the authentic puttanesca recipe was conceived by a tired and hungry group of friends. After a long dolce-vita night, they craved pasta but had nothing in the fridge or pantry except for spaghetti, tomato passata, olives, and anchovies – which they put together. They're cooking experiment gave a fantastic result with no effort and just a few ingredients, so they named it pasta puttanesca.
We should thank those vagabonds: if it wasn't for all that wine, innumerable shots of limoncello, and a never-ending night, we wouldn't have the delicious puttanesca recipe.​
This is the authentic Italian puttanesca recipe. Its regional origins are controversial: some say the tipsy crew was in Naples (Ischia or Capri), some say in Rome. No one really knows, but everyone says they do… so Italian!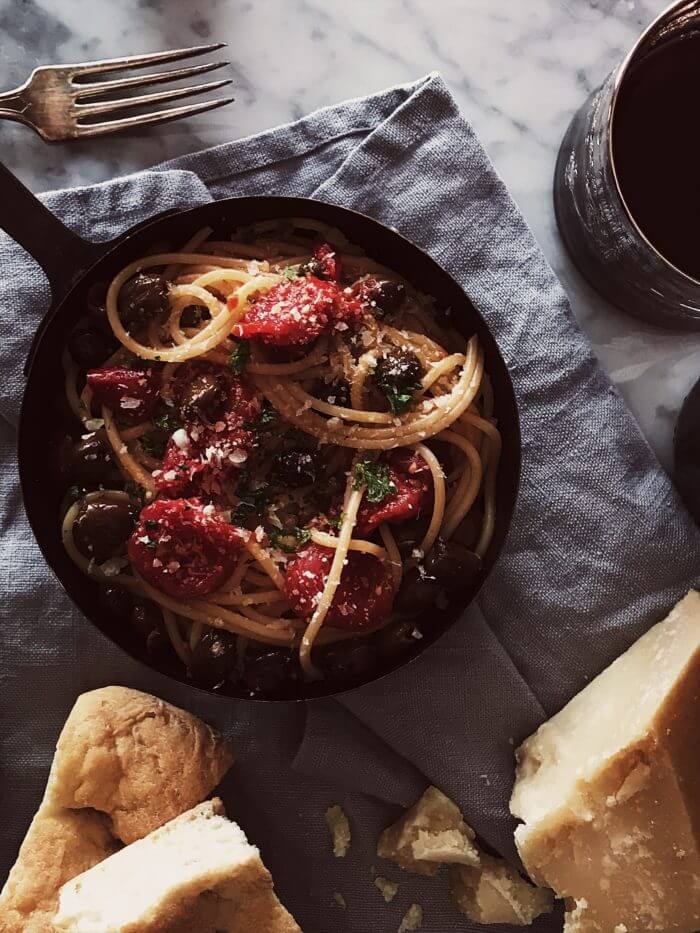 authentic Italian puttanesca
Ingredients
13-14

oz

spaghetti

360-400 gr

17.5

oz

canned tomatoes

500 gr

2

anchovies

5

tablespoons

deseeded black olives

I used taggiasche

1

garlic clove

1

tablespoon

salted capers

1

red chili

2

tablespoons

fresh parsley

finely chopped

2

tablespoons

extra-virgin olive oil
Instructions
If you are using fresh tomatoes, bring a medium pot of water to boil, add tomatoes, boil them for less than a minute and drain. Rinse them under cold water and peel them immediately. Finally, place them in a bowl and smash them with a fork, or a potato masher.

Peel and crush the garlic clove. Cut the chili in two and remove the seeds - if you don't want the dish to be too spicy.

Bring salted pasta water to a boil. About six cups of water and 1.5 teaspoons of salt.

Heat the olive oil in a large skillet, brown the garlic and the chili for about five minutes, and remove them.

Add the anchovies and smash them with the back of a wooden spoon.

Now add olives and sauté a few seconds.

Finally, add tomatoes and capers, mix and simmer, medium/low heat, 5-10 minutes, until liquids almost halve.

Meanwhile, cook pasta, drain it and add it to the skillet.

Mix, and sprinkle with parsley.

Serve hot.
Recipe Notes
Use fresh tomatoes only if in season, and cherry tomatoes for a sweeter flavor
la morte sua…
Sprinkled parmesan or pecorino cheese is not part of the traditional puttanesca recipe. But to me, a little of either is "la morte sua" (its death). This colorful Italian idiomatic expression is used to describe a perfect combination of flavors. You are saying they come to die (in your mouth) in the best possible way.
So, next time you sprinkle some parmigiano on your puttanesca sauce, you can tell your friends it's not a consuetude but it's "la morte sua".
Enjoy your puttanesca!
Claudia