An Italian cherry tomato galette recipe with basil, a little sugar, a little chili, and balsamic vinegar.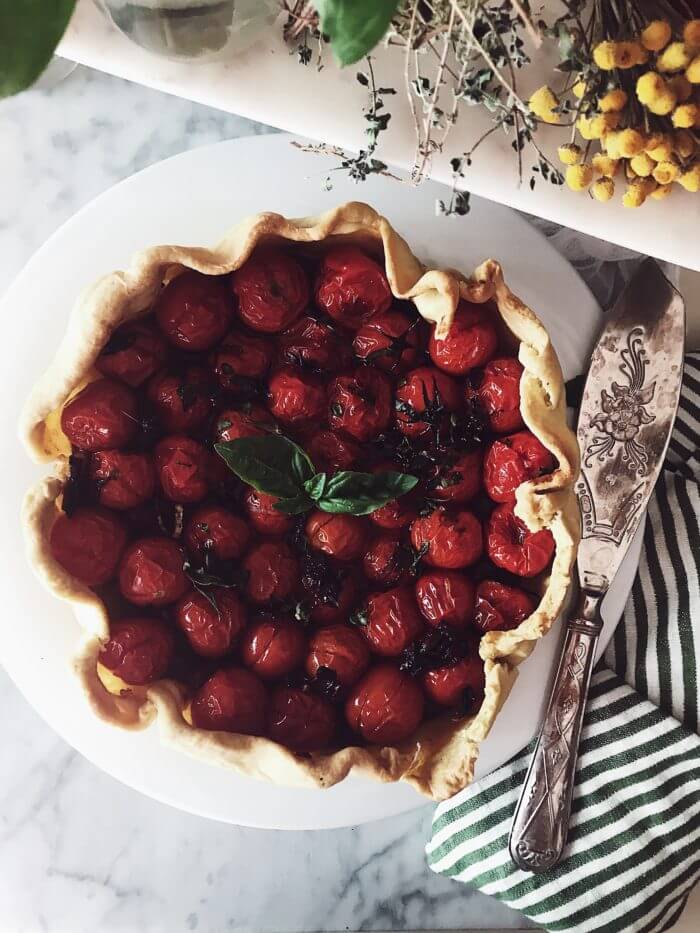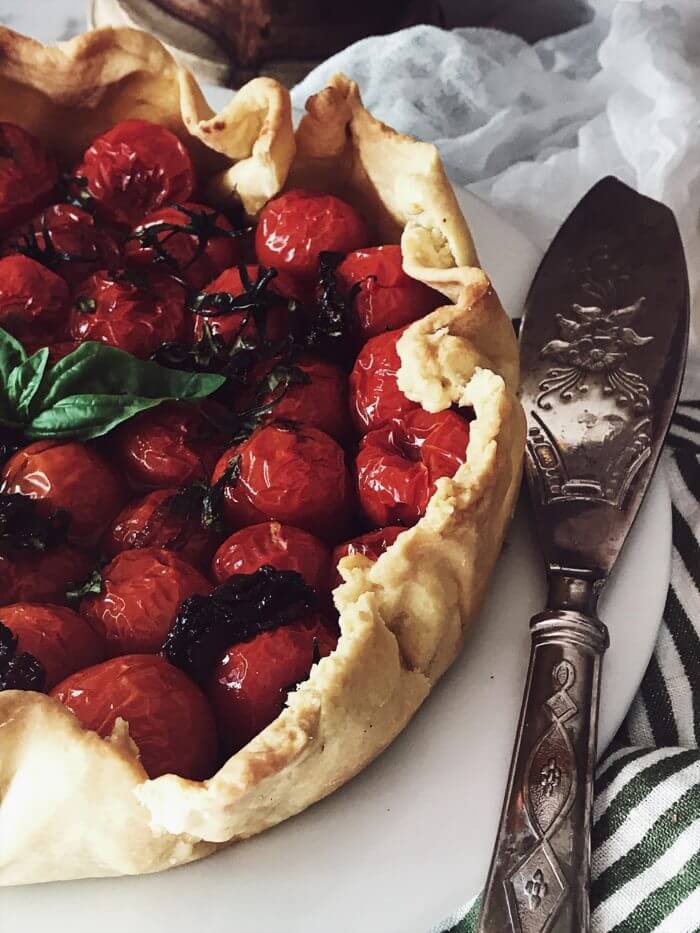 End of summer and welcoming fall cherry tomato galette
Autumn is almost here… still, Summer has a few gifts for us. First (in order of importance – to me), tomatoes. So what better idea to celebrate this wonderful midway than building a link between the two seasons? The tomato season and the pie season! So I made a cherry tomato galette recipe.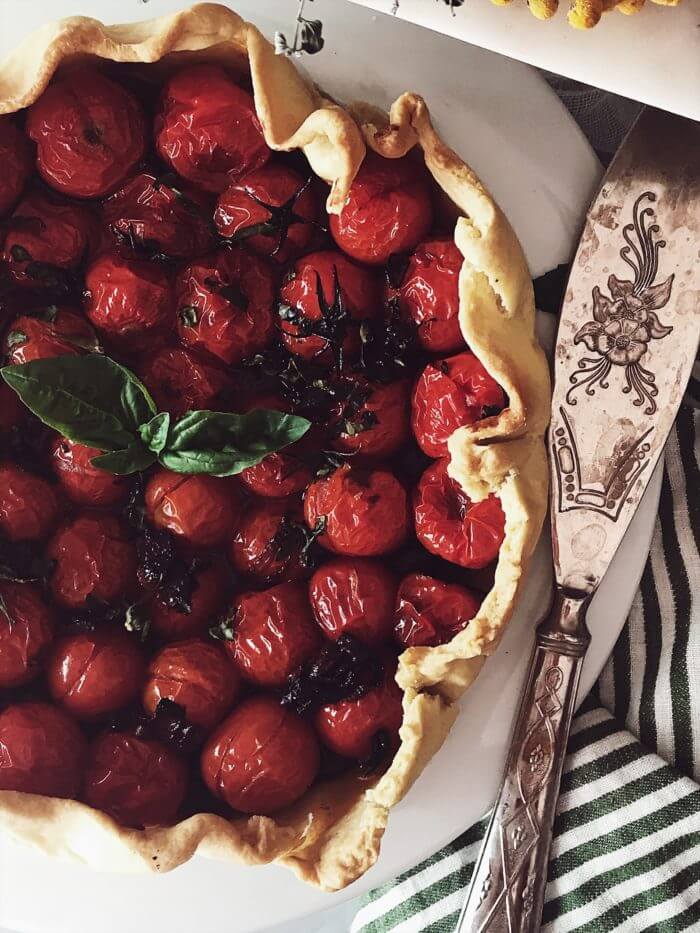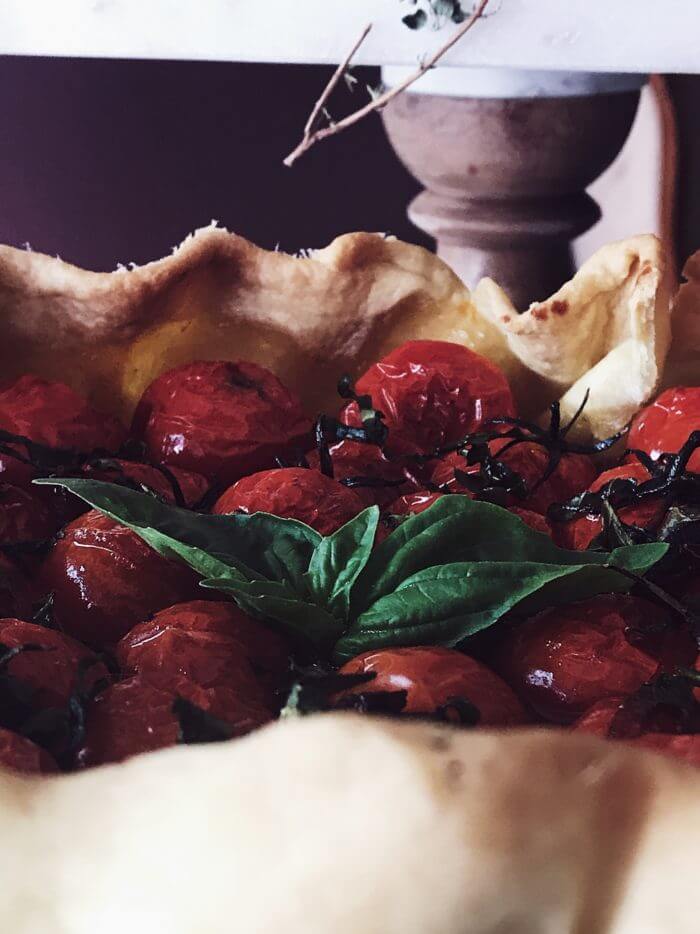 HOW TO MAKE A CHERRY TOMATO GALETTE
To make this cherry tomato galette recipe, you need a savory pie crust. My olive oil pie crust (recipe here, halve the quantities!) is perfect, adding more Italianity to the already Italian ingredients in the stuffing: the combination of tomatoes and basil and a hint of balsamic vinegar. Once you have the pie crust, and sautè the glaze the cherry tomatoes in a pan, you only need to put the things together into a rustic galette.
HOW TO ACCOMPANY THE GALETTE
I love savory galettes: just by serving them next to a salad or a few mozzarella bites, you've got a delicious dinner. Also, consider that a galette is great make-ahead party food, perfect for dinner parties, brunch gatherings, and picnic lunches!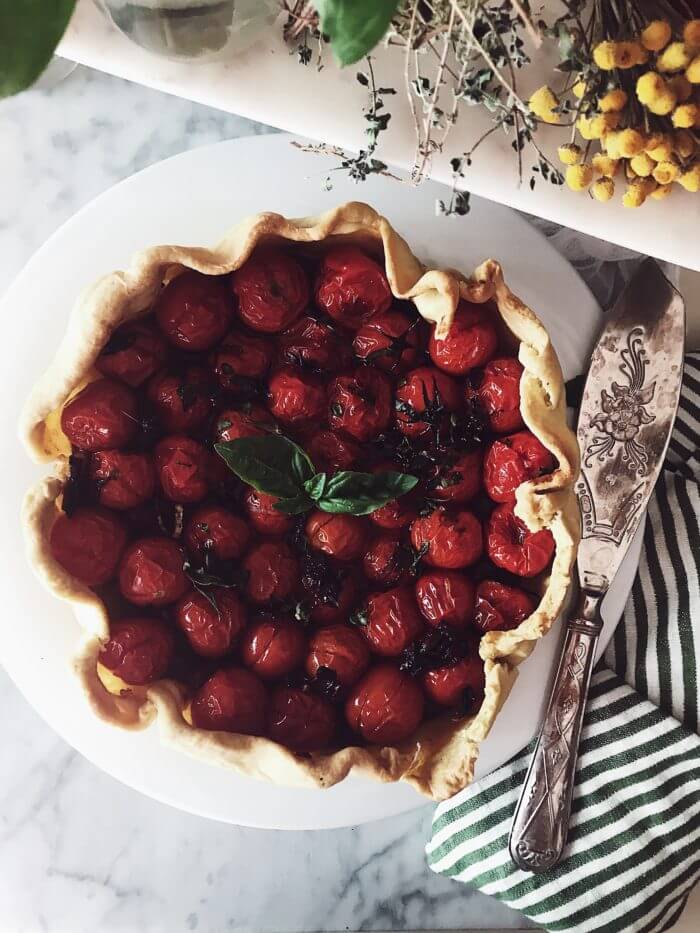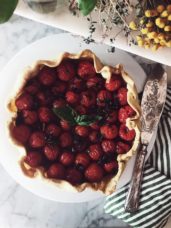 cherry tomato galette with balsamic vinegar
Ingredients
pie crust of your choice

rolled out for a 9 inches large pie or cake mold

20

cherry tomatoes

or enough to fill the pan

1

medium shallot

2

teaspoons

of extra virgin olive oil

1

handful

of basil leaves

1

tablespoon

of balsamic vinegar

1

tablespoon

of brown cane sugar

1/2

teaspoon

of salt

1

pinch

of chili
Instructions
Preheat the oven to 180°C (350°F).

Peel and thinly slice the shallot.

Heat the olive oil in a pan or skillet and golden brown the shallot. Add the sugar and stir. Immediately add the tomatoes, salt, and chili, and cook for about 5 minutes.

Stir enough to coat the tomatoes with the syrup. Add the balsamic vinegar, stir and cook for a minute.

Transfer the tomatoes and their liquids to the cake pan. Add the basil, coarsely chopped.

Cover with the pie crust and use your fingers to fit it through the sides of the pan, wrapping up the tomatoes.

Bake in the oven 25-30 minutes, until the crust turns golden brown.

Let temperature decrease a bit, then flip the pie, after losing the edges with the help of a spatula.

Serve the tomato galette hot or cold accompanied by fresh mozzarella or other delicate flavor cheeses.
Enjoy your Italian tomato galette!
Claudia