Chiacchiere recipe: crunchy pastry fritters from traditional Italian cuisine.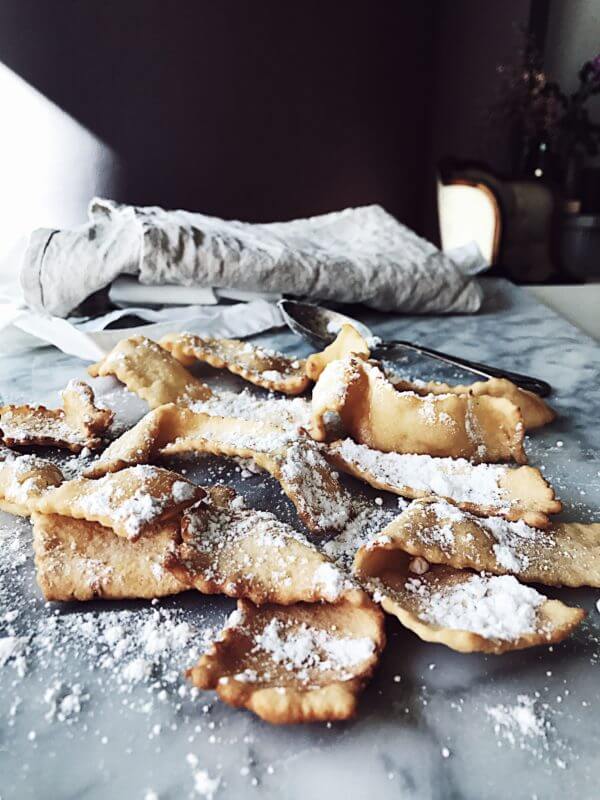 It's time to pull out a good chiacchiere recipe, because Carnival, no matter how early, is here again… Patisseries are showing trays and trays of frappe (the Roman name of chiacchiere) & castagnole in their windows, as these are the typical carnival pastries here and everywhere in Italy.
Chiacchiere di carnevale are crunchy pastry fritters, deep fried or baked.
Castagnole, deep fried or baked as well, are dough balls, soft and grainy, covered with copious amounts of sugar.
Every hostess gift will be, for a month or so, a tray of these mixed delights.
Instead of buying them (something that I'll probably do anyway at some point), I made my own chiacchiere. And I found the secret to making them look and taste as the professional thing: I kept the authentic Italian chiacchiere recipe, but I rolled out dough with a pasta roller.
It's the only way to get those thin, crunchy and light ribbons!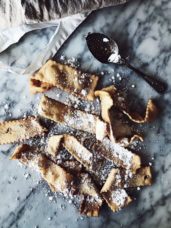 chiacchiere recipe
Ingredients
1 + 1/3

cups

00 flour

170 gr - 6 oz

1

egg

1/5

cup

white sugar

40 gr - 1.4 oz

2

tablespoons

Mandarinetto or other citrus liquor

1.5

tablespoons

butter, room temperature

20 gr - 0.7 oz

1

organic lemon

the grated zest

1

pinch

salt

frying oil

2-3

tablespoons

confectionary sugar
best results with a pasta roller!
Instructions
Sift the flour through a strainer into the food processor bowl. Add the egg, the butter, sugar, lemon zest, salt, and liquor.

Mix, dough-hook on, until a ball forms around the hook.

Cover the bowl with a tablecloth and let the dough rest for an hour.

Roll out the dough over a floured working surface. Make it as thin as you can.

The best result I've ever had was by rolling it out with a pasta roller, gradually, from the largest size to the penultimate one. The result is an almost see-through dough.

Use a pasta cutter to cut out rectangles or long strips of dough (about 4-6 inches or 10-15 cm long and 1.5-2 inches or 4-6 cm wide).

Heat 2 cups of frying oil in a wok or tall saucepan.

Deep-fry no more than two strips at the time: in a few seconds, you'll need to flip them around and golden brown the other side for another few seconds.

Remove the chiacchiere and set them over a plate with grease-absorbing paper.

When you finish frying the chiacchiere, display them over a tray and sprinkle them with confectionary sugar (help yourself with a strainer).
Frappe are delicious on the day you made them and more than ok on the next day.
enjoy!
Claudia