Nicoise salad recipe with the traditional nicoise vinaigrette dressing.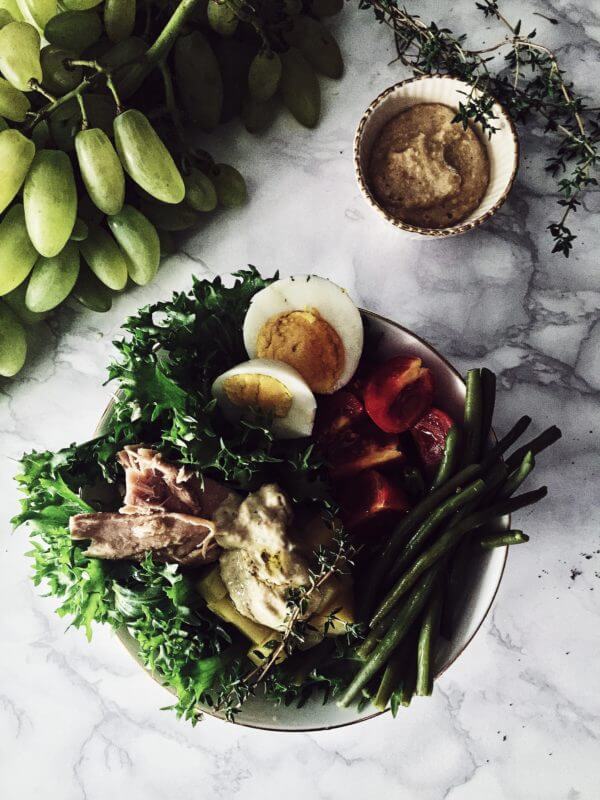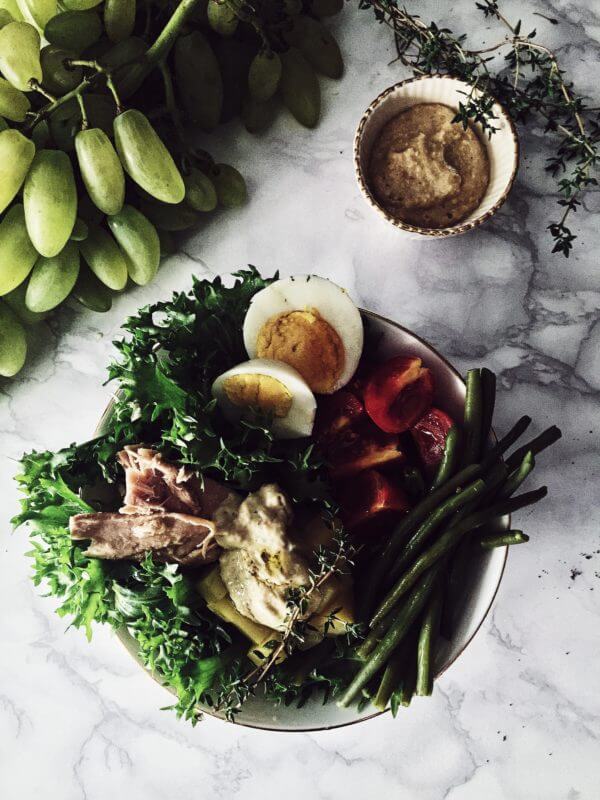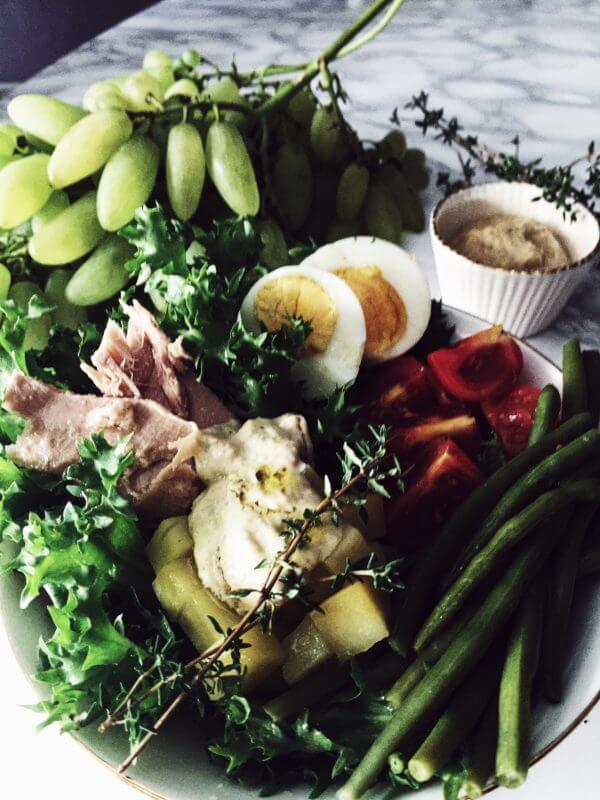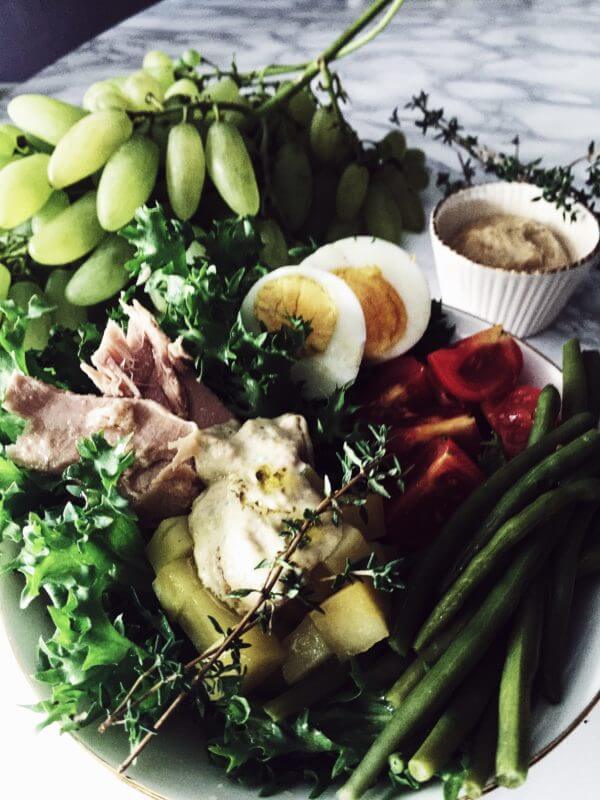 Nicoise salad is much more than a green salad with canned tuna, it is a full meal experience, full of fresh vegetables and pungent flavors.
The classic nicoise salad ingredients are canned tuna, endive salad, tomatoes, green beans, and potatoes. Plus the traditional nicoise salad vinaigrette dressing: vinegar, olive oil, shallots, mustard, and herbs.
Although you have to cook the potatoes and the green beans, it is a very easy fresh salad to make.
The healthy nicoise salad is also the last recipe of the Early Autumn Project. Check the Marinated Burrata, it's divine!
Let's see how to make a nicoise salad…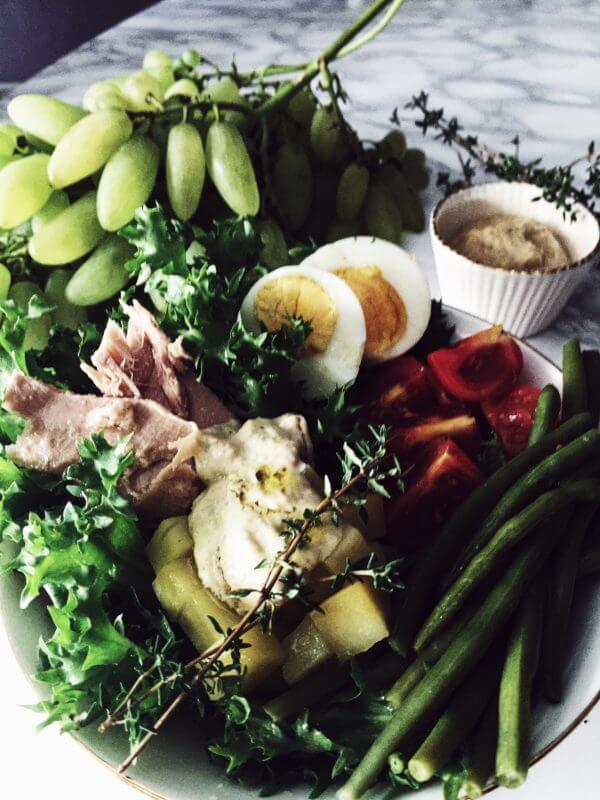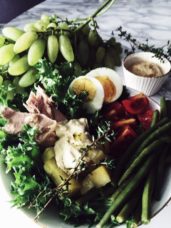 nicoise salad recipe
Ingredients
1

medium potato

1

handful of green beans

1

egg

8-10

cherry tomatoes

2

handfuls of endive salad

1

can of Italian tuna fillets in olive oil

2

tablespoons

of mustard

1

teaspoon

of vinegar

1

sprig of thyme

½

shallot

2

tablespoons

of extra-virgin olive oil

salt
Instructions
Steam the potato (fork tender) and the green beans (until crisp-tender).

Hard-boil the egg.

Cut cherry tomatoes in four, season them with a drizzle of olive oil and a pinch of salt.

Drain the tuna filets.

Make the dressing: blend vinegar, olive oil, shallot, mustard, thyme, 1/2 teaspoon salt, and pepper to taste, until creamy.

Peel and slice the egg in 4-5. Peel and coarsely dice the potato.

Toss the potato with a tablespoon of the dressing.

Assembly the salad: place endive as a base, add the green beans, the tomatoes, the egg, the tuna filets and the potato. Finally season with the remaining dressing.
grape juice mustard recipe
If you don't have mustard, or you finished it. don't buy it, make it! Apart from finding mustard seeds, it is a just-blend recipe. Mine is made with grape juice, cause they're in season and it sounds so gourmet, doesn't it?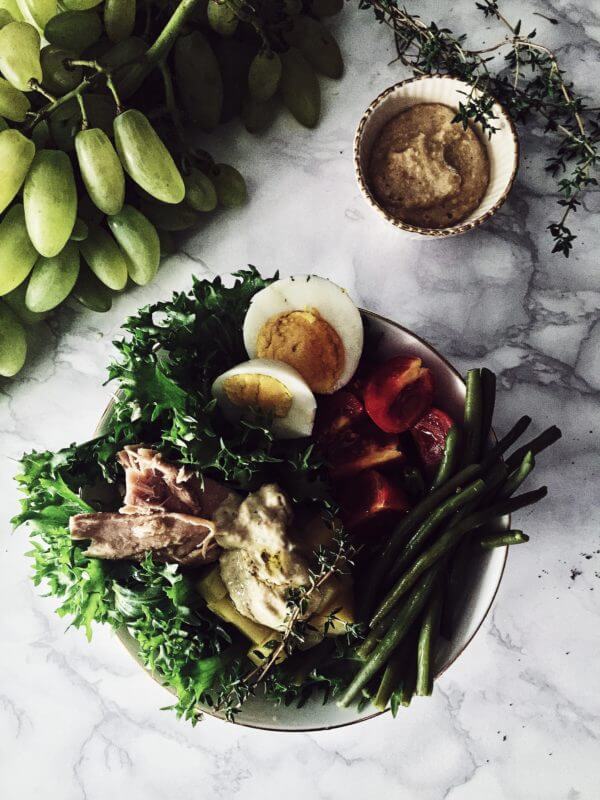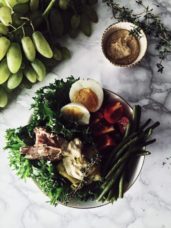 grape juice mustard
Ingredients
¼

cup

of mustard seeds

¼

cup

of juiced grapes

2

teaspoons

of white vinegar

1

tablespoon

of honey

½

teaspoon

of pink Himalayan salt
Instructions
Place mustard seeds in a small bowl, pour in the grape juice and the vinegar. Soak at least two hours.

Blend until creamy (you decide how creamy you like it). Add honey and salt and mix well.
enjoy your nicoise recipe!
Claudia