Focaccia recipe from Genova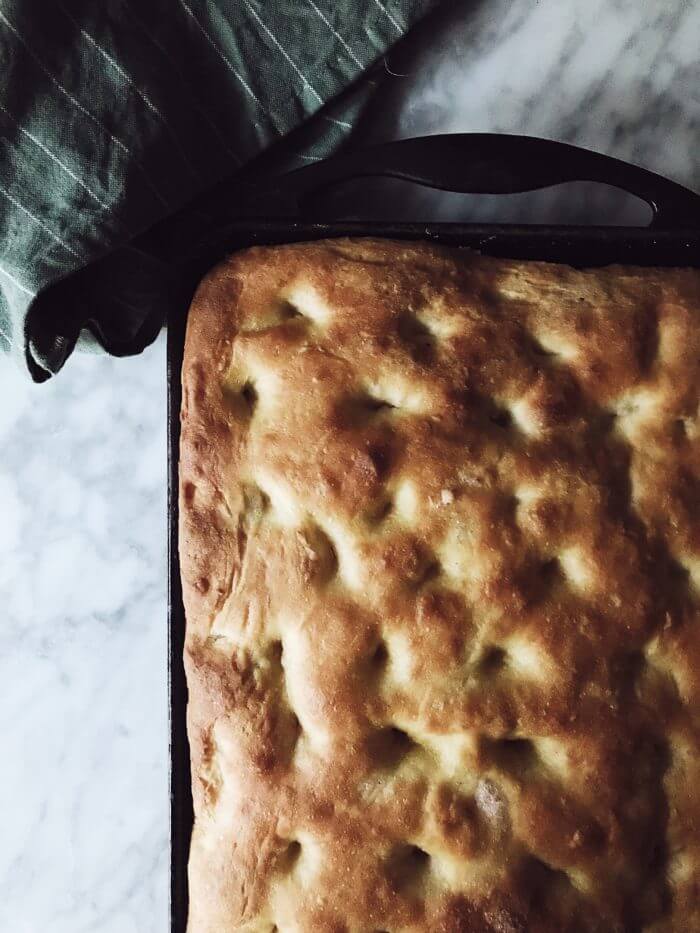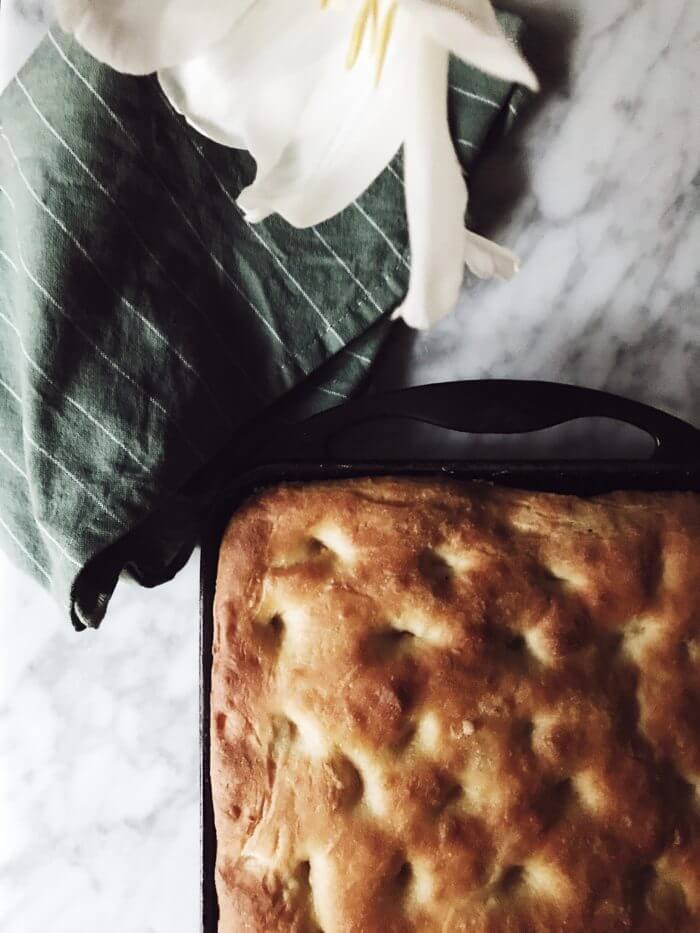 In Genoa, people eat focaccia bread all day long, starting in the morning, when they dip it in their cappuccino, just like the rest of Italy does with cornetti!
In the 1500s they even had focaccia with rosemary (that is the traditional focaccia herb) during wedding celebrations, with a little bit of wine, right at the moment of the blessing of the newlyweds.
The Genovese homemade focaccia recipe is so delicious, fluffy, oily and nutritious, you MUST have it in your files and dedicate a baking day to it.
This recipe is for an Italian focaccia with fresh yeast, olive oil, a little wine, and a lot of salt, cause that's what you put in and sprinkle on the focaccia dough, once you've spread it on the tray and made small holes with your fingertips.
The focaccia flour is the Italian 00 flour, indispensable, sorry…
The focaccia recipe is a dish from the Italian Spring Issue of Simposio (my Italian cooking and living magazine). Get your copy to get more Pizza Alta (tall pizza) recipes from all over Italy 🙂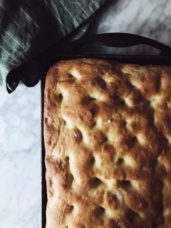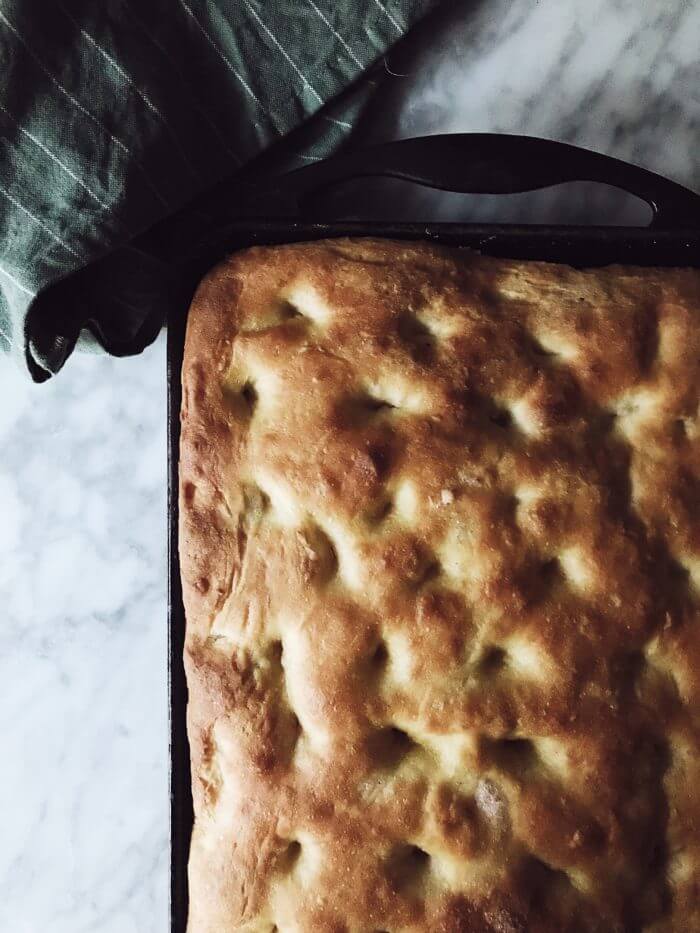 focaccia recipe
Ingredients
14

oz

00 flour

400 gr

7

oz

water

200 gr

1.5

tablespoons

good quality white wine

2

tablespoons

extra-virgin olive oil

1

teaspoon

fresh baker's yeast

8 gr - 0,25 oz

1

big pinch

sea salt

4 gr

1

teaspoon

raw honey

olive oil

coarse salt

ice cubes
Instructions
Place water, honey, and yeast in the bowl of your stand mixer mix and dissolve completely.

Sift in the flour and knead (kneading hook on), minimum speed, until flour completely absorbs liquids.

Add wine and salt and knead 2-3 minutes, still at minimum speed.

Increase speed a little and knead 1-2 minutes.

Add olive oil and knead 5-6 minutes.

Stop kneading, cover the dough and let rest 5 minutes.

Knead with a wooden spoon, cover and let rest 15 minutes more.

Knead once again with the wooden spoon. Pour the sticky dough into a bowl greased with a teaspoon of olive oil.

Cover and let rise 45 minutes.

Pour and spread one tablespoon of olive oil on a 15 inch approximately baking pan (I used a cast iron baking pan and got great results!).

Pour the focaccia dough into a working surface and work it with your hands, folding it over itself a couple of times, try to end with a rectangular shape.

Transfer the dough to the baking pan and brush the surface with a little olive oil.

Let it rest 30 minutes.

Using your fingertips spread the dough equally all over the surface, carefully sealing edges and corners (so when you pour oil over it won't drip). Finally, form holes all over the surface with your fingertips.

Mix 1 tablespoons of hot tap water, 1 tablespoons of olive oil and a teaspoon of coarse salt, mix and pour it all over the focaccia, making sure it fills the holes.

Cover and let rest the focaccia 90 minutes more.

Preheat oven to 230 (450 F), static mode.

Place 3-4 ice cubes in a small oven-friendly bowl, add 1/4 cup of boiling water and place it on the oven floor. Add the focaccia too (on the medium rack) and bake 14-16 minutes, until golden brown.

Remove it from the oven, wait 5 minutes and serve your focaccia hot!
enjoy your Focaccia!
Claudia