In this post, you'll learn how to clean and cook swiss chard the Italian way: easy, simple, and healthy.
First of all, to clean the swiss chard, you only need to cut off the ends and remove eventually rotten or really ugly leaves. You do leave on the stems. Unlike other veggies, like kale, Swiss chard stems aren't bitter: not only they're edible, but they're also crunchy and delicious.
Boiling is not the healthiest choice to cook Swiss chard, as you may lose nutrients. Instead, if you leave them wet from the rinsing and place them directly in a skillet, you get a healthy and much more tasty result. 
For the magic to happen, sprinkle the greens with salt and a little olive oil, this will help the flavors come out, and you'll get a delicious plate of Swiss chard, that needs nothing but a fork and a healthy appetite!​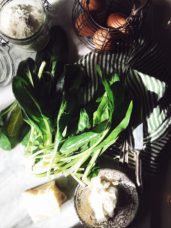 How to cook Swiss chard
Ingredients
1

bunch of chard

2

tablespoons

of extra-virgin olive oil

salt
Instructions
Clean each chard leaf from very ruined or rotten leaves. Cut out the earthy ends and wash them in a bowl of water with a mixture of baking soda and vinegar (about 1/4 cup of each).

Rinse clumsily (we need leaves wet).

Place them in a large and tall skillet, add and mix them with the extra-virgin olive oil and two pinches of salt.

Cover and turn on the heat (medium).

After 5 minutes check: if the stems are fork tender, your chard is perfectly cooked.
Enjoy your healthy Swiss chard.
Claudia