Ciao, in this post, I'm sharing with you Latte di Mandorla: the Sicilian almond milk recipe from scratch. Today, you'll learn how to make Italian-style almond milk at home!
WHAT IS LATTE DI MANDORLA AND CHILDHOOD MEMORIES
Italian Summer refreshments are, traditionally, fruity syrups, mixed with iced water:
latte di mandorla

 (= 

Sicilian almond milk

);

mint;

orzata (very similar to almond milk, but flavored);

amarene (sour cherries);

tamarind;

lemon…
When I was a child, our pantry was full of these (very sugary and very industrial) syrups. On weekends, after the beach or the swimming pool, my siblings and I were allowed to pick a flavor, mix it with iced water, ingurgitate, and ask for more.
At the time, unless living in Sicily, no one knew how to make almond milk from scratch.
Nowadays, Italy is rediscovering traditions and is homemaking everything again. Many moms make almond milk in a blender or with a cheesecloth: it's so much easier than they thought. 
Here's the Sicilian Latte di Mandorla recipe to make your own delicious almond milk drink. You can stop at the unsweetened almond milk or add sugar (or honey) as desired.
HOW TO MAKE ALMOND MILK SYRUP
To make the almond milk syrup, just add the same weight of sugar to the milk and boil for twenty minutes. 
Keep it refrigerated, and when hot and craving something sweet, add a couple of spoons to a glass of iced water.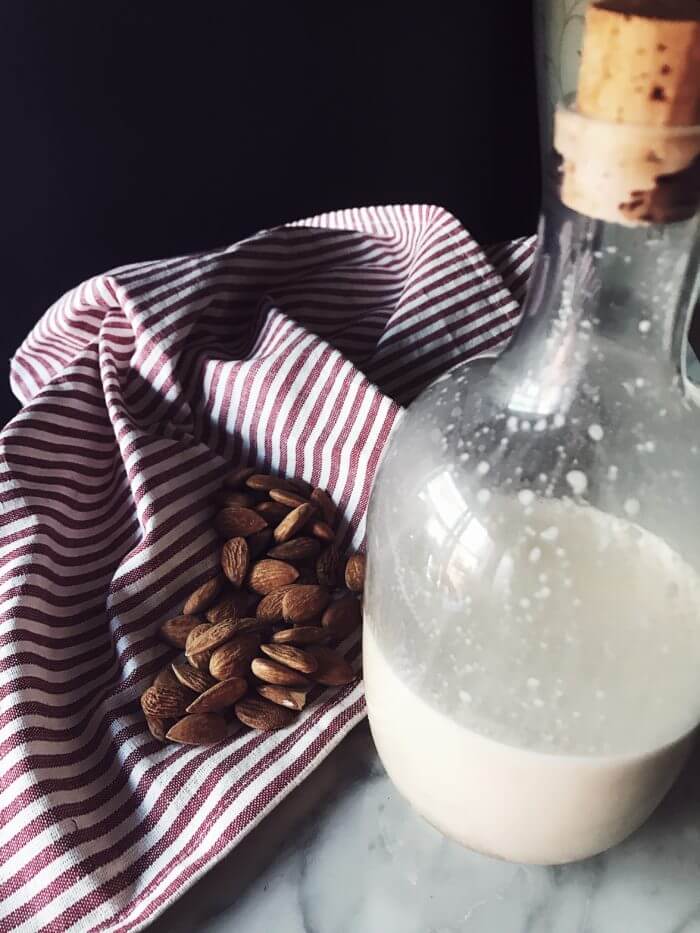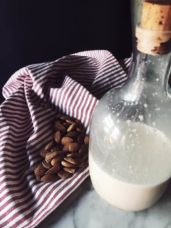 Italian almond milk recipe
Prep Time
2
hours
10
minutes
Total Time
2
hours
20
minutes
Ingredients
8.8

oz

peeled almonds

250 gr

1/4

gallon

water

1 lt

4

tablespoons

sugar

100 gr - optional - or substitute with honey
Instructions
how to make almond milk without a blender
Finely chop the almonds, place them in a cheesecloth and nod it.

Bring the water to a boil, remove it from heat, insert the almond sack and infuse for 2 hours.

Remove the cloth, and squeeze and drain water as much as possible.
how to make almond milk without a cheesecloth (or how to get a second batch)
If you don't have or don't want to use a cheesecloth, blend water and almonds for a few minutes at the maximum speed, then strain the liquids through a fine sieve.

You may also have a second, less intense batch from the almonds you used to make almond milk without a blender: blend ½ liter (1/8 gallon) of water and the almonds you already used, for a few minutes, maximum speed. Strain through a fine sieve.
in both cases
Add sugar and mix (hand blender, for best results).

Refrigerate and serve cold.
Enjoy your latte di mandorla!
Claudia
HONESTLY
INCLUDES AFFILIATE LINKS.
In the last weeks, I've been making almond, oats, pistachio, and other dairy-free kinds of milk with this tiny jewel. All you have to do is place the almonds in the blender, water in the back tank, and wait less than ten minutes to have almond milk made at home. You can sweeten it by adding dates, honey, or maple syrup, and you can make batches to store in the fridge. It even cleans itself afterward. Making latte di mandorla with the traditional Sicilian method won't lose its charm, and I'll make it again and again, but for everyday breakfast drinks, smoothies, etc. I'm beyond glad I have my almond milk-making machine!
Click on the image for the Amazon link!