Italian arugula salad with parmesan cheese and cherry tomatoes. This is the traditional Italian arugula salad recipe.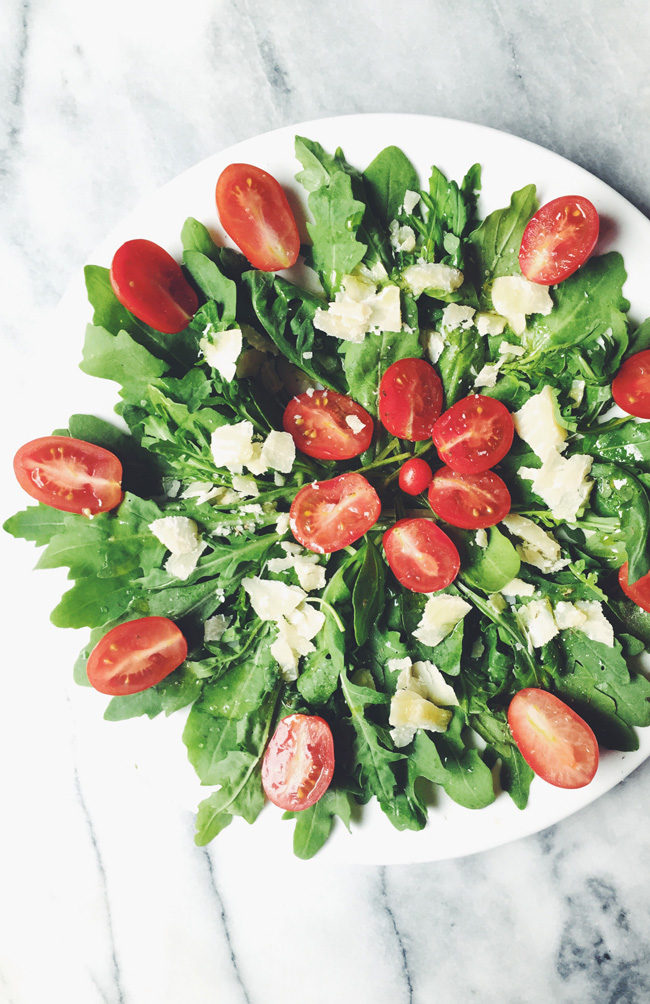 Insalata di rucola, is the traditional Italian arugula salad, omnipresent on Italian Summer tables. It is easy, fresh, and delicious.
If you ask for an arugula salad at an Italian restaurant, they'll only ask if you want balsamic vinegar on it. Then they'll bring you this glorious bowl of tiny prickly leaves, topped with parmesan flakes and the basic dressing: olive oil, salt, and pepper.
arugula salad recipe
Arugula salad recipe with cherry tomatoes and parmesan flakes.
Ingredients
1

handful

arugula leaves

6-8

cherry tomatoes

or piccadilly

2

tablespoons

parmesan cheese

flakes

1

teaspoon

extra-virgin olive oil

salt & pepper
Instructions
Cut the cherry tomatoes in two.

Wash and drain the arugula leaves. Dry them with a kitchen cloth and place them in a bowl or serving plate.

Add the tomatoes and season with olive oil, and salt and pepper to your taste.

Finally, add the parmesan flakes, mix, and serve.
Recipe Notes
Try adding a few drops of balsamic vinegar!
Enjoy your delicious lunch (or side dish)!
Claudia