In this post, we will cook a delicious, comforting, and Italian sorghum cereal bowl with roasted round-flavored cauliflower and intense mackerel filets in olive oil.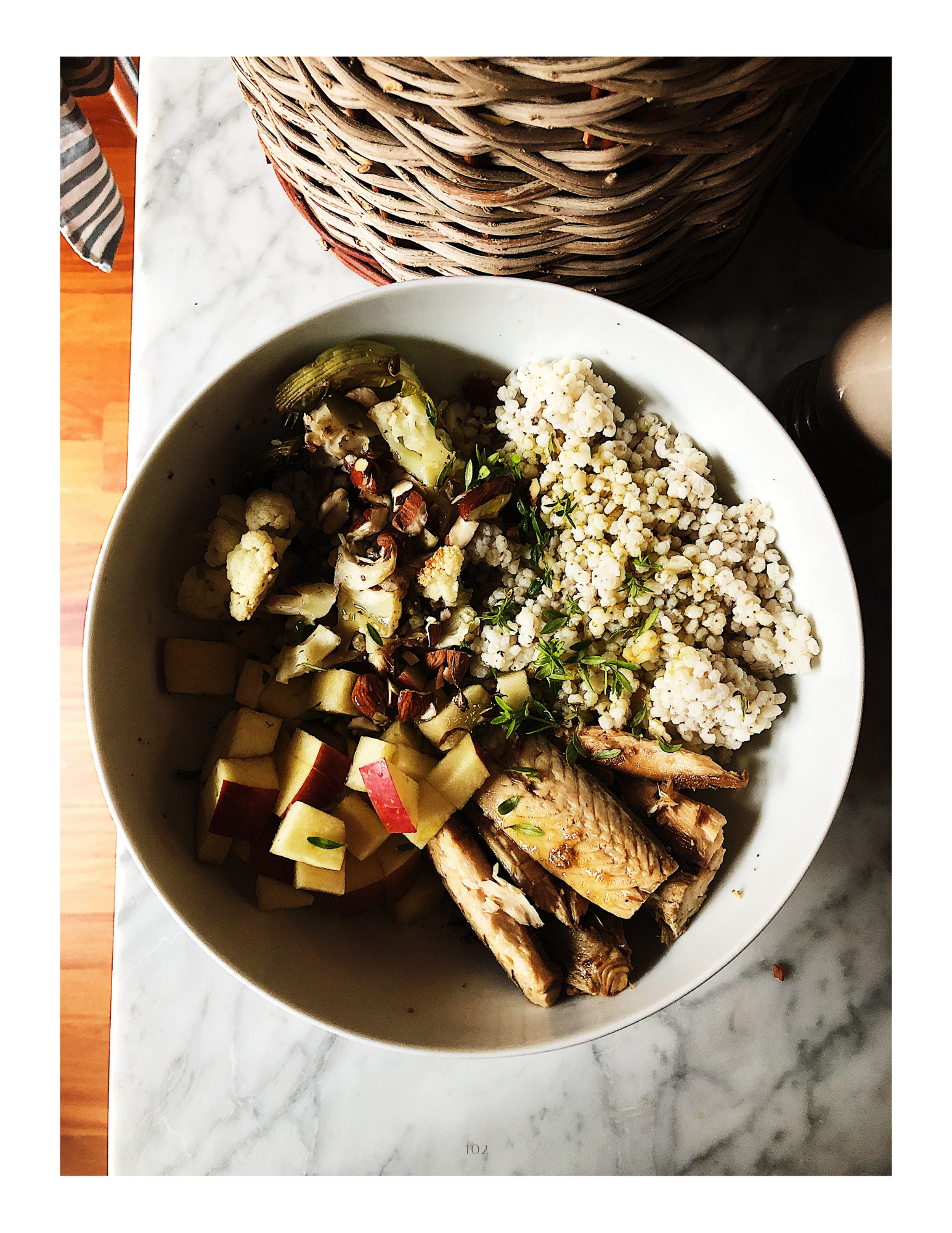 THE INGREDIENTS FOR THIS ITALIAN CEREAL BOWL
Lately, I've been using mackerel filets a lot: they're an exquisite alternative to I'm-in-a-hurry or don't-want-to-cook tuna filets in olive oil.
But their flavor is more intense, so they call for sweetish ingredients to balance. Cauliflower is perfect. And so is apple, which also adds a fresh note. Sorghum is a less-known cereal, delicious, and worth a place in your pantry and kitchen, delicate enough to embrace the other flavors in a comforting hug.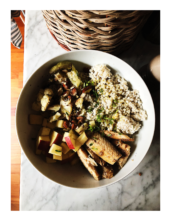 Italian cereal bowl with sorghum cauliflower and mackerel
Ingredients
1/2

cup

pre-cooked sorghum or other cereal of your choice

1

handful

almonds

1/2

cauliflower

1

tablespoon

salted capers

1

rosemary sprig

1/2

apple

1

tablespoon

fresh or dry thyme

1

cup

mackerel fillets in olive oil

salt and black pepper

extra virgin olive oil
Instructions
Preheat the oven to 180°C (350°F).

If needed, cook the cereal of your choice according to the package directions. For the sorghum: place the half cup in a small pot, add one and a half cups of water, and a pinch of salt. Cook over medium heat until the water is completely absorbed.

Coarsely chop the almonds.

Cut out the cauliflower florets and lay them on an oven sheet lined with parchment paper. Sprinkle them with a teaspoon of olive oil, almonds, capers, a pinch of salt, and a few grinds of pepper. Bake for thirty minutes or until fork tender.

Meanwhile, clean and dice the apple and set it aside.

Heat a tablespoon of olive oil in a medium pan, add the rosemary sprig, and sautè a couple of minutes. Remove the sprig.

Transfer the cauliflower to a big bowl. Add the sorghum, the rosemary oil, and the apple cubes.

Drain and shred the mackerel fillets and add them to the bowl.

Season with thyme and salt to your taste.
Enjoy your sorghum cereal bowl!
Claudia