This Italian roasted cherry tomato sauce recipe is made with olive oil, balsamic vinegar, salt-cured capers, fresh basil, and black olives. Canning the sauce is mandatory because you'll want to make an enormous quantity and stock your pantry for the winter.
HOW TO SERVE THE ITALIAN ROASTED CHERRY TOMATO SAUCE
This Italian cherry tomato sauce is a delicious condiment you can spread over bruschetta bread, season spaghetti, and add to your cheese plate as the superstar. It is also a great host/hostess gift! That's why I suggest you make many of it, water-bath it, and can it for the winter.
Wait for a rainy September or October sunday, wear your favorite apron, and stuff your pantry with a homemade, dramatically good, Italian cherry tomato sauce.
HOW TO MAKE THE CHERRY TOMATO SAUCE
To make this balsamic vinegar, basil, olives, capers, and roasted cherry tomato sauce, you need a little bit of time. Time for cleaning and cutting the tomatoes in two. Time for patiently roasting them in the oven until you triumphantly see a soft crust formed. Time for seasoning and tasting to check the balance between ingredients. And time for safely canning.
But it's all worth it.
Make sure you have a great playlist and, maybe, a helper or two. And then, have fun! Enjoy a day entirely dedicated to cooking and taking care of yourself, family, and friends!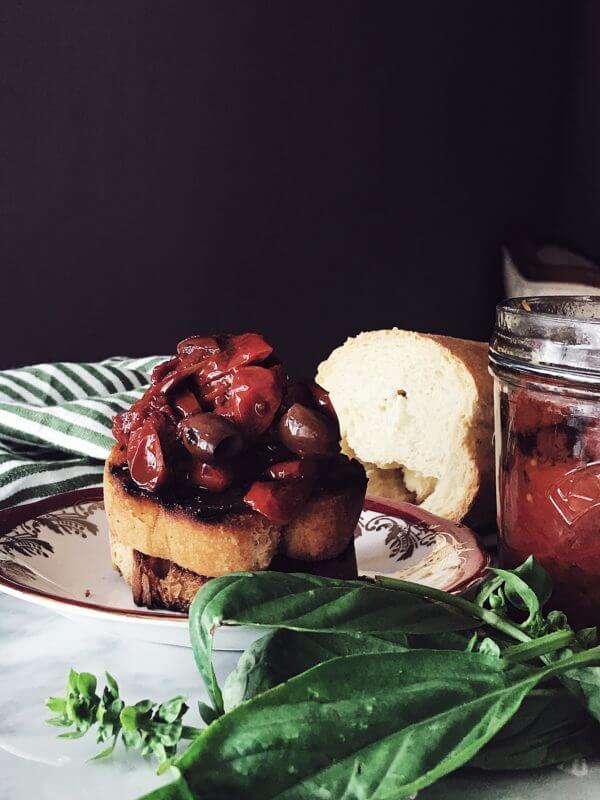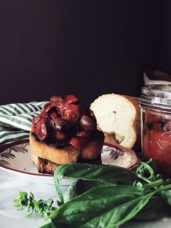 Roasted Cherry Tomato Sauce
Servings
2
9 oz jars (250 gr)
Ingredients
2

lbs

cherry tomatoes

I usually use Piccadilly or Datterini - 1 kg

10

leaves

basil

1

teaspoon

sugar

2

teaspoons

balsamic vinegar

1

tablespoon

salted capers

2

tablespoons

black olives

Taggiasche are the best for this recipe - pitted

extra-virgin olive oil

salt

2

jars with lids
Instructions
First of all, purchase the tomato quantity you think you can handle. Making tomato sauce is a challenging task, so don't overestimate yourself.

Preheat the oven to 350 °F (180°C).

Wash the tomatoes. Put them in the sink. Fill it with water, add ½ cup of vinegar and ½ cup of baking soda, wait 10 minutes and rinse.

Cut the tomatoes in half and place them on a baking tray lined with parchment paper - cut open side up. 

Season the tomatoes with a tablespoon or two of olive oil, a teaspoon of sugar, a teaspoon of salt, and one tablespoon of chopped basil.

Bake the tomatoes for 40 minutes. Check: a light crust should form on the surface. If not, bake 5-10 minutes more.

Remove the tomatoes from the oven, place them in a large bowl and season them with (quantity for each tray of 2 lbs/1 kg):

2 tablespoons of olives

1 teaspoon of balsamic vinegar

1 tablespoon of capers

1 tablespoon of olive oil

Taste the tomatoes: add whatever of the ingredients you would like more of.

Repeat until you bake and season all the tomatoes.

Fill the super clean/hot jars (straight out of the dishwasher or 5 minutes in a 200 °F/100 °C oven) with the cherry tomato sauce.

Let sit for a couple of minutes, then fill the jars with olive oil, almost to the brim.

Close the jar with new, clean lids.
water bath
For long-term preserving, you need to water bath the jars:
Place the jars in a large pot. Fill it with water to cover three-quarters of the jars and turn on the stovetop to medium heat. A good idea is to place a towel between the jars inside the water to avoid colliding.

Bring to a boil and let simmer for 45-60 minutes.

Place the jars on a towel or grid and wait until they chill.

Press the middle of the lid with a finger or thumb. If the lid springs up when you release your finger, it is unsealed.

If so, remove the lid and check the jar-sealing surface for tiny nicks.

If necessary, change the jar, add a new, properly prepared lid, and reprocess within 24 hours for the same boiling time.
More about testing jars: http://nchfp.uga.edu/how/general/cooling_jars_test_seals.html
Enjoy your Italian cherry tomato sauce!

Claudia