In this post you'll get the Russian salad recipe with vegetables, pickles, and mayonnaise: the Italian Russian salad recipe!
Italian Russian salad, "Insalata russa" (called "Italian salad" in Germany and Denmark), is a recipe broadly made everywhere in the peninsula.
Although having spring and summer ingredients, you'll often find Russian salad on Christmas tables, as an out-of-season treat.
The Italian Russian salad ingredients are, shortly, boiled – or steamed – seasonal vegetables, pickles, and mayonnaise.
Apart from mayonnaise, the dressing includes chives and parsley: very, very simple.
You may add tuna, hard-boiled eggs, grilled chicken breast, or giardiniera.
Like for many other recipes, Russian salad origins are disputed between France and Italy.
The first line of thought is that it was made by a chef of Caterina De Medici's entourage when she was the queen of France.
The second one is that it was conceived by an Italian chef working at the Savoy court, to celebrate the visit of the czar.
Whatever the origins, are you ready for a royal meal?
Because of the mayo, this salad is mostly served as a side dish, but if you put a little less of it, you can have it for lunch too.
a travel cookbook series about Italy
made in Italy!
If you are an Italophile, subscribe to my weekly newsletter and get a first read of SIMPOSIO, my slow travel cookbook series.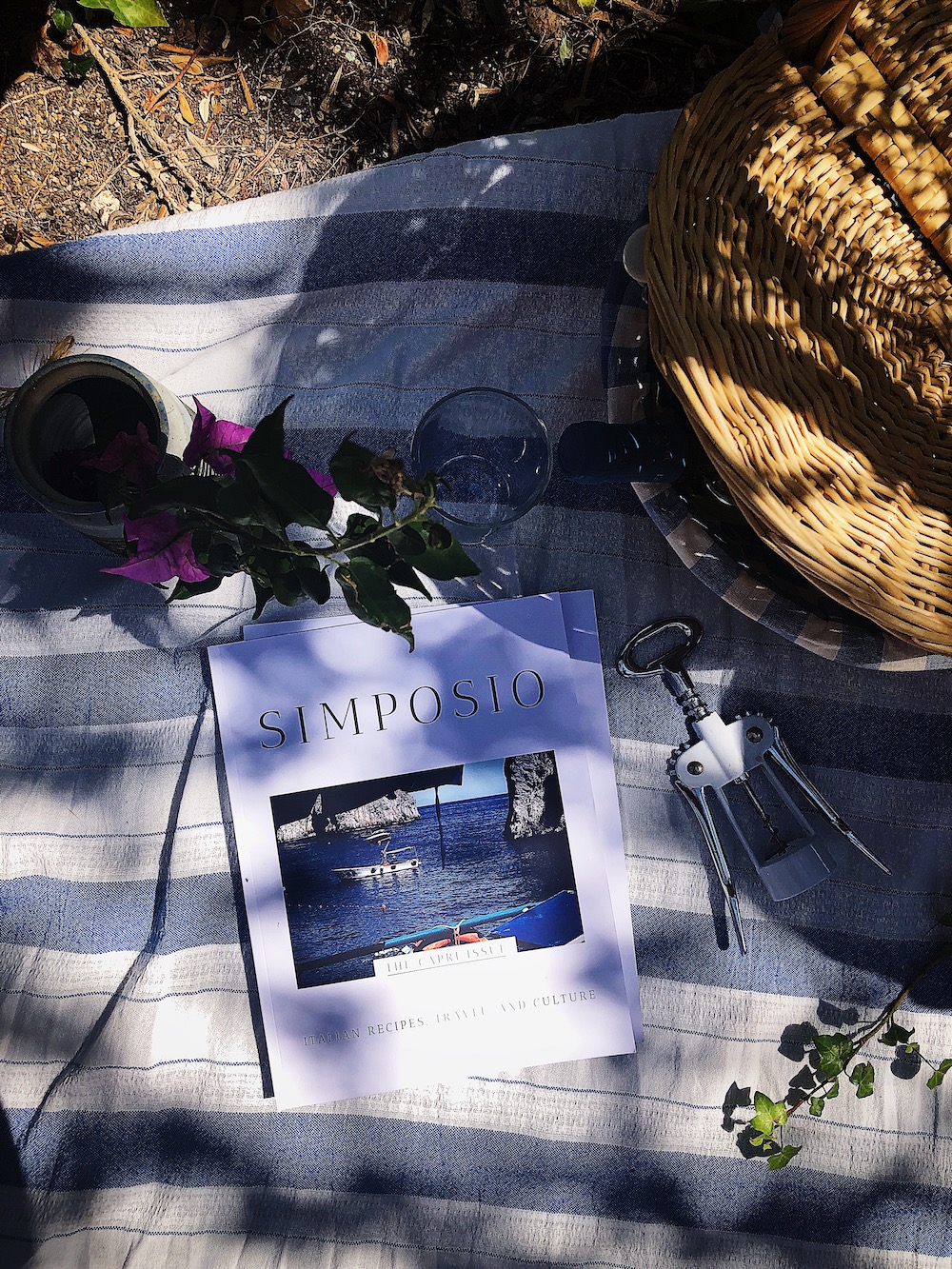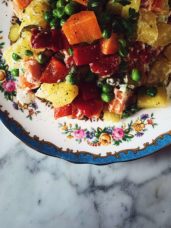 Italian Russian salad
Italian russian salad recipe with potatoes, carrots, peas, and bell peppers.
Ingredients
1

big potato

1.5

carrots

3/4

cup

of fresh peas

1/2

red bell pepper

6

pickles

1

tablespoon

extra-virgin olive oil

2-4

tablespoons

mayonnaise

4-6

chives sprigs

1

tablespoon

chopped parsley
Instructions
Peel and cut the potato and the carrots in small pieces.

Steam the potatoes, sprinkled with a pinch of salt, for 12-14 minutes, until fork tender. Steam the carrots, sprinkled with a pinch of salt, for 5-7 minutes, until fork tender.

Steam the peas as well, sprinkled with a pinch of salt, around 3 minutes.

Dice the pepper and steam it too, about 4 minutes.

Thinly slice the pickles and finely chop chives and parsley.

Put all the veggies in a bowl, add olive oil, a pinch of salt and pepper, and mix well.

Add mayo to your taste (2 tablespoons are enough for me, but the classic recipe calls for double). Sprinkle with chives and parsley, mix and serve immediately. Or refrigerate up to one day.
Recipe Notes
Add 1/2 cup of tuna, 1 hard-boiled egg, 1 cup of grilled chicken breast, or 1/2 cup of giardiniera to your taste.
Enjoy your delicious and rich potato salad!
Claudia