Here is the classic Italian smoked salmon pasta recipe (penne al Salmone). It is made with penne pasta, smoked salmon, heavy cream, white wine, a hint of brandy, and fresh parsley. A delicious, festive, and traditional Italian pasta dish for Christmas Eve!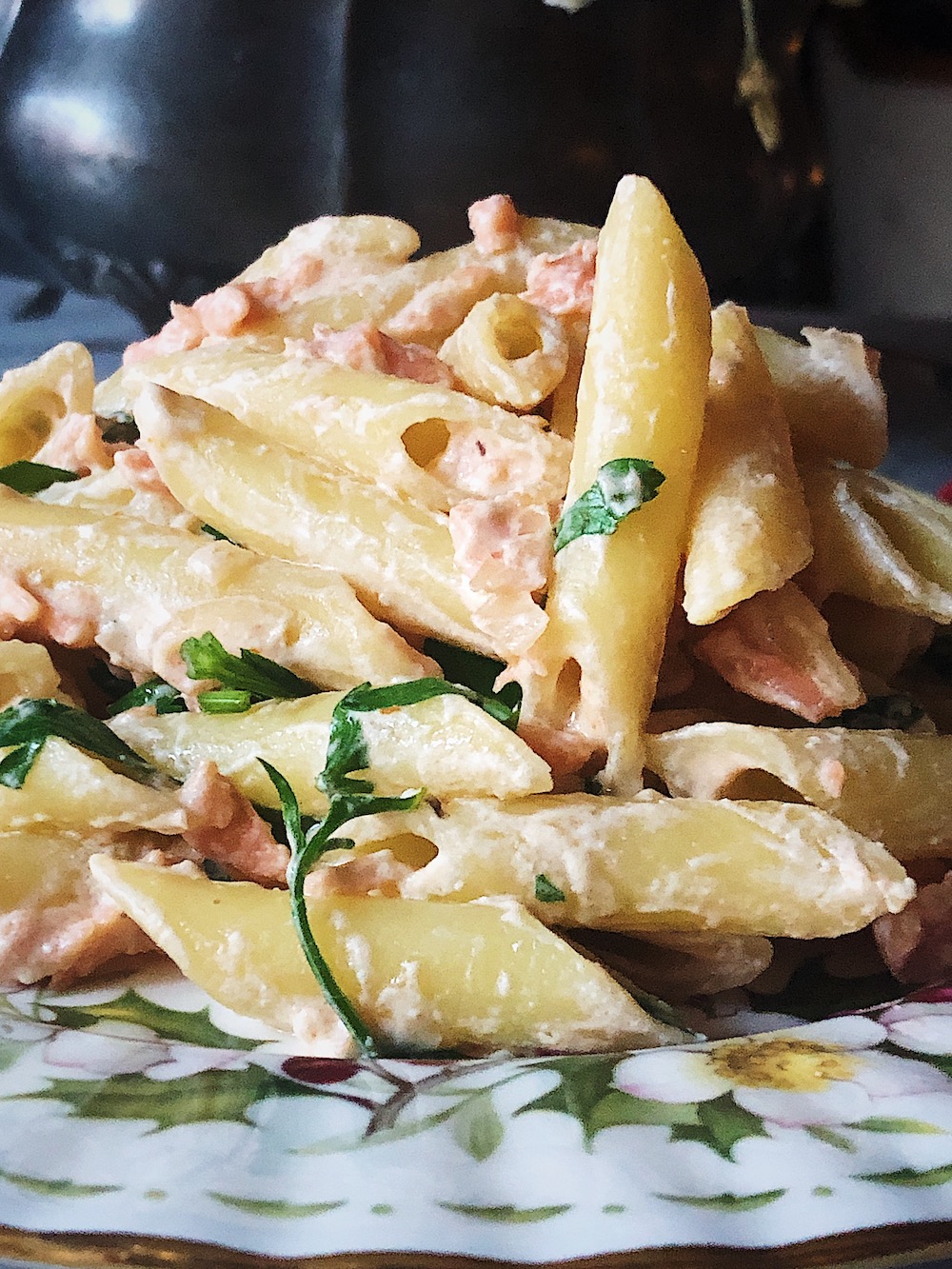 SMOKED SALMON PASTA
Smoked salmon pasta is a traditional dish made for special occasions and many times for the fishy Christmas Eve dinner.
It is easy to make for a crowd: you can prepare the condiment early in the day, then simply cook and drain pasta, and season it with the creamy sauce. 
Ask any Italian about smoked salmon pasta; they'll close their eyes and remember Christmas dinners around an enormous family table and, probably, their first sip of white wine. A grandfather or uncle who gifted them with a drop of the sweet nectar, just because… it pairs perfectly, and it was Christmas time!
The teaspoon of ketchup will surprise you in this Italian pasta recipe, but I learned about it in my early cooking years and immediately understood it was a thousand times better than the usual tomato concentrate: it has more… character!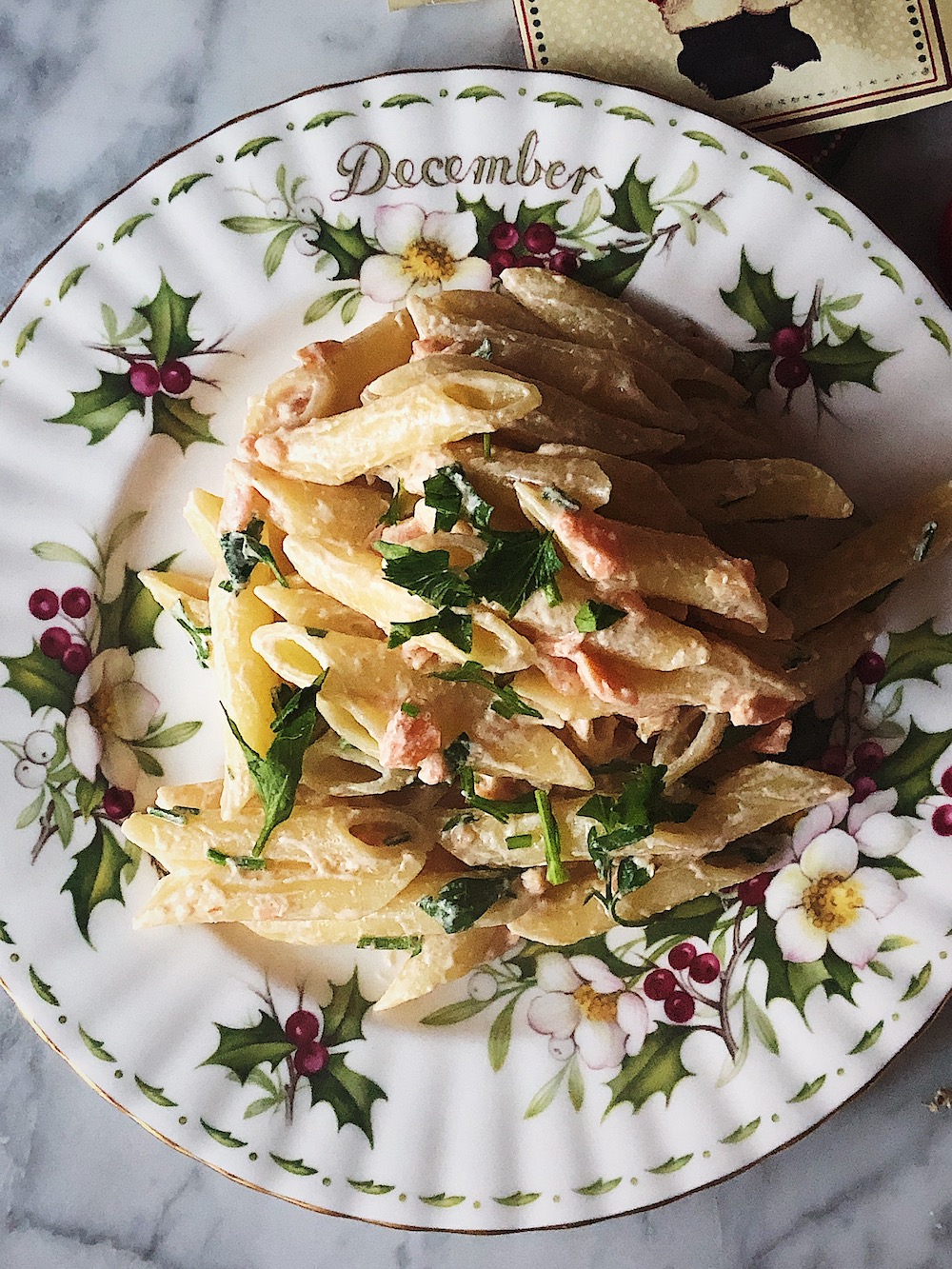 HOW TO MAKE SMOKED SALMON PASTA
Traditionally, the shape used for the Italian smoked salmon pasta is penne "lisce", smooth, because a creamy and delicate condiment wants flat surfaces to enfold delicately. If you use furrowed pasta shapes or fresh pasta, they hold the sauce too much, and you risk getting an indistinctive and sticky agglomerate of ingredients. But you can use other smooth kinds of pasta, like spaghetti or linguine.
The heavy cream smoothes the salmon sauce's consistency, the white wine gives tiny bitter and vivacious notes, and brandy, liquor, and ketchup gift sweetness. Then comes the salmon: an explosion of intense and salty tones that majestically completes the dish.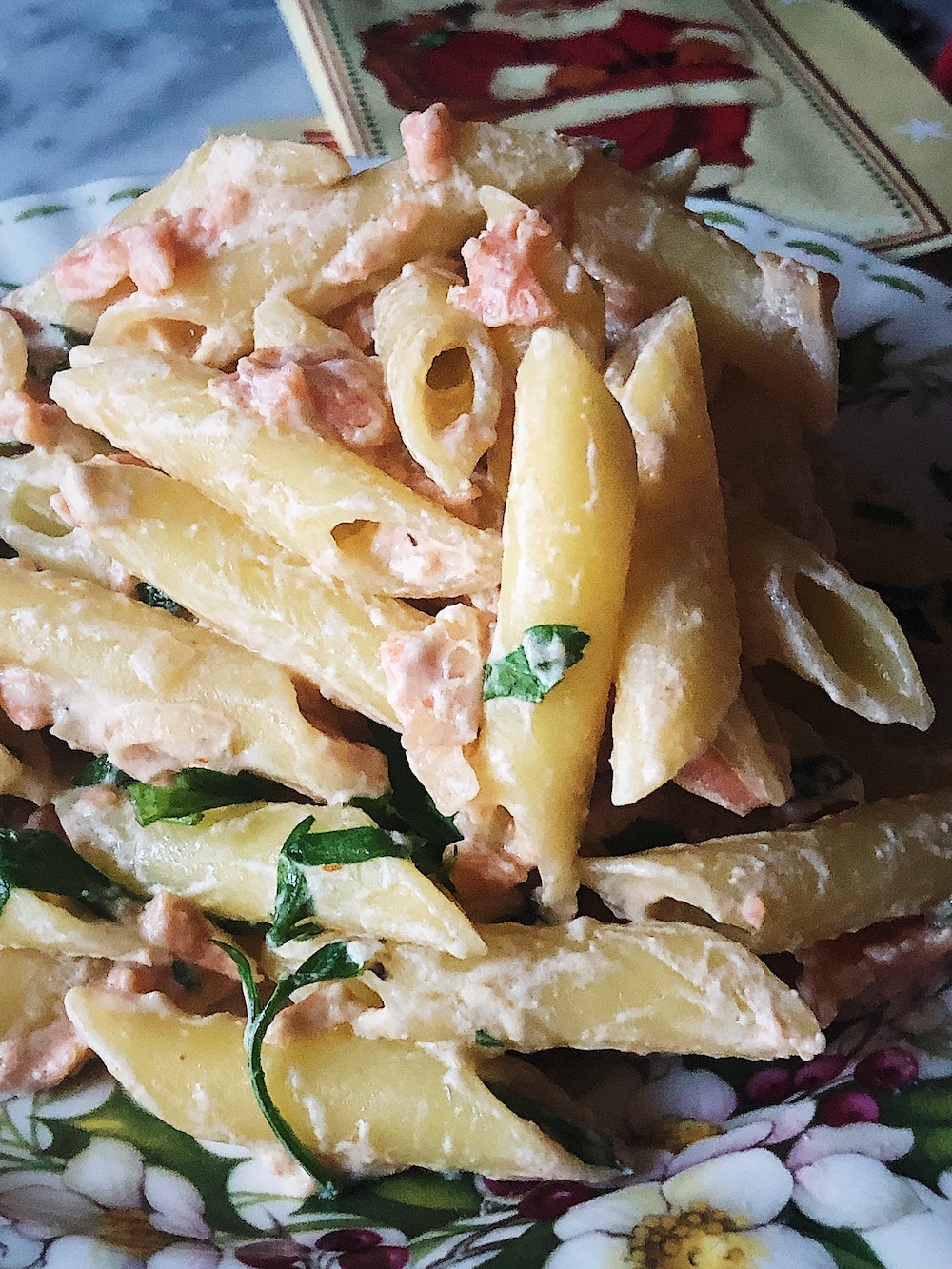 Don't forget to sprinkle fresh parsley on top of it all: the herbaceous and fresh hues are what you need to reach perfection!
The servings are for two, but you can duplicate as desired.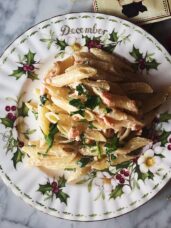 Italian smoked salmon pasta
Ingredients
7

oz

penne lisce

200 gr

3.5

oz

smoked salmon

100 gr

1

tablespoon

butter

1

shallot

small

2

tablespoons

dry white wine

1

tablespoon

brandy

1

tablespoon

sweet liquor - strawberry or red fruits

3.4

oz

heavy cream

100 ml

1

tablespoon

ketchup

2

tablespoons

fresh parsley chopped

salt
Instructions
Bring a big pot of salted water to a boil - about half a gallon and two to three teaspoons of salt.

Finely chop the onion. Coarsely chop the salmon and parsley. Set all aside.

In a medium pan, melt the butter. Add the onion and sauté for a couple of minutes, medium/low heat.

Add the wine and let it evaporate - alcohol smell gone.

Pour in brandy and let it evaporate as well, a minute or two. Repeat with the liquor.

Add the heavy cream and ketchup to the pan, mix well, adjust for salt, cook a couple of minutes for the cream to condense a bit.

Turn off the heat, add salmon and parsley and mix well.

Cook pasta "al dente" according to package directions, drain it, and season it with the salmon condiment.

Serve hot sprinkled with more parsley if you please.
Enjoy your Italian smoked salmon pasta recipe.
Claudia