Tomato salad recipe from Sicily. An Italian recipe for a tomato salad with olives, capers, anchovies, fresh oregano, and basil.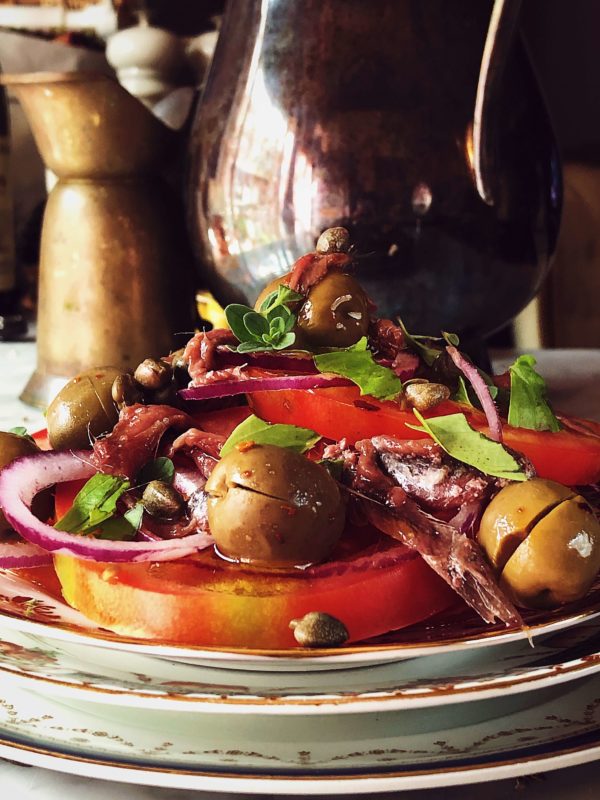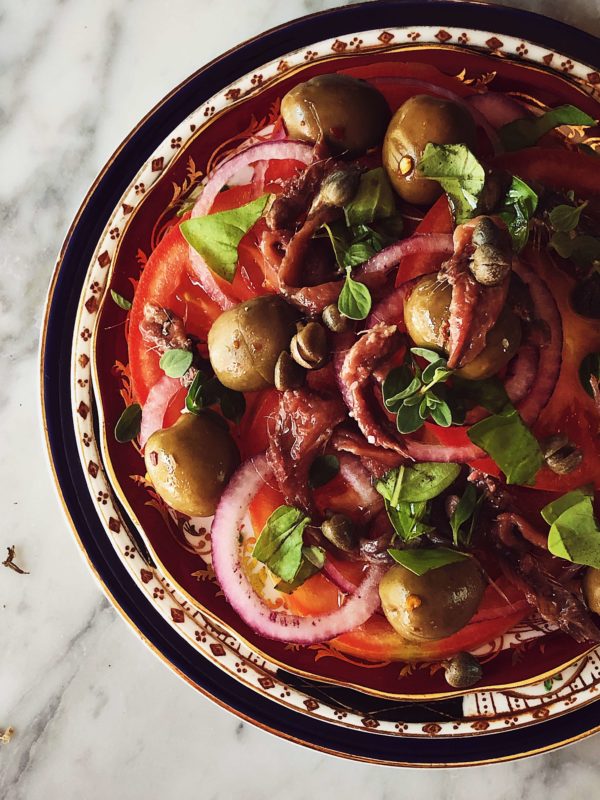 This onion and tomato salad recipe comes from Sicily. It is called the Aeolian tomato salad because it is original of the Aeolian Islands: paradise beaches and delicious food, a place to go!
It is a fresh tomato salad with red onions, typically the Tropea onions (which Sicilians borrowed from near Calabria), capers, olives, and the unmissable Sicilian ingredient: anchovies.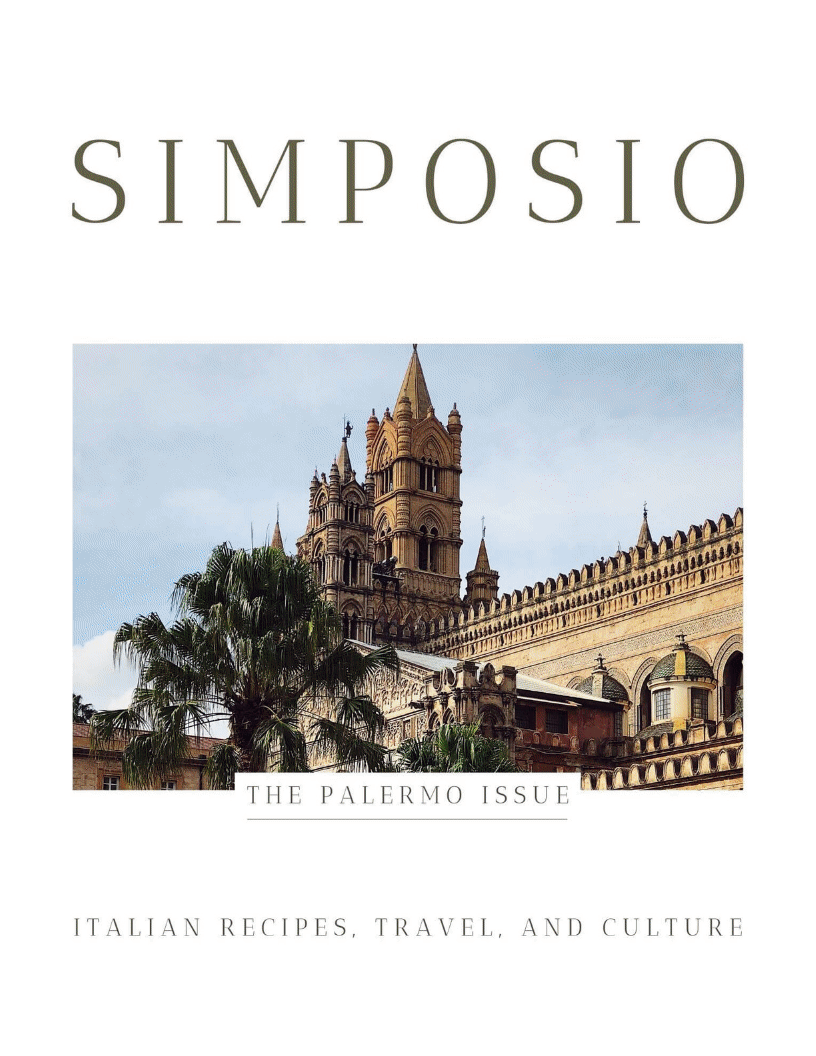 Spend an afternoon in Sicily!
Sign up for the Italian Colors newsletter and get a freebie from the Palermo issue of the Simposio mag.
You'll get the Pistachio Project recipes and cozy reads that will make you travel to Sicily… from wherever you are!
I suggest you make the tomato salad in advance, at least a couple of hours: this will give basil and oregano the time to release their aroma and ingredients to combine into a wonderful, flavorful dish. You should also keep the tomato salad out of the fridge and bring it to room temperature before serving it, in case you did it the day before. Cold mitigates flavors and certainly doesn't make this salad more refreshing.

Use salad tomatoes, and red, sweet onions, if you can't find the Tropea ones. You can also use white onions or shallots, the first ones will be stronger in flavor, the later ones much more delicate. Olives, instead, must be green! It's difficult to decide between fresh and dry oregano: they're both delicious, the dry one is only a little less aromatic and less intense in flavor, which for some, is a plus. You try and then decide, or simply use what you have at hand.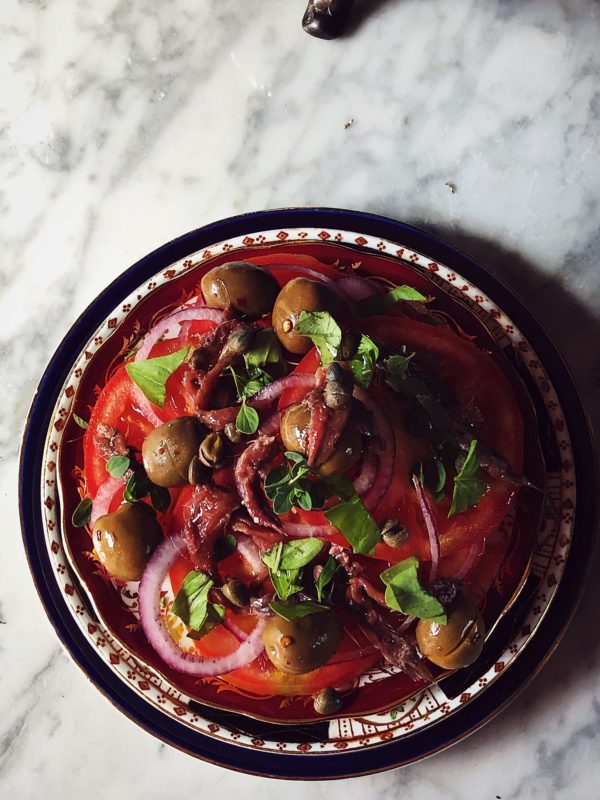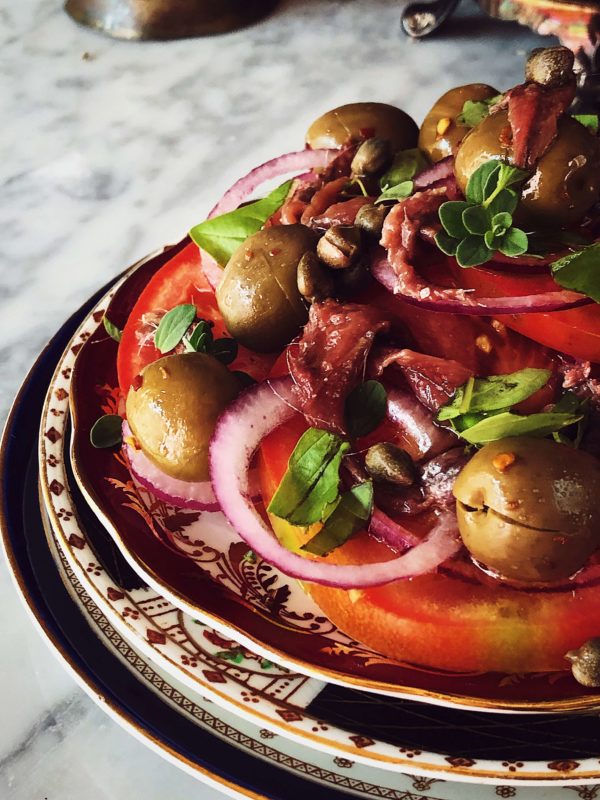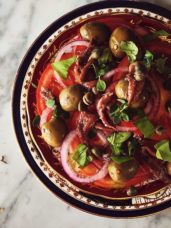 tomato salad recipe
Ingredients
5-6

medium red salad tomatoes

1

handful

green olives

1

tablespoon

capers

1

tropea onion

or red onion

4-5

anchovies

2-3

sprigs

fresh oregano

or 2 tablespoons of dried oregano

6-8

basil leaves

2

tablespoons

extra-virgin olive oil

1

tablespoon

red wine vinegar

salt and pepper to taste
Instructions
Pit olives. Peel and thinly slice the onion Finely chop anchovies. Finely chop oregano and basil leaves.

Thinly slice tomatoes. Add olives, capers, onion, herbs and anchovies. And salt and pepper to taste.

Season with olive oil and vinegar.
enjoy your Italian tomato salad!

Claudia