Maremma's Simposio is a travel cookbook from Italy with regional, traditional, authentic recipes, stories, and legends from Tuscany. A way to explore Tuscany's wild territory mindfully.
The cookbook frames the classic recipes with the places they were born and the people who first cooked them. Besides authenticity, I want you to have an adventure each time you cook and then savor a dish. To add a why and a story. It means respect for the food on your plate, but also an opportunity to add that tad of magic that makes life unique. Sensations, just like our palate, must be cultivated, cared for, and nourished. And here's a tiny, but full of passion and genuineness, tool.
A MAREMMA TRAVEL COOKBOOK
subscribe to the Simposio cookbook series
MAREMMA: COOKING, TRAVELING, AND LEARNING THROUGH A COOKBOOK
Maremma is the Tuscan land of cowboys, brigands, and family-owned trattorie! Another Tuscany, far from the beautiful Medieval or Renaissance cities. Untamed, wild. Colonized and freed. Forgotten and celebrated. In this travel cookbook, we will meet a variety of personages: from eternally hunted outlaws to celebrated grand dukes. Fierce noblewomen defending their family possessions or seducing sultans. Corsairs, monks, deli and cafè owners, butchers, street market vendors, travel agents, and winemakers.
We will climb up perched towns to see breathtaking sights and maybe catch a witch flying by or guarding a millennial olive tree.
We will follow the traces of Etrurians, of their cults and gods, and try to uncover the secrets they've left behind. Then we will travel through the eras: the Middle Ages, the Spanish domination, the left-wing…
On the shores, we will encounter the Italian crowds in search of "la bella vita", ladies bent over the sand to collect Telline (clams), and anglers at work to preserve their traditional fishing practices.
We will gather herbs to make delicious authentic dishes and regenerate our tired limbs in thermal springs born of a god's bolt.​
Through food, we will witness the outdoor life and cuisine of the Butteri (horsemen) of Maremma. The still vivid heritage of the Italian-Jewish communities. How the smallest town exported a recipe that became the national food of… France! How terrible memories can become delicious treats. And the way scraps and unsold cuts have combined into clay pots to give birth to extraordinary triggers for our taste buds. From wild boar to seafood, from ricotta to nutty Christmas sweets, we will learn how to cook like a Maremman.​
There's so much to discover about this beautiful land's past and present, so much to enjoy! So let the adventure begin!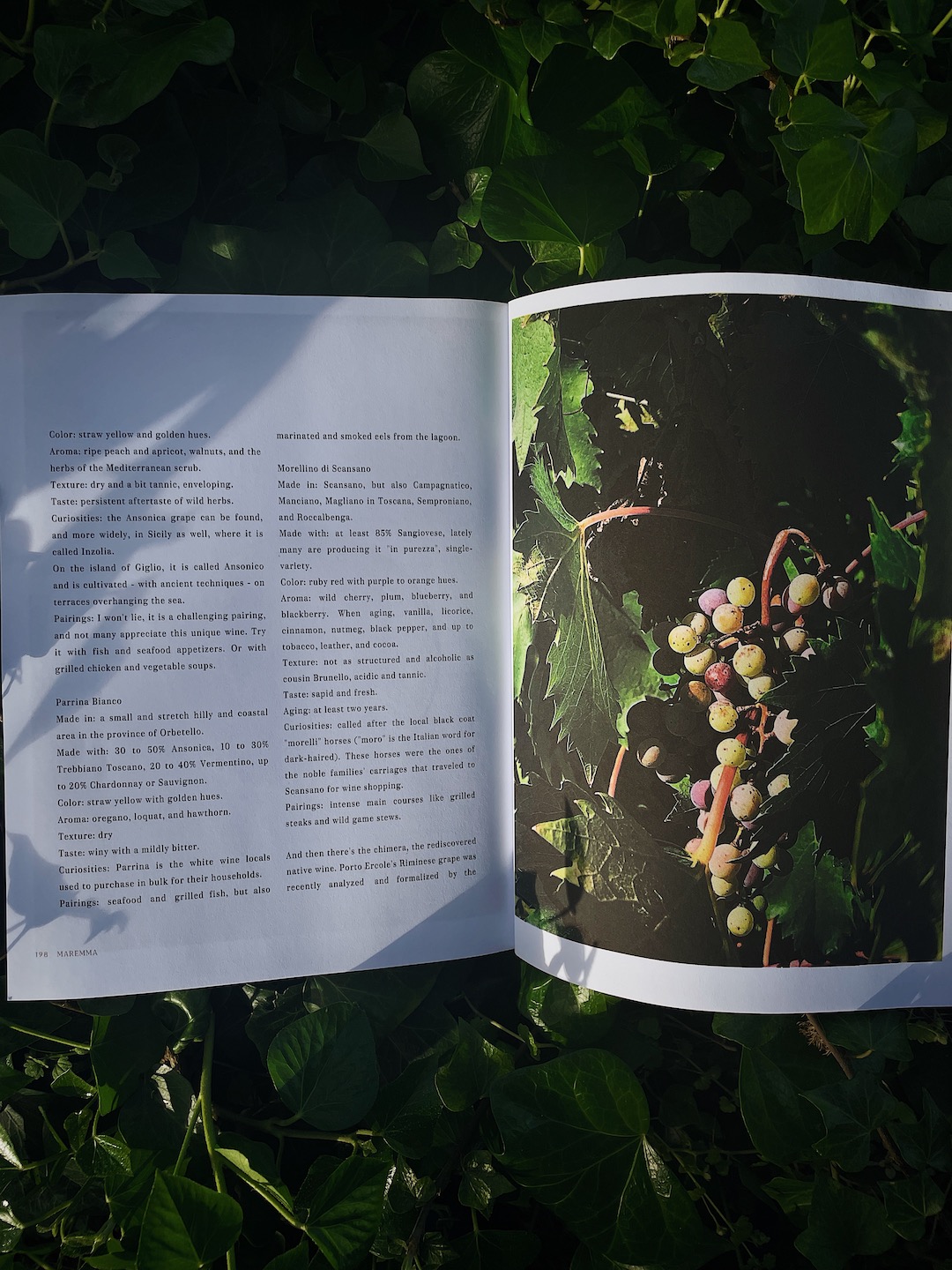 SIMPOSIO: A COOKBOOK FROM ITALY
The Simposio cookbooks are made in Italy by an Italian author and printed and distributed locally.
The authentic, traditional, classic, and modern recipes are researched locally and accompanied by local stories, personal anecdotes, beautiful pictures, and Italian culture and folklore.
READY FOR AUTHENTIC TUSCANY?
subscribe to the Simposio cookbook series
take a look inside MAREMMA'S SIMPOSIO
In Maremma's Simposio, you'll find:
205 pages
100+ pictures
27 authentic recipes from Maremma
stories and legends
cowboys and witches
Italian culture bites
INDEX:
06 Welcome To Maremma
08 Cooking Notes
10 Maremma Grossetana
14 Grosseto
18 Manciano
22 Eating In Maremma
26 Pici Porro, Guanciale E Pecorino
28 Ciaffagnoni
30 Sorano
36 Fagioli Neri Di Sorano
40 Egg Pasta Dough
44 Sugar And Cinnamon Tortelli
48 Pitigliano
54 Cauliflower Crostini
56 Fennel Flowers
60 Vinegar Chicken
68 Masconod
72 Minestra Di Esaù
74 Tuna Polpettone
76 Sfratti
80 Saturnia
84 Chestnut Tortelli
88 Castagnaccio Di Saturnia
90 Magliano In Toscana
96 Tortelli Maremmani
98 Ricotta Soup
100 Castiglione Della Pescaia
106 Campigliese
108 Orbetetllo
112 Bottarga Spaghetti
114 Scottiglia Di Orbetello
118 Topini
120 Giannella
122 Feniglia
124 Porto Ercole
128 Cuttlefish And Potatoes
130 Caldaro
134 Porto Santo Stefano
142 La Rosa Dei Venti
148 Pagnottelle Di Natale
152 Isola Del Giglio
160 Panficato
164 Capalbio
168 Tiburzi
174 Crostino Maremmano
178 Acquacotta Di Capalbio
182 Capalbio Wild Boar
186 Butteri
190 Rigatoni Alla Buttera
194 Fiorentina
196 Maremma Wines
START YOUR ADVENTURE IN MAREMMA
or
subscribe to the Simposio cookbook series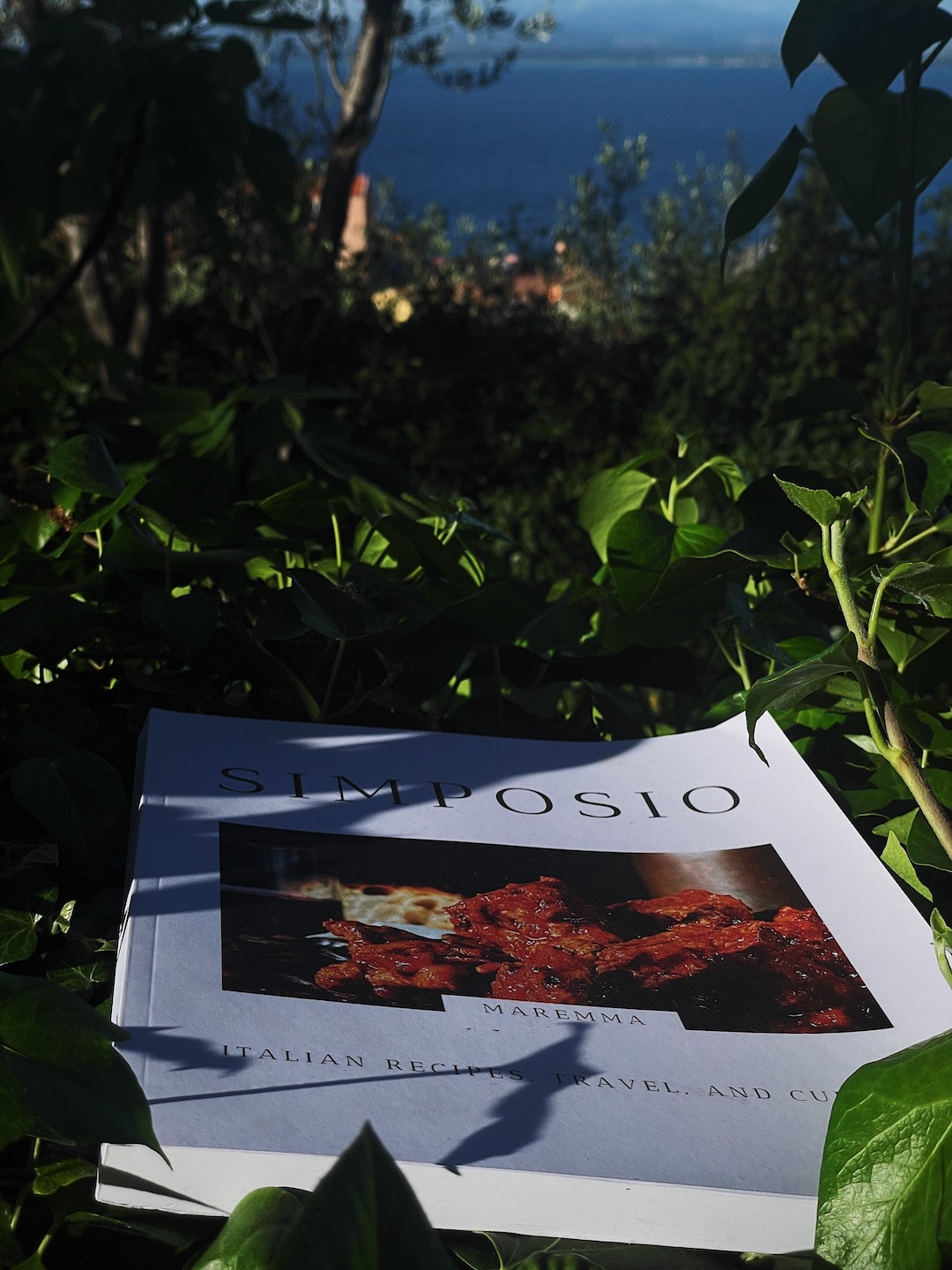 Snuggle on the couch, pour yourself a glass of Morellino Di Scansano or Bianco di Pitigliano, light a candle, and put on soft music: your Maremman adventure is about to begin!
Claudia