Zucchini one-pot pasta with mint, spring onions, and olive oil. Make the one-pot pasta with zucchini recipe on a healthy, weekday!
Zucchini one-pot pasta is an easy recipe for weekdays. Making one-pot pasta with zucchini is easy, fast, and gives excellent, healthy results.
Mint is the best herb to exalt zucchini flavors. And spring onions (you can use shallots too) are delicate enough to not cover their taste.
I use a large pan instead of a pot, but it's quite the same thing.
When you cook one-pot pasta, you only have to worry about water measures and check every now and then, eventually adding hot water to finish cooking the pasta. Apart from that, zucchini one-pot pasta is a creamy pasta dish, a texture you get from starches released by the pasta into the cooking water, no need to add cream or butter! A healthy pasta for a tasty weekday lunch or dinner.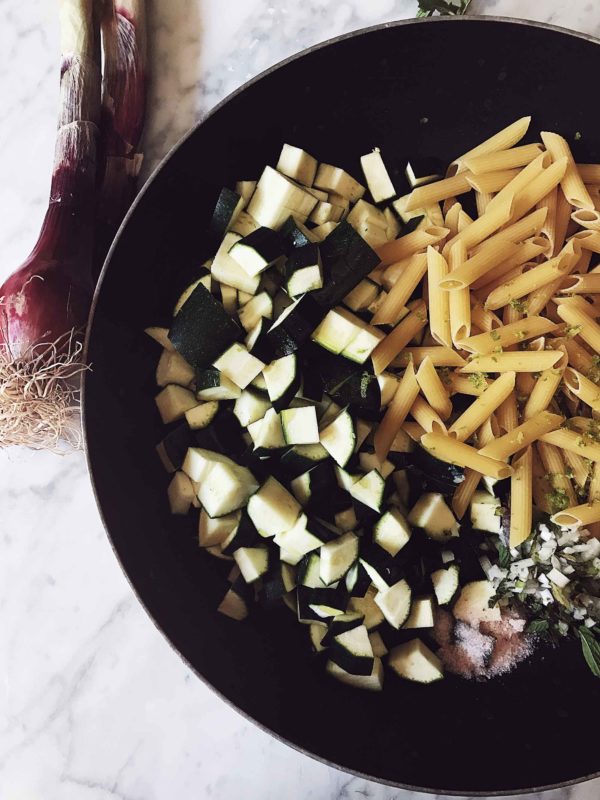 one pot pasta with zucchini recipe
Ingredients
3

zucchini

1

lemon zest

1

small fresh spring onion

5,6

oz

pasta

160 gr - penne rigate

2

pinches

salt

1

tablespoon

extra virgin olive oil

1

bunch

mint

fresh pennyroyal
Instructions
Thinly dice zucchini and chop onion and mint. Place olive oil and all the other ingredients (except lemon zest) on a large pot or pan.

Add 3 times the pasta weight in water (160 gr pasta = 480 gr water) and turn the heat on high. Cook, stirring occasionally, until the pasta is almost cooked. Add the lemon zest, stir, taste pasta and if necessary add a little more water to finish the cooking.

Serve with a sprinkle of parmesan cheese, not too much or you'll cover the wonderful delicate flavors of this dish.
Enjoy your zucchini one pot pasta recipe!
Claudia