This orange and onion salad recipe is a vibrant and savory side dish with crunchy and sweetish pistachios and intensely flavored bell peppers.
Make the orange and onion salad to liven up simple meals like grilled meat or chicken. I also love to serve it after a nutritious lentils soup, as an end of the meal.
HOW TO MAKE THE ORANGE AND ONION SALAD
You must use good quality extra-virgin olive oil in this orange and onion salad, but not one too intense, opt for a mild one, or you risk overlaying all the other flavors.
A little peeling and cutting are what you need to do next, and voilà: an Italian salad for your table!
​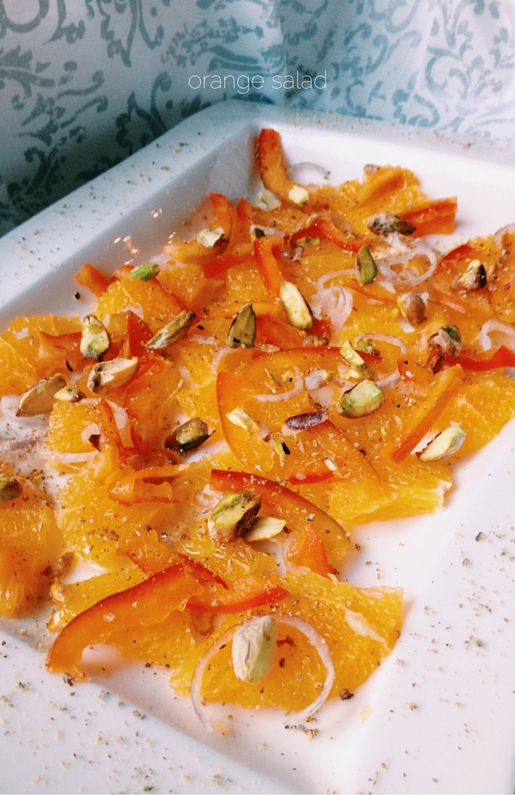 orange and onion salad recipe
Ingredients
1

orange

¼

red or green pepper

¼

shallot

10-12

pistachios

1

teaspoon

of extra virgin olive oil

salt & pepper
Instructions
Peel the orange, take away the white part as best as you can. Thinly slice the orange pulp.

Coarsely crush the unshelled pistachios. You can use a food processor or wrap them in a kitchen cloth and pass a rolling pin over it.

Cut a circle around the stem of the bell pepper to remove it. Discard the stem and all the seeds you can. Open the pepper into 4, use the knife to remove the inner white veins and left seeds of the part you are using. Discard both.

Thinly, very thinly, slice the pepper.

Peel and slice the shallot as thin as you can.

Place all the prepared ingredients in a bowl. Season them with olive oil, salt, and pepper as per your taste.
Enjoy your orange salad!
Claudia