Orecchiette with broccoli rabe: the authentic Apulian orecchiette con cime di rape recipe.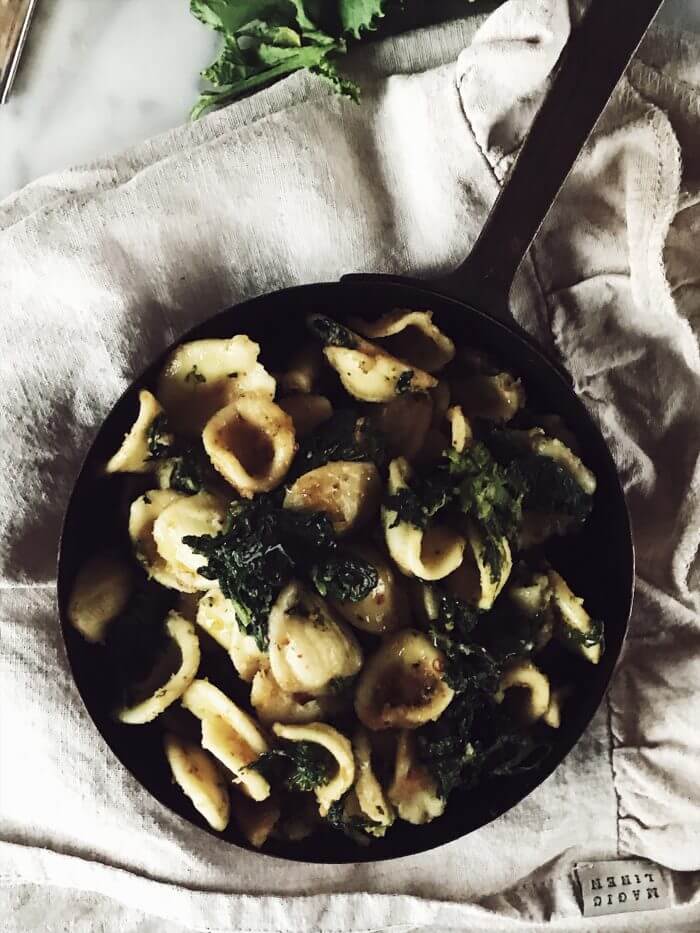 Orecchiette with broccoli rabe is a traditional Puglia recipe that puts together two local specialties: orecchiette and cime di rapa.
Orecchiette, that literally means little ears, are a very rough pasta shape, which makes them perfect to accompany thick seasonings like ragù, tomato sauce, and of course, veggie condiments like this one.
Researching for the origins of orecchiette I found three different theories: a copycat from near Provence, a strong influence from the Jewish cuisine (specifically the "Amman's ear" sweet) during the Norman-Swabian domination, and a purist local attempt to recreate the roof of trulli, the Apulian typical construction.
As for cime di rapa, there are three varieties of broccoli rabe you can use: the local cime di rapa (= turnip tops), Neapolitan friarelli or Roman broccoletti, which are basically the same vegetable, slightly differing for the inevitable differences coming from cultivating it in diverse soils. What is important is that they're harvested before blooming and that, for this broccoli recipe, we use the smallest leaves and the tenderest stems.

 
Now that I've introduced the ingredients of orecchiette with broccoli rabe, we can make this exquisite Apulian dish, which is quite easy, healthy and tasty as only cucina povera (poor cuisine) can be, especially when you are in my husband's region of birth :-).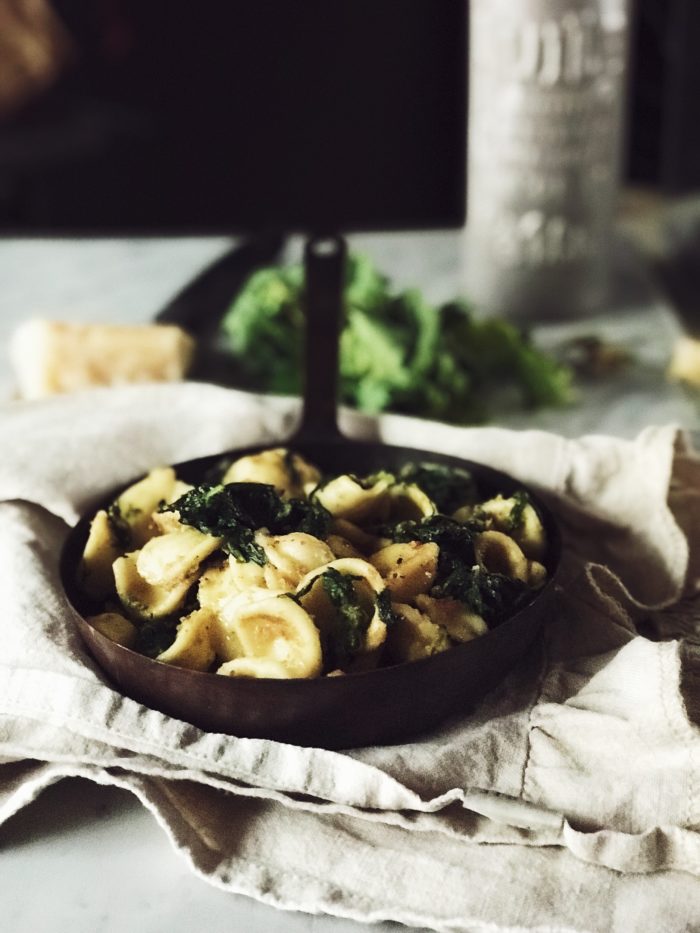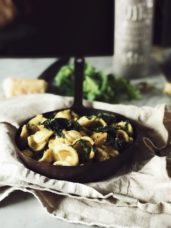 orecchiette with broccoli rabe recipe
Ingredients
10.5

oz

fresh orecchiette

300 gr - you can also use dry orecchiette

18

oz

cime di rapa (broccoli rabe)

500 gr

1

garlic clove

1

dried hot chili (small)

4

tablespoons

of olive oil

2

anchovies filets

2

tablespoons

of breadcrumbs

parmesan cheese
Instructions
Bring a pot of salted water to a boil (10 gr/1 teaspoon of salt each liter/4 cups of water).

Trim broccoli rabes (keep leaves and florets and discard stems).

Heat olive oil in a large skillet, crush and add the garlic clove, sauté, medium heat, until golden brown.

Remove the garlic and add the chili (carved to release aroma and deseeded if you don't like it too spicy).

Add anchovies and press them with a wooden spatula to dissolve them.

Add breadcrumbs, mix and cook a couple of minutes.

Remove chili.

When water starts to boil pour in the broccoli rabe and cook 5 minutes. Add orecchiette and cook 3-5 more minutes (until pasta is cooked al dente).

Drain both pasta and rabes and pour them into the skillet. Mix and sauté a couple of minutes.

Serve hot sprinkled with freshly grated parmesan cheese.
Enjoy your orecchiette with broccoli rabe!
Claudia