Pandoro french toast is a recipe for pandoro leftovers and a delicious dish for an intimate, cozy Sunday breakfast or brunch.
HOW TO MAKE PANDORO FRENCH TOAST
Pandoro French toast is made following the classic French toast recipe. But we use Italian Pandoro instead of bread, olive oil instead of butter, and brown sugar, which is more aromatic and intense – fundamental as also Pandoro is tastier than bread.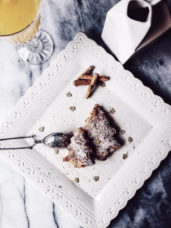 pandoro french toast recipe
Ingredients
optional
1

tablespoon

heavy cream

also nondiary cream, like coconut
Instructions
In a large bowl, mix the eggs, milk, sugar, salt, cinnamon (1 teaspoon), vanilla extract, one of the olive oil tablespoons, and the optional cream (this makes it thicker).

In another (tiny) bowl, mix the icing sugar and cinnamon.

Cut the Pandoro into 2.5 cm/1 inch slices.

Place a frying pan over medium/low heat and oil it using a kitchen brush. Dip the Pandoro, one slice at a time, in the egg mixture for a few seconds.

Fry each slice for less than a minute per side: you are looking for a thin golden-brown crust.

Serve the toasts hot, sprinkled with cinnamon and sugar.
Recipe Notes
TIP: use a tea infuser to sprinkle sugar.
TIP2: use a cookie cutter to shape the toasts.
PANDORO PREFERENCES, WISHES & TIPS
Pandoro is my favorite Italian Christmas sweet, but apparently, I'm a minority: three out of four Italians prefer Panettone.
When I was a young girl, new to all things Italian, my aunt gave me two recommendations about Pandoro:
Buy all your Pandoros 

early in November

 because the first ones are the best. She meant that producers make the first ones tastier to conquer clients for the rest of the Christmas season.

Make a wish

 when you open your first Pandoro.
The first advice may be true for artisanal Pandoros, which, by the way, are the only ones allowed in our house.
But I always forget the second recommendation. When shaking the plastic bag full of icing sugar, making sure it adheres to the whole pandoro surface, I'm too excited and always forget to make a wish!
Enjoy your pandoro French toast!
Claudia